Victor Cruz welcomed chants as return to gridiron continues with a win against Saints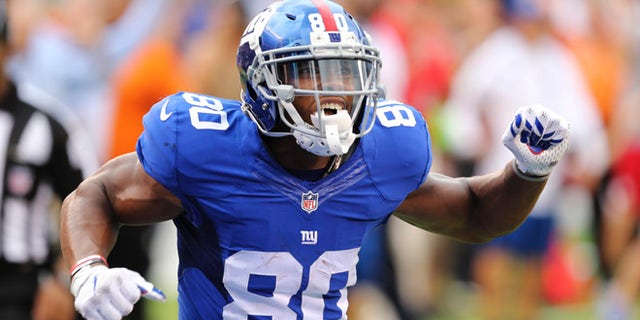 EAST RUTHERFORD, N.J. (AP) – If you missed Victor Cruz's clutch return to the NFL last week after missing more than a season, the 29-year-old New York Giants receiver offered an encore in Week 2.
Cruz, who had a winning fourth-quarter touchdown catch against Dallas last week, hauled in a 34-yard third-down pass from Eli Manning to set up Josh Brown's winning 23-yard field goal as time expired and the Giants got off to their first 2-0 start since 2009 with a 16-13 win over New Orleans Saints on Sunday.
"I just wanted to work my way in, catch things that are in front of me, make the plays that are presented to me," said Cruz, who had four catches for 91 yards. "To make the game-winning catch a week ago and today to make a pretty decisive catch on the sideline to seal the game, I couldn't draw it up any other way. I just go out and play the game and I think I'm getting better as the weeks go on."
Brown's third field goal capped an 11-play, 70-yard drive that featured two key third-down passes by Manning and a pass interference call on a pass to Odell Beckham Jr.
The game was also redemption for the Giants' defense. After allowing Drew Brees to throw for 511 yards and an NFL-tying seven touchdowns, New York limited him to one touchdown, 263 yards passing and 288 yards in total team offense in handing the Saints their second straight loss.
"It always comes down to a few plays but literally, we needed one more play in each of those games, and we are potentially sitting there at 2-0," said Brees, who did not complete a pass longer than 23 yards.
The Saints rallied to tie it twice in the fourth quarter. A 17-yard touchdown pass from Brees to Willie Snead IV evened things at 10 early in the quarter. After Brown, who returned from a one-game suspension, gave New York a 13-10 lead with a 19-yard field goal on the next series, Brees led an eight-play, 47-yard drive that ended with Will Lutz kicking a 45-yarder to tie it with 2:54 to play.
The Giants dominated the first half, but they were in danger of falling behind just before halftime when James Laurinaitis recovered Manning's fumble at the New York 25 after he was sacked by Michael Mauti.
An offensive pass interference on first down forced Lutz to attempt a 38-yard field goal. Defensive tackle Johnathan Hankins came up the middle and blocked it and Janoris Jenkins jogged 65 yards for a go-ahead touchdown with 2:30 left in the half.
Lutz hit a 39-yarder late in the half to get the Saints on the board.
The Saints forced three turnovers, and still only scored 13 points.
"It's very satisfying," Giants cornerback Dominique Rodgers-Cromartie said. "That guy's a Hall of Famer. Anytime we can perform like that, you've got to give credit to yourself."
SPECIAL TEAMS: The last time the Giants returned a blocked field goal for a touchdown was Dec. 7, 2008, when Kevin Dockery returned one 71 yards against the Philadelphia Eagles. Coincidentally, Gene Steratore was also the referee in that game.
SECONDARY CONCERNS: The Saints are hurting at cornerback. Delvin Breaux is out with a broken leg, and fellow starter P.J. Williams left in the first quarter against New York with a possible concussion and concern about his spine. Recently signed Sterling Moore and reserves DeVante Harris and Ken Crawley finished the game.
MORE BREES: Brees finished 29 of 44. The 37-year-old passed Dan Marino (61,361 yards) for No. 3 in NFL history.
VICTOR: The chants of "Cruzzz" greeted Cruz in his first game at MetLife Stadium since 2014. However, the 29-year old who caught the game winner against Dallas last weekend, fumbled at the end of a 40-yard catch after being hit by Crawley, spoiling his biggest play, until he came through at the end.
GIANTS BIG THREE: Cruz, Beckham and rookie Sterling Shepard combined for 294 yards and no touchdowns.