Victor Cruz to remain a NY Giant, re-signs taking a $6.5M pay cut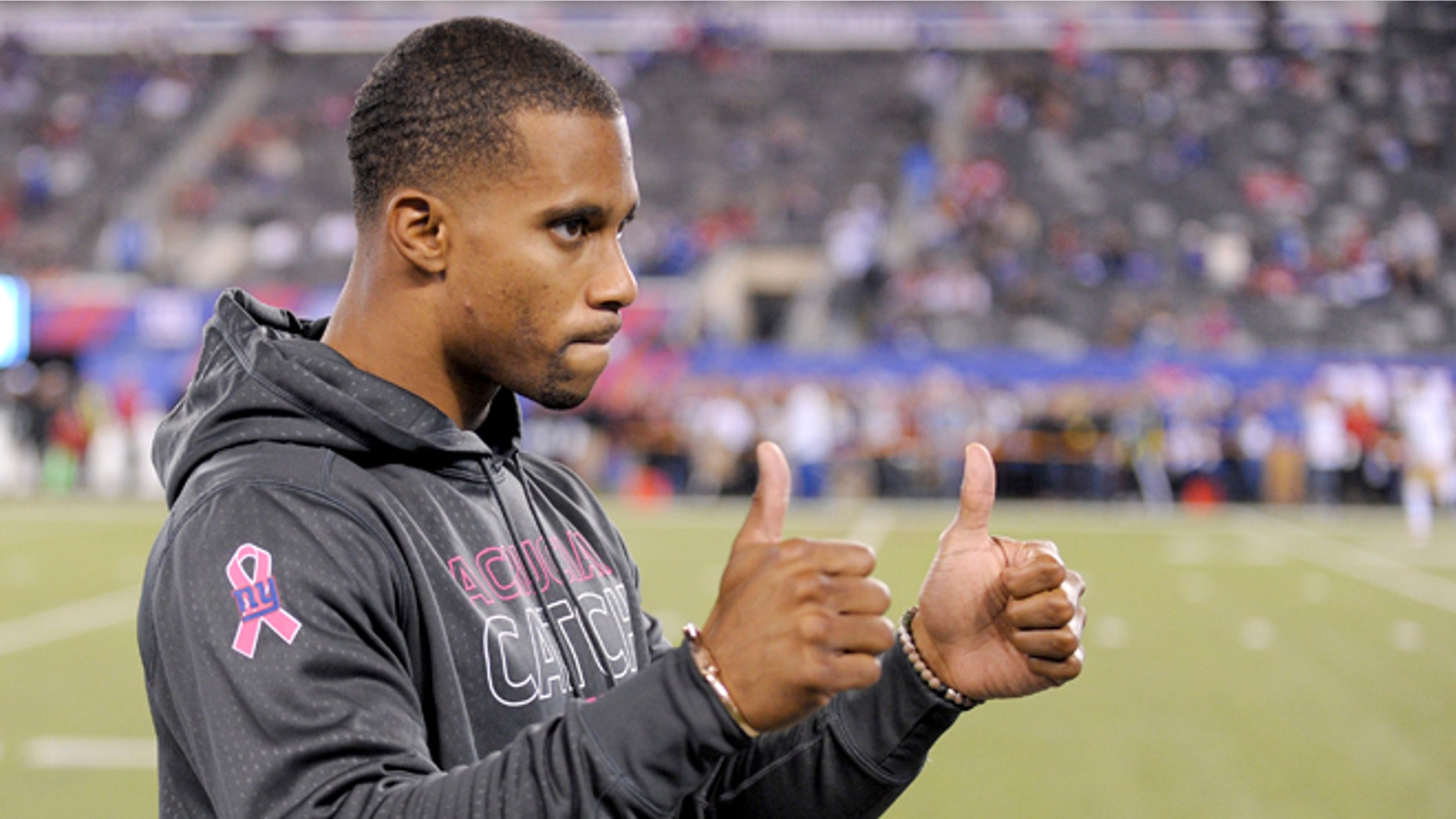 The New York Giants came to an agreement with their veteran wide receiver Victor Cruz for the 2016 season that frees up salary cap space for the team.
The fan favorite who gained national attention for his salsa-dancing touchdown celebrations will receive a base payment of $1.3 million, instead of $7.9 million, a reduction of more than $6.5 million.
Bonuses and incentives could bring his payment up to $5.5 million.
The Giants and Cruz had been locked in discussions that were at times acrimonious, with the team reportedly threatening to cut the receiver unless his salary could be renegotiated. Cruz announced the agreement on Wednesday via Twitter and Instagram.
Cruz hasn't played most of the last two seasons, first because of a torn patellar tendon suffered in 2014. A calf strain required surgery and kept him off the field all of last season.
In his first two years as a regular player for the Giants in 2011 and 2012, Cruz gained more than 1,000 yards on 80-plus receptions each year, with a total of 19 touchdown catches.
In July 2013, Cruz signed a six-year, $44-million contract extension that would pay the receiver $7.4 million in 2017 and $8.4 million in 2018.
The terms of the renegotiated contract haven't been released, and it isn't clear whether subsequent years in the extension will be affected.
In other moves on the first day of free agency, the Giants agreed to terms with former Miami pass rusher Olivier Vernon on a five-year, $85 million contract, signed former Rams cornerback Janoris Jenkins as well as defensive tackle Damon Harrison.
The team also re-signed defensive end Jason Pierre-Paul to a one-year, $10.5 million contract.
"I have one year to prove myself, but all I need is one," Pierre-Paul said in a statement. "I know for a fact that I can play better than I did last year."
Harrison, 27, will be play next to returning veteran Jonathan Hankins to form a solid middle. Though he had only a half-sack in 16 starts last year, Harrison is a noted run-stopper who was in on 72 tackles in 2015.
Harrison is expected to sign a five-year, $46.25 million contract, with $24 million guaranteed.
The Jenkins signing will likely end Prince Amukamara's Giants career. The 2011 first-round draft pick was told by the Giants to test the open market, where he expects to land a contract in the $10 million per year neighborhood despite an injury history that caused him to miss 25 out of 80-games in his career.
Jenkins will get slightly more than $12 million annually, making him the second-highest-paid cornerback behind the Jets' Darrelle Revis' $14.024 million average.
The Vernon, Harrison and Jenkins contracts will cost the Giants about $114 million in guaranteed salary.
The Associated Press contributed to this report.