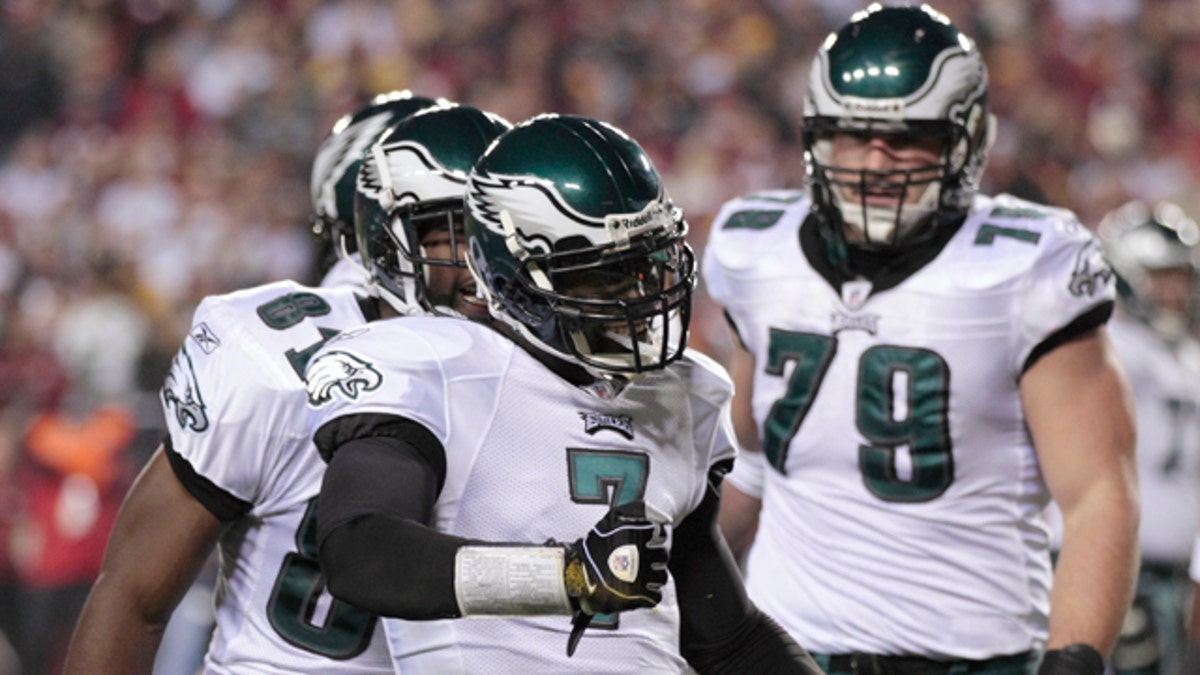 LANDOVER, Md. -- On the very first play of the game, Michael Vick threw an 88-yard touchdown pass.
He was merely getting started.
Given all of Vick's brilliance throughout the Philadelphia Eagles' 59-28 victory over the Washington Redskins on Monday night -- four TD passes, two TD runs, plenty in between -- it seemed reasonable to ask him whether he's ever played a better game.
Vick paused, then delivered an honest answer.
"I've had some great games in my day," the quarterback said. "But I don't think I've had one quite like this one."
Nope, Mike, you haven't. Indeed, no player in the history of the NFL ever has done quite what you did, accumulating at least 300 yards passing, 50 yards rushing, four passing TDs and two rushing TDs in one game.
Philadelphia led 35-0 after the first play of the second quarter, broke franchise records for points in a half (45) and total yards in a game (592), and finished with its second-most points in a regular-season game.
Vick and his teammates also ruined any good feelings the Redskins hoped to generate with their pregame announcement of a five-year contract extension worth up to $78 million for their quarterback, former Philadelphia star Donovan McNabb.
"Big credit to Michael Vick. He made some plays today that I haven't seen a lot of quarterbacks make for a long time," said Redskins coach Mike Shanahan, who never before had an opponent score 59 points. "When something wasn't there in the passing game, he made plays with his legs. Really a big-time game."
Vick completed his first 10 passes en route to going 20 for 28 for 333 yards, and ran for 80 yards on eight carries, passing Steve Young for the second-most career yards rushing by an NFL quarterback, behind only ex-Eagles QB Randall Cunningham.
"Vick -- he keeps impressing me every week. He's so calm and collected," said DeSean Jackson, who beat safety LaRon Landry on that opening score that felt like an opening statement.
Next came Vick's first rushing TD, a 7-yarder. After that, he had his right ankle taped on the sideline, but he didn't miss a beat -- or any plays. Washington's second possession ended with McNabb being picked off by rookie seventh-round draft pick Kurt Coleman.
The Eagles promptly made it 21-0 on Vick's 11-yard scoring pass to LeSean McCoy, before Jerome Harrison's 50-yard touchdown run padded the lead. On the first play of the second quarter, Vick connected with Jeremy Maclin on a 48-yard score.
"It all seems like a blur," Redskins cornerback DeAngelo Hall said. "I don't think you can prepare for Michael Vick."
Vick hasn't thrown an interception or lost a fumble this season, and the Eagles are 4-0 when he starts a game and plays the whole way. They're 6-3 overall, tied with the New York Giants atop the NFC East, two games ahead of the Redskins (4-5).
When the Redskins beat the Eagles 17-12 in Week 4, Vick got knocked out in the first quarter with injured rib cartilage, and he missed a month. After that game, McNabb took a verbal jab at the Eagles, referring to the offseason trade that sent him to Washington by saying: "Everybody makes mistakes in their lifetime, and they made one last year."
Eagles center Mike McGlynn said McNabb's words from that day "fired us up" Monday, noting: "I think we're happy with where we are right now."
McGlynn also pointed to Monday's pregame skirmish, which forced officials to step in and separate players from both teams. McGlynn said Landry started the brouhaha by saying something to Jackson.
"He said some things to our star player he shouldn't have said, and he got his," McGlynn said. "You can see on that first play. He got his."
McGlynn also said Landry spit at him twice during the game.
"It's good to come out and score 60 points, almost. ... I think we just looked at it as hey, let's keep pouring it on," McGlynn said.
Discussing how the pregame theatrics pumped up his team, Jackson made what would appear to be an unintentionally insensitive remark, given Vick's federal prison term for a dogfighting conviction.
"We were like pit bulls," Jackson said, "ready to get out of the cage."
Landry denied spitting at McGlynn, but did acknowledge the Eagles were well-prepared.
"We couldn't make stops," Landry said. "Great game plan on their part."
McNabb, meanwhile, was 17 for 31 for 295 yards, with two touchdown passes and three interceptions, including one returned 40 yards for a score by Dimitri Patterson.
Bengals receiver Terrell Owens weighed in from afar, tweeting: "How do u justify a 78 million dollar contract w/this type of performance?"
A few Redskins players -- and Shanahan himself -- said they were outcoached and outplayed, particularly by Vick, of course.
"It was embarrassing. I couldn't wait for the game to be over. It was ridiculous," Redskins defensive lineman Albert Haynesworth said. "The Eagles should be ranked No. 1 in the BCS, because it was crazy. They probably had 600 yards on us. I don't think I've ever been beat that bad, not even in Little League."