Vibes are good, vibrations are bad: DW breaks down the Kansas Chase race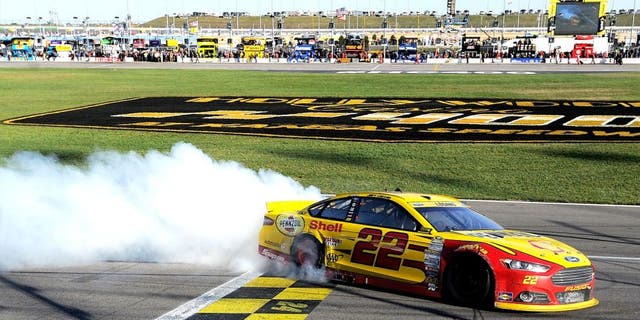 NEWYou can now listen to Fox News articles!
Back in the mid-1960s, the Beach Boys released one of their most iconic songs called "Good Vibrations." One of the lyrics in the chorus goes "I'm pickin up good vibrations."
Trust me when I tell you that in racing, there is no such thing as a good vibration. Sure, there are good vibes and you can find them in a lot of places, but the one thing a driver never wants is a vibration anywhere in their race car. Unfortunately, at Kansas Speedway on Sunday, several drivers seemed to have that problem. Actually they were picking up some bad vibrations.
It just seemed like drivers were battling a lot of bad vibes and bad vibrations from loose wheels, or in Kevin Harvick's case, a broken shifter. There just seemed to be a lot of issues that I think come with the pressure these drivers and teams are under because of the Chase format. Then you throw in the fact that Kansas is a really fast track and that's a combination for some bad days for some folks. The tires don't fall off much and the lap times were fast. They just really hammer the car hard at Kansas and let's face it, after a while, it begins to take a toll.
The No. 1 scraped the wall, the No. 14 and No. 42 spun, the No. 3, No. 15 and the No. 51 all hit the wall. It just seemed like one issue after another was cropping up. I think it's safe to say, when it's all said and done that people won't remember that Sunday was Joey Logano's 13th win of his career or his second consecutive win, but they will remember the issue between Joey and Matt Kenseth at the end of the race.
I don't know if Matt having a dominant car on Saturday, only to get beat by his teammate Kyle Busch in the XFINITY race didn't play a role on Sunday. When Joey got up there to Matt near the end of the race, maybe Matt was thinking, 'Well, I finished second yesterday but I can't let that happen again today.'
I love Matt; I've always compared him to David Pearson. Both are smooth, calculating drivers and they don't really push the issue until it counts. I'll also be the first to admit I've become a huge Joey Logano fan. Ever since he moved over to Team Penske and started standing up for himself, we've all seen his career take off. Very early in what is still a young career, he let folks push him around. I told him once that until he stood up for himself, these other drivers were going to continue to push him around. It's the blind obvious, but since he moved to Team Penske under the tutelage of car owner Roger Penske, Joey's career has flourished.
My take on the situation that happened between Matt and Joey is this -- I didn't see anything wrong with what happened. Matt needed to win that race to have any chance to advance to the next Chase round. True, Joey had already punched his ticket to the next round two weeks ago winning at Charlotte. Sure he could have played it safe, backed off and finished second to Matt but why back off?
He had a fast race car. The kid is paid to win races for his sponsors, owner and team, plus don't lose sight of this: If he backs off and lets Matt win, then he's going to have to face Matt and his extremely fast Toyota in the next round of the Chase. If you have a chance to eliminate a major competitor for the championship, then that's the smart play. Simply backing off and letting Matt win really isn't a good idea in the big picture.
Now let's be clear, I'm not talking about eliminating your competition by wrecking them. In Joey's defense, in those closing laps, Matt was doing some pretty defensive driving. You saw him go down on the apron to try and block Joey, then you saw him go up high to block Joey as well as they headed towards Turn 1. Matt needed to win that race so he was doing everything he could to stay in front of Joey. Matt had a dominant car all day long and knowing he had to win to move on in the Chase, you can't blame him for blocking.
Joey seemed to have the faster of the two cars as he was all over the back bumper of Matt. Yes he bumped him but in my heart of hearts, I don't think Joey intentionally tried to wreck Matt. I would wager Joey just intended to bump Matt, get him a little loose and drive on by. Unfortunately that's not how it played out as Matt spun out.
In hindsight, maybe Matt should have left Joey go and taken a second place finish. He'd be in a whole lot better shape than he is today, 35 points out of the eighth-place transfer spot. There's no question about it, Matt now has to win at Talladega to keep his 2015 championship hopes alive.
Can he do it? Heck yes he can, just like he almost did Sunday. Those Joe Gibbs Toyota's are bad fast and Matt really is a very good superspeedway driver. The problem is that it is a superspeedway race where you can get taken out in a split-second because of someone else's mistake. You don't control your own destiny at a superspeedway race like you do at other tracks. You are at the mercy of others where you have very little control on what happens.
I know Matt was upset and rightfully so. If you switch positions, Joey would have felt the same way. To me though, I didn't see anything malicious and it was just one of those racing deals. No driver expects to drive off into the corner and get spun out. Unfortunately it happens and Sunday it cost Matt dearly but again, I simply don't think Joey did it intentionally.
You simply had two drivers with one having a lot to gain and the other with nothing to lose. When they look back, both drivers are saying to themselves, 'I could have done something different' -- but that's easy to do in hindsight -- that's not diving off into the corner at 190 miles per hour making a split-second decision.
I don't put any blame on either guy. I can clearly see both sides of the situation. I wish it didn't happen, but honestly I've been there done that on both sides of the equation. As I mentioned earlier, Joey now has his second consecutive win plus it's his fifth of the season. He's sitting in the cat-bird seat going into Sunday's race at Talladega.
As I always tell you, anything can happen at Talladega and usually does. We have four drivers on the outside looking in with Matt Kenseth, Dale Earnhardt Jr, Ryan Newman and Kyle Busch. You have to know that Dale Jr. is licking his chops and can't wait for the green flag Sunday.
I also want to take a minute and shine the light on some drivers who had a great run Sunday that aren't in the Chase.
Jimmie Johnson, after two consecutive weeks of mechanical issues, finished third. Can you believe that's his first top-five finish since the July Daytona race? Young Ryan Blaney in the famous No. 21 Wood Brothers Ford came home seventh. That's a great job by that young man I just hope that bunch over there can get put a program together so he can run the full season in 2016. Yes, Jeff Gordon is retiring this year and Tony Stewart next year, but with someone like Ryan Blaney coming along, NASCAR's future remains very bright.
I also want to give a tip of the hat to Brian Scott with a great 12th-place finish. Ricky Stenhouse Jr. came home 13th, and that marks his fourth consecutive top-15 finish, so that No. 17 is starting to come back to life.
So it's onto Talladega Superspeedway this weekend. Before all that Michael and I are hosting our sixth annual Waltrip Brothers Charity Championship in Franklin, Tennessee on Wednesday and Thursday. NFL Hall of Famer Terry Bradshaw is the MC of our Champions Dinner and Travis Tritt is our headliner, plus 18 holes of charity golf the next day. This year we're supporting Feed The Children, Motor Racing Outreach and the Steve Byrnes Memorial Fund. Dinner is sold out -- golf is sold out and it looks like Mother Nature is going to smile on us again as we try to help some very worthy charities. Honestly, it really doesn't get any better than that.