Venus Williams Diagnosed With Sjogren's Syndrome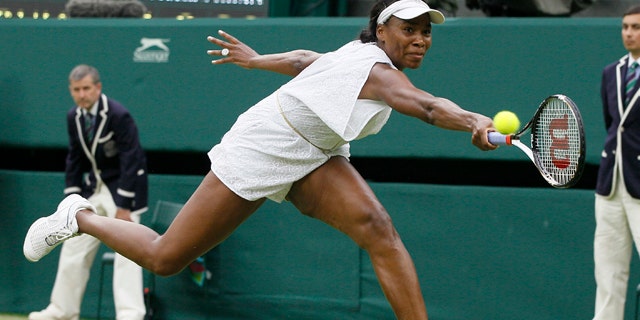 NEWYou can now listen to Fox News articles!
Venus Williams withdrew from the U.S. Open Wednesday, revealing that she had been diagnosed with Sjogren's syndrome, an autoimmune disease that causes fatigue and joint pain.
There is no known cure for the disease, but doctors told The Post it is rarely life-threatening and -- if managed -- shouldn't be career-ending. The surprising announcement came just hours before her scheduled second-round match against 22nd-seeded Sabine Lisicki.
"I enjoyed playing my first match here and wish I could continue, but right now I am unable to," the seven-time Grand Slam champion said in a printed release. "I am thankful I finally have a diagnosis and now focused on getting better and returning to the court soon."
Sjogren's Syndrome is a chronic disorder that causes insufficient moisture production in certain glands of the body, according to webmd.com.
As many as four million Americans have the disease. It occurs when a person's normally protective immune system attacks and destroys moisture-producing glands, including salivary glands and tear glands. The lungs, bowel, and other organs also are occasionally affected.
According to the Sjogren's Syndrome Foundation, white blood cells attack moisture producing glands.
There is no cure, but it can be treated and controlled, with the goal to decrease discomfort and reduce the harmful effects of dryness. But medical experts told The Post it's something that can usually be managed.
"It's usually a disease that's not cureable, but it usually can be managed. Everybody's a little different; there could be some fatigue with it, but most patients handle it pretty well," said Dr. Stuart Green, a rheumatologist at the Brooklyn Hospital Center. "Fatigue is not uncommon. It's when you have it you want to make sure there's nothing else going on, in terms of other associations.
"It's a lifelong illness but there are medications that help from a pulmonary point of view. Any loss of lung function, that could be serious. And with a top athlete, the lung problem would be the other area. I could see her getting a little short of breath. Someone who's a top athlete really stresses her body. Lung functions, she may notice it and not be up to her game. Again, that's hypothetical on my part."
Williams, 31, previously had cited a virus when withdrawing from hard-court tuneup tournaments between Wimbledon and the U.S. Open.
Click here to read more about this story from the New York Post.