MLB players killed in Venezuela crash may have been robbery targets, authorities say
Venezuelan authorities have arrested four people suspected of robbing former Major League Baseball players Luis Valbuena and Jose Castillo after the pair were killed in a car crash Thursday.
Police are investigating whether the accident was staged by a gang of thieves trying to rob the players, the Los Angeles Times reported.
Authorities suspect the players may have been targeted by criminal groups known for throwing rocks on the roadways to disable cars and then rob the occupants, the Fort-Worth Star-Telegram reported. The four suspects were found with Valbuena's and Castillo's belongings, Julio Leon Heredia, the governor of Yaracuy in Venezuela, said on Twitter.
Valbuena, who turned 33 last week, and Castillo, 37, were playing in the country's winter league and were teammates on the Cardinales de Lara ball club.
In the vehicle with them were winter league teammate Carlos Rivero and a driver, both of whom survived the crash. Photos from the Caracas-based news outlet El Cooperante showed the white vehicle on its side with its grill and hood smashed.
A team official said Valbuena and Castillo had personal business to attend to and chose to travel home separately from the team after Thursday's game.
"They had appointments of some sort at the United States Embassy," Gustavo Andrade said in Spanish. "They departed by their own means after [Thursday's] game."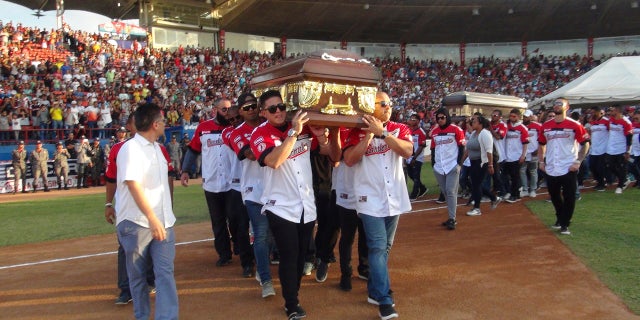 On Friday afternoon, Cardenales de Lara players carried the coffins of Valbuena and Castillo at the team's stadium in Barquisimeto, where they toured the bases, according to the Venezuelan regional newspaper El Impulso.
The Venezuelan Professional Baseball League announced that flags would be flown at half-staff in all its stadiums and all three games scheduled for Friday had been canceled.
Valbuena played 11 seasons in the majors. He was released by the Los Angeles Angels in August and finished his career with a .225 batting average, 114 homes runs and 367 RBIs. He also played with the Cleveland Indians, Chicago Cubs and Houston Astros.
Castillo played from 2004 to 2008, including stints with the Pittsburgh Pirates, San Francisco Giants and Astros. He ended his career with a .254 batting average and 218 RBIs and 39 home runs.
Venezuelan President Nicolas Maduro tweeted on Friday: "I join in the mourning that has overwhelmed the Venezuelan baseball family and all of its fans."
In a statement, Major League Baseball Commissioner Rob Manfred said it was "a very sad day for our sport as we mourn the deaths of Luis Valbuena and Jose Castillo."
"It is clear by all the stories today that they loved baseball and made an impact on their teammates and the clubs they represented. On behalf of Major League Baseball, I extend my deepest condolences to their families, friends and fans, particularly those in their native Venezuela," he continued.
Angels outfielder Mike Trout tweeted "We're thinking about Luis Valbuena's family today. Our thoughts go to them. RIP to a teammate and a friend..."
Several major league teams and players also offered their condolences.