Van Riemsdyk everywhere in dominant effort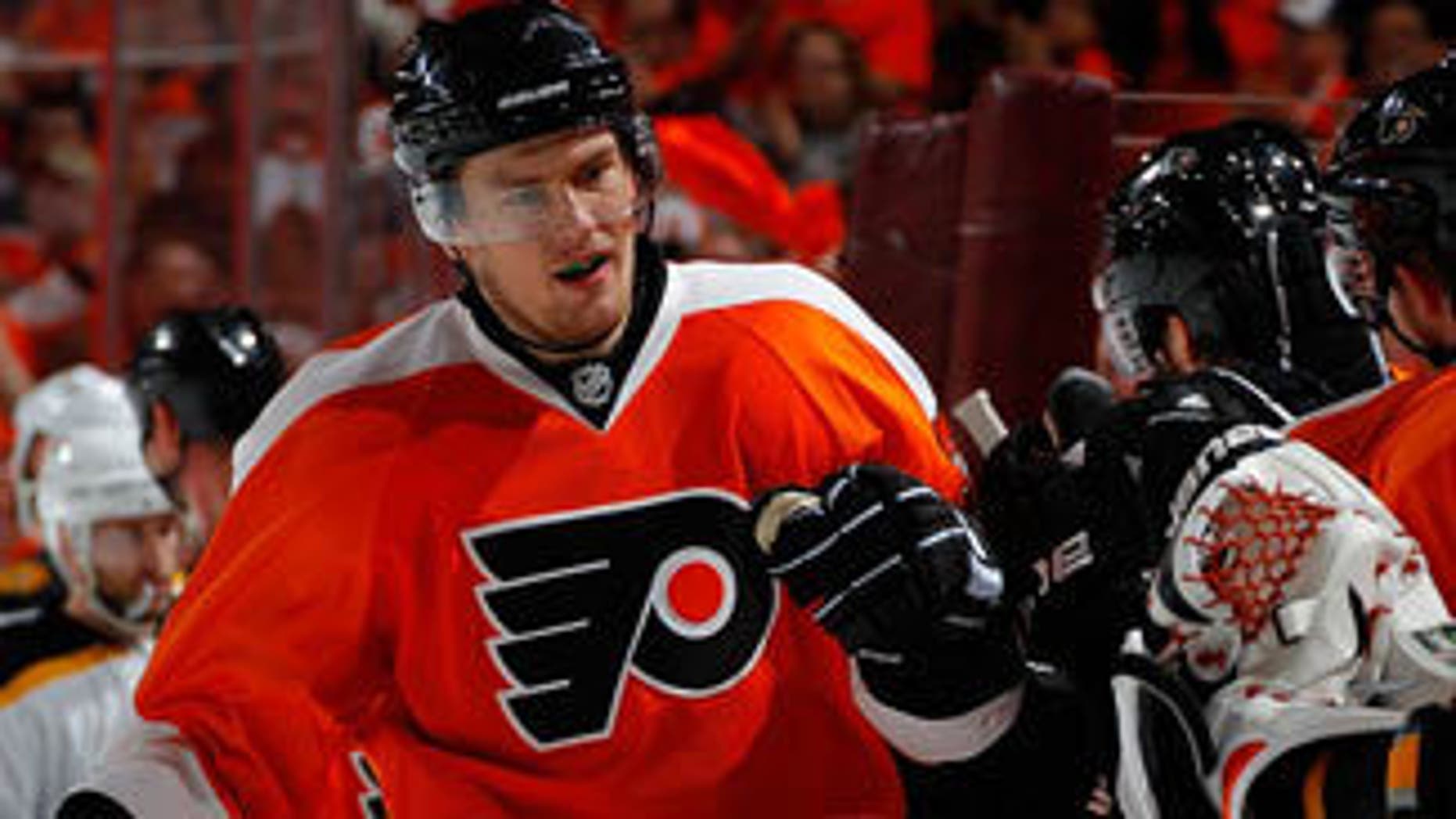 PHILADELPHIA -- It may go down as one of the single-most dominant playoff performances by a Philadelphia Flyer in over five years.
As if he hadn't already been a centerpiece for the Flyers during the Stanley Cup Playoffs, James van Riemsdyk did it one better on Monday in a Game 2 overtime loss to the Boston Bruins in the Eastern Conference semifinal round.
Van Riemsdyk finished one goal short of becoming the first Flyers player to notch a playoff hat trick since Keith Primeau did it seven years ago to the day in a 7-2 Game 5 victory against the Toronto Maple Leafs. He finished with eight shots, marking the fifth time this postseason he's hit that mark. On top of that, his two first-period goals raised his team-tying total to 7.
But despite the heroic effort, all the kid from Middletown, N.J., could think about were those missed opportunities.
"A loss is a loss this time of the year," he said. "You kind of think about those chances you had that you couldn't bury. I'll just have to just bear down next time and put them in the net."
Incredibly, van Riemsdyk, who has been playing with renewed vigor and determination this playoff season, had never posted more than seven shots in a game in his two-year career before this year's playoffs started.
"I had a lot of chances and probably won't be able to sleep well tonight thinking about some of those I missed," van Riemsdyk said. "It's tough but we'll get right back at it for Game 3 (on Wednesday) and we'll be ready to go."
Flyers coach Peter Laviolette, whose team now trails this best-of-7 series, 2-0, called van Riemsdyk "awesome to watch."
"I thought that as you're watching him, he was constantly using his size, speed, and just really taking charge of the game," Laviolette said. "It was such a good night for him. It makes you anxious to see his future unfold. Tonight he was an impact player. I thought it was the most dominating performance that I have seen from a player."
Van Riemsdyk earned a game-high 28:18 of ice time, which was another first, while doling out two hits and blocking one shot. In nine playoff games, van Riemsdyk is actually fourth on the team with 21 hits.
"I think that experience and confidence of being in the playoffs before, and being able to learn from the guys who are such great playoff performers in the room here have definitely helped me," van Riemsdyk said. "I'm put in a good situation to come in and have success and there's a lot of good things that seem to be happening, but everyone in here has to keep bearing down a little bit more and next time the bounces will go our way."
He almost took advantage of a favorable bounce with 4.2 seconds remaining in the third period and the game tied, 2-2. After captain Mike Richards won an offensive-zone draw, van Riemsdyk got good wood on the puck from between the circles but had his attempt denied by goalie Tim Thomas. Danny Briere just missed at the rebound.
"The puck just squirted out there and I fired on net and Danny was backdoor and it just bounced over his stick," van Riemsdyk said. "It's a game of inches out there and that's the way it goes sometimes."
Laviolette, who has referred to van Riemsdyk as having the same type of impact that Claude Giroux had for the Flyers during last year's remarkable run to the Stanley Cup Final, double-shifted the game's No. 2 star on several occasions during the course of the game.
"He's a fast player, he's shooting the puck a lot and he's our best player right now," Giroux said. "He's got energy, confidence, and we just have to follow him."
At one point while flying through the crease midway through the third period, van Riemsdyk had his stick knocked from his hands after just missing yet another golden opportunity. Despite that, the fans began chanting "JVR, JVR."
"It was a pretty cool feeling (to hear the chants) but it would have been better coming in a winning game," he said. "That's the tough part, but the fans here have always been great and very supportive of the team. They're the best fans in the NHL."
Certainly, it appeared as though van Riemsdyk was motivated following Lauren Hart's rousing rendition of "God Bless America" to open the game. He scored the opening two goals of the contest to give his team a 2-0 lead that quickly evaporated.
"Being an American and playing in a city like Philadelphia, which is one of the most prominent American cities, it was pretty cool (to hear the ovation during the anthem) and the fans were unbelievable," he said. "These fans are passionate about our country and our sport, so to hear that and be a part of it was very special."
Van Riemsdyk felt the Bruins showed a lot of resiliency in fighting back on the road.
"We played a pretty strong game but anytime you don't win a game in the playoffs, it's pretty tough," he said. "They played a pretty strong game too. They were very opportunistic with their chances and they rallied around each other when they lost their defenseman (Adam McQuaid)."
He still believes the Flyers can pull out the series so long as they continue to work hard and fire pucks on Thomas.
"We have to tighten it up more defensively and keep doing some good things offensively," van Riemsdyk said. "We just have to bear down when we get those chances."
Follow Mike Morreale on Twitter at: @mike_morreale