Utah's defensive coordinator compares Huskies RB Myles Gaskin to Barry Sanders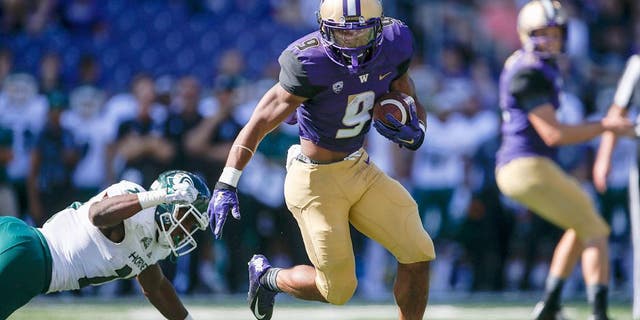 Myles Gaskin is quickly making a name for himself at Washington. Jennifer Buchanan USA Today
Utah defensive coordinator John Pease isn't just impressed with Washington RB Myles Gaskin, he thinks that Gaskin is one of the best young backs he's ever seen.
When asked about Gaskin's running abilities on Tuesday, Pease said that the true freshman running back is "the best freshman back I've seen in a long time."
According to reporter Matthew Piper, Pease also said that Gaskin has Barry Sanders-like quickness.
Gaskin has rushed for 655 yards and six touchdowns on 108 carries this season. Pease will get an up-close look at Gaskin on Saturday as the Utes travel to Seattle to take on the Huskies.