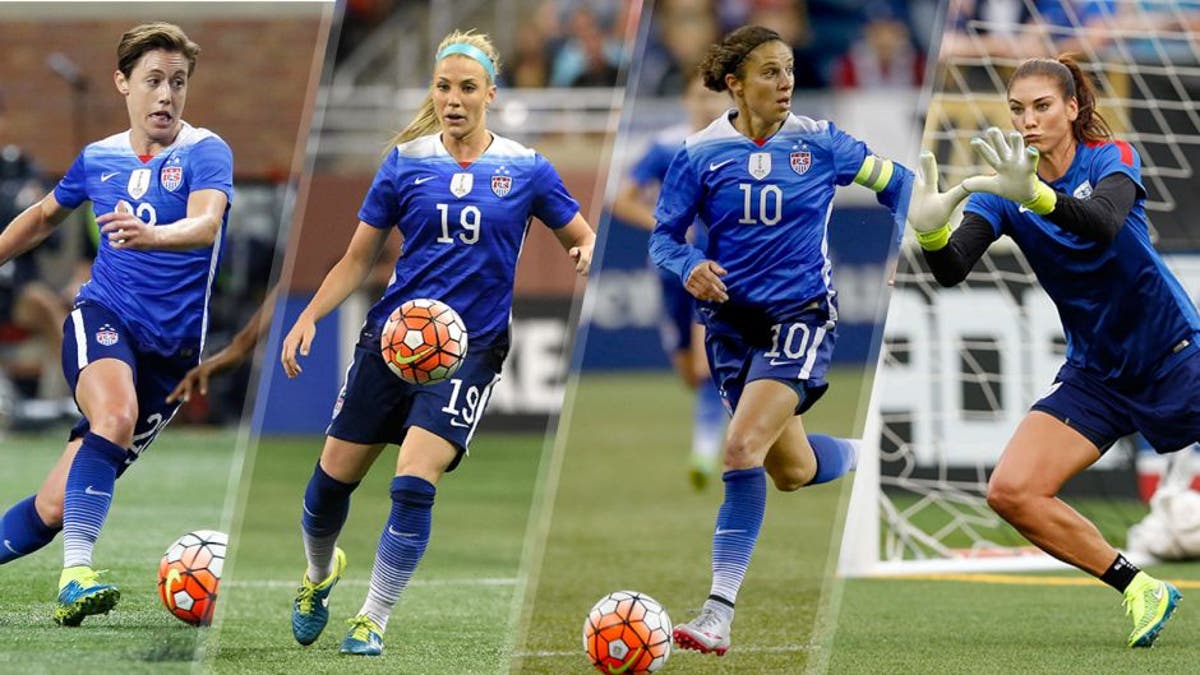 They may have lost their fight for grass fields at the 2015 Women's World Cup, but a sign that women footballers are gaining some parity has resulted in a nice honor for four United States women's national team players and seven other international women's soccer stars.
Hope Solo, Carli Lloyd, Meghan Klingenberg and Julie Johnston were named the first-ever Women's World XI on Thursday. The honor comes from a vote of female members of FIFPro, an organization that represents 65,000 professional soccer players around the world. The reigning 2015 Women's World Cup champs earned the most spots on the honorary squad.
"It's an honor to be selected by the players," said Lloyd, the reigning FIFA Women's World Player of the Year. "This is a great step forward in terms of equality, respect and recognition for women's football. I'd like to thank FIFPro for making this possible. It's an initiative that will be appreciated by female players all over the world."
Female players of 33 different nationalities spread out over 20 countries participated in this year's test vote. Players were asked to pick one goalkeeper, four defenders, three midfielders and three forwards, replicating the same format used in deciding the men's award. FIFPro has been naming a World XI for men since 2005.
France was well-honored for its vastly improved national team and first division stars. The No. 3-ranked team according to FIFA saw defender Wendie Renard, midfielder Amandine Henry, forward Eugenie Le Sommer get the call to the Women's World XI. All three French national team stars also all play for the French first division squad Olympique Lyonnais.
Germany's Anja Mittag, who also plays for Paris Saint-Germain, was also chosen along with Celia Sasic, the German striker who just announced her retirement. "I'm very happy to be in the team, especially knowing that it's the players who voted," said Mittag. "It's really great to know that from this moment on we'll have our own World XI."
Canada national team and University of West Virginia standout Kadeisha Buchanan got the nod at midfield and Aya Miyama, who was a finalist alongside Sasic and Lloyd for the FIFA Women's World Player of the Year, was the only player from Asia named to the World XI.
The inaugural Women's World XI in a sign that, finally, women footballers are starting to be shown a level of recognition and respect on the world stage. FIFPro launched a new committee in 2014. Caroline Jönsson, chairman of FIFPro's women's football committee and a former goalkeeper for Sweden, said the enthusiasm among women players around the world for this honorary team has been very high.
"The players are so happy because they have been asking us for this. It has been an enormous success," said Jönsson.
The plan is for the women's World XI to eventually have equal billing to the men's version. FIFPro's 58 member unions have collected a record of more than 26,000 votes for the men's world XI. The honorary team, however, is only a part of the work that the FIFPro women's committee hopes to address.
"We want to illustrate the issues facing female professionals around the world today and we want to gain a better understanding of the support they need," said Jönsson. "The only certainty right now is that working conditions for female players who turn professional are very different from country to country.
"FIFPro is very experienced at navigating the landscape that leads to the core of the game's decision-making process within FIFA. That is of course important for many reasons, to find solutions that resonate worldwide."
The 2015 Women's World XI:
Goalkeeper: Hope Solo (USA, Seattle Reign FC).
Defenders: Wendie Renard (France, Lyon), Meghan Klingenberg (USA, Houston Dash), Kadeisha Buchanan (Canada, West Virgina Mountaineers) and Julie Johnston (USA, Chicago Red Stars).
Midfielders: Carli Lloyd (USA, Houston Dash), Amandine Henry (France, Lyon) and Aya Miyama (Japan, Okoyama Yunogo Belle).
Forwards: *Celia Sasic (Germany, 1.FFC Frankfurt), Eugenie Le Sommer (France, Lyon) and Anja Mittag (Germany, PSG).
*Retired