USA midfielder Alejandro Bedoya ruled out for CONCACAF Cup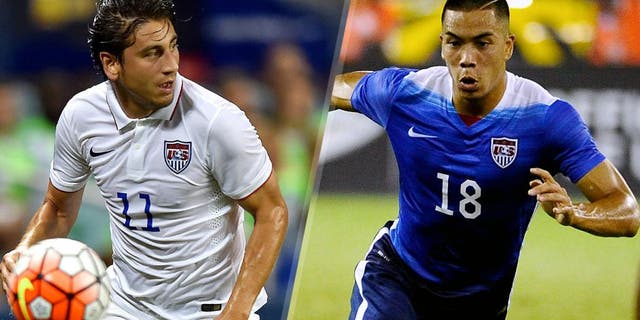 NEWYou can now listen to Fox News articles!
PASADENA, Calif. --
United States midfielder Alejandro Bedoya will miss the CONCACAF Cup playoff against Mexico after picking up an illness this week.
Bedoya missed training on Wednesday and Thursday after running a fever at the U.S. training camp in Irvine, Calif.

The situation prompted U.S. coach Jurgen Klinsmann to pull Bedoya off his roster and name Union Berlin forward Bobby Wood as his replacement.
Wood joined U.S. camp earlier this week as a non-roster player and received the call to replace Bedoya for the match at the Rose Bowl on Saturday (live, 8:00p.m. ET, FS1, FOX Sports GO).
"Ale can't make it," Klinsmann said during his pre-match press conference. "He got sick. Simple as that. He got a fever and he didn't train for two days. He's still not where he should be. So Alejandro will be replaced by Bobby Wood for tomorrow night. It's a bummer for Ale because he was burning for this game. But it is just what it is. We got that switch today and Bobby Wood will be on the bench."
The switch strips away one of the tested options in the American midfield. Bedoya played four matches at the World Cup last summer and started in the Gold Cup final two years ago. He loomed as a likely starter in midfield given his experience in big matches, but he dropped out of the reckoning after contracting the illness.
U.S. captain Michael Bradley noted the importance of Bedoya's contributions over the past few years, but he also underscored his faith in any potential replacements to shoulder the load. DeAndre Yedlin, Gyasi Zardes and Graham Zusi could all emerge as part of the midfield calculus with Bedoya ruled out.
"We'll miss Alejandro for sure," Bradley said. "He's been on the field on a lot of big days in the past few years. Certainly from that standpoint, it hurts. But you guys always hear me say that one of the strengths of our team has always been the ability for different guys to step in on different days and really come through. The mentality, the spirit, the commitment from every guy to compete for the guy next to him, these are things that have carried us on big days in tough moments. We all have total faith that whoever steps in tomorrow, whoever plays in any spot will step on the field ready to go."