US gymnast Gabby Douglas earns second gold with all-around title win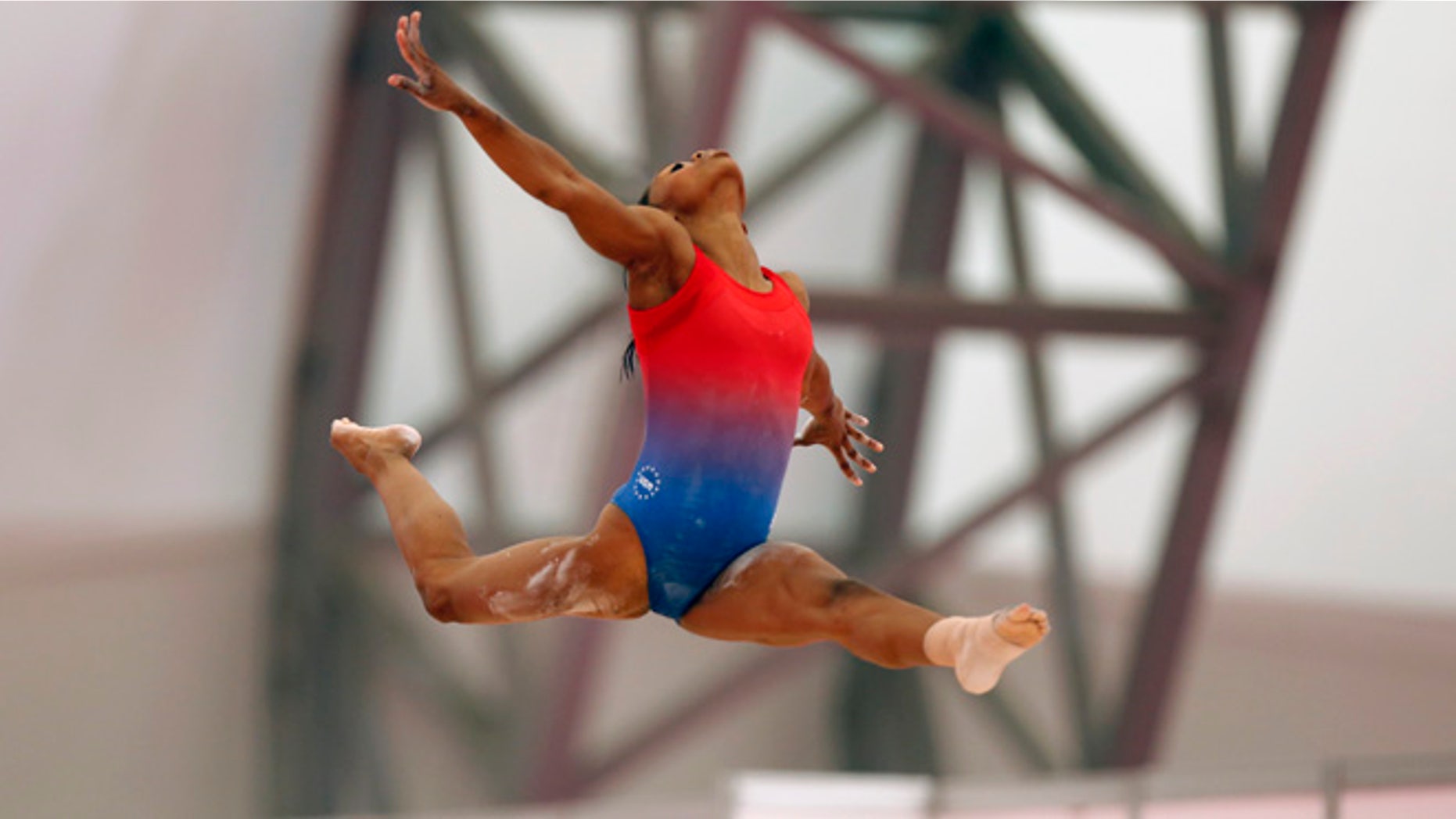 LONDON – Make it a pair of golds for Gabby Douglas, who added the all-around title to the one she won with the U.S. team two nights ago.
Douglas became the third consecutive American to win gymnastics' biggest prize, taking the lead on the very first event Thursday night and never really letting anyone else have a crack at it. She finished with a score of 62.232, less than three-tenths ahead of Viktoria Komova of Russia. Aliya Mustafina won the bronze.
Douglas brought the house down with her energetic floor routine, and U.S. teammates Jordyn Wieber, McKayla Maroney and Kyla Ross jumped to their feet, screaming, when she finished. Douglas flashed a dazzling smile and coach Liang Chow lifted her off the podium.
Teammate Wieber, the one-time favorite and defending world champion, missed out on the competition with a mistake-filled performance in qualifying.
Douglas held off Russia's Viktoria Komova and keep the remarkable run going for USA Gymnastics.
Shortly after Tuesday's victory gave the Americans their first team gold since the "Magnificent Seven" of the 1996 Atlanta Games, coaching icons Bela and Martha Karolyi stole a rare quiet moment alone. The couple stood separated by a metal barrier, eyes locked, holding each other's arms.
Whatever happens next in these Olympics, Bela told his wife, the U.S. had already won big -- again, at last. Then he leaned over the gate to embrace Martha and give her a kiss.
Both know there are plenty more Olympic medals to be had, and the Americans would love to head home with a heap of hardware.
Winning as a team certainly has them on the right track.
"It is very special. It gives us the momentum," the 4-foot-11 Douglas said. "It keeps going, it keeps flowing. It gives us, definitely, a little bit of an edge thinking that we are truly the best in the world. It gives us that little bit of a push."
Douglas and Raisman have a busy schedule ahead in the individual finals, too -- Douglas on balance beam and uneven bars, Raisman on beam and floor exercise.
"It definitely gives you a little bit of confidence," vault finalist McKayla Maroney said, referring to the Americans' mindset as they prepare for the rest of the Olympic schedule. "Now we are Olympic champions. It's awesome."
Douglas insists she never doubted that the U.S. brought the world's top female gymnasts to London. And others now agree -- this might just be the best American women's Olympics squad ever.
Douglas was third in the qualifying round behind the second-place Raisman. Russia's Komova, who finished runner-up to Wieber at last year's world championships, had the top score.
Ukraine's Lilia Podkopayeva was the last reigning world champion to win Olympic gold, in '96. With Wieber out of the mix, it's not going to happen here. Wieber wept after her qualifying flop, then regrouped to help the Americans win team gold.
On Thursday, she'll be in the strange position of cheerleader instead of competitor. Perhaps watching her teammates and close friends reach the podium will take some of the sting away.
Britain's Rebecca Tunney knows the Americans got a big boost from Tuesday's victory.
"If they've won that, they know that their team's good enough. Hopefully they can have their individuals who are able to medal as well," Tunney said. "I think they definitely have them. They're amazing.