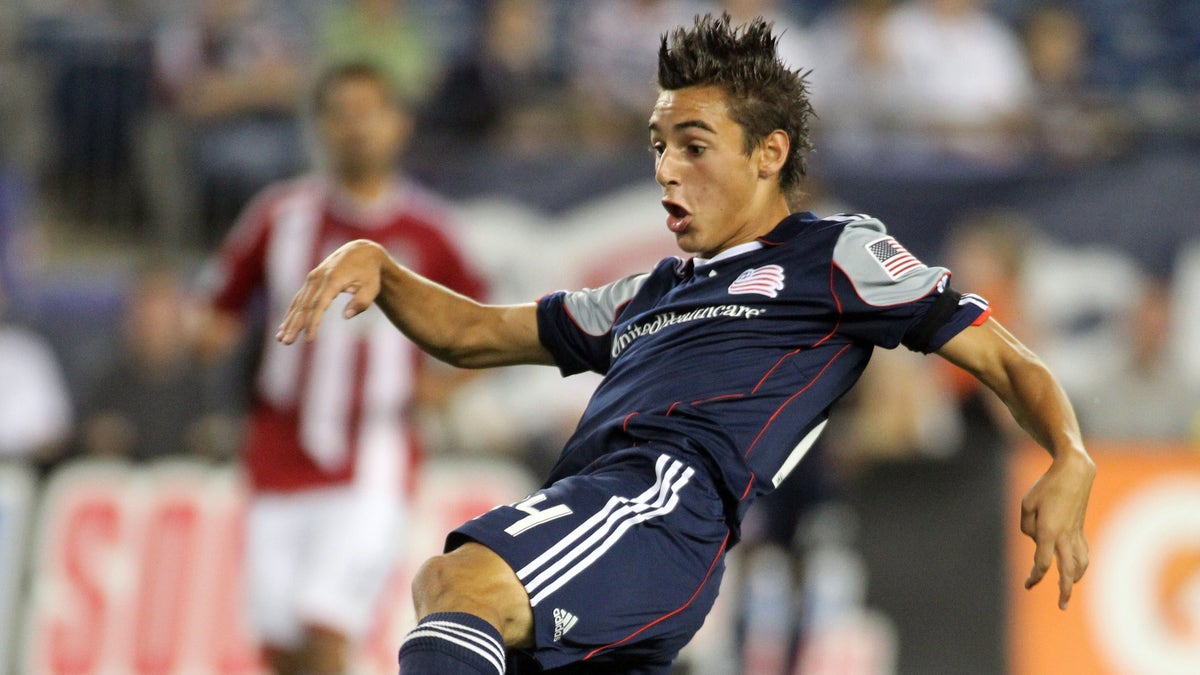 MALDONADO, Uruguay (AP) – New England Revolution forward Diego Fagundez has chosen to play his international football with Uruguay — the land of his birth — and not with the United States, where he grew up and has lived since he was five.
Fagundez debuted for Uruguay this month in the South American Under-20 Championship, which means he is no longer eligible to play for the U.S. at the senior level. He has a Uruguayan passport, but is not eligible for an American one for several years.
That's fine with the 19-year-old winger, who has scored 22 goals in four seasons with the Revolution and grew up in Massachusetts.
Fagundez said he was enticed by playing for a country that has a rich football heritage like Uruguay and grew tired of waiting for the right American documents.
He said his parents immigrated to the United States in 2000 "to look for a better future."
"I can't say anything bad," Fagundez said in an interview with The Associated Press. "My family is well and we have everything that we need to live well."
Fagundez played on U.S. youth teams, but said he was eventually told that — without the right residency documents — he could not keep playing.
"The moment came when they told me I couldn't continue because I wasn't a citizen or a resident," said Fagundez, who speaks Spanish and English but prefers to write in English. "A lot of years passed — so many years — and the situation didn't change. I was tired of waiting for the United States."
Gaining exposure in Uruguay should increase Fagundez's international value, though the competition could be tough. Despite a population of only 3.3 million — the greater Boston area alone has more with about 4.5 million — Uruguay produces some of the world's top player like Luis Suarez and Diego Forlan.
Fabian Coito, technical director of the Uruguay under-20 team, said Fagundez brings a foreign aspect to the side.
"He's a player brought up with a different game, and aspects of his game are hard to find in Uruguayan players," Coito said. "He is always linking up, plays the short pass, repeating those passes up the pitch. It's different to our style. We are very vertical, direct and looking to quickly put the ball in an attacking position. We've always been interested in this part of his game."
To the surprise of his Uruguay teammates, Fagundez loves ice hockey, a sport ignored in the small South American country.
"I'm a hard-core fan," said Fagundez, who turns 20 next month. "I love to watch it. It's a violent sport, lots of physical contact and fights. The fans are so passionate."
But he said his new teammates already treat him like a "brother."
This biggest adjustment will be the intensity of the play.
"The South American game is different than the American one," Coito said. "Diego will have to adapt to the style: less space and more contact."
Coito said Fagundez had a "great future" and could eventually make the senior team.
Fagundez said he had no hard feeling against American soccer officials.
"Right now, I don't want to play with the United States," he said. "I'm very happy with Uruguay and I think we can go far."