Upon further review: Vikings vs. Chiefs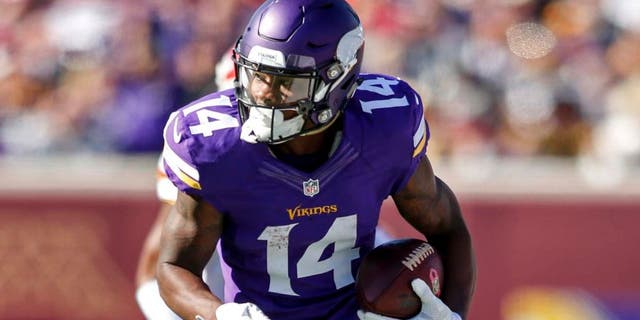 NEWYou can now listen to Fox News articles!
The Kansas City Chiefs entered Sunday's game against Minnesota clearly reeling, having lost four straight games and without star running back Jamaal Charles, who is out of the season after injuring his knee last season.
In other words, Kansas City was ripe for the picking. Could the Vikings take full advantage?
Well, Minnesota did just enough on both sides of the ball to help overcome a lackluster rushing attack and a few mistakes to win 16-10 and move to 3-2 on the season.
A recap of Sunday's win:
SUNDAY SCHOOL
-- Stefon Diggs couldn't get on the field until Minnesota's fourth game. It is going to be hard to get him off. With Charles Johnson out, Diggs got the start and was targeted early (three catches on first two drives) and often (nine in the game) in becoming the first Minnesota rookie since Randy Moss to post back-to-back 80-plus-yard receiving games.
-- Amazing how Minnesota could win this game despite no rushing attack and Teddy Bridgewater off his game. Adrian Peterson had only 60 yards on 26 carries, an average of 2.3 yards per rush. And Peterson had one rush of 23 yards, meaning he gained just 37 yards on his other 25 carries (1.48 average). Meanwhile, Bridgewater's QB rating was a paltry 65.1. He completed just 10 of 22 passes to receivers not named Diggs, and threw two interceptions, including one in the end zone on a poorly thrown ball.
-- First-round draft pick Trae Waynes rotated with Terence Newman at cornerback. Second-round pick Eric Kendricks had another stellar game with 10 tackles -- nine solo -- a sack, a quarterback hurry and a pass defensed. He also showed off a lot of curly locks when taking off his helmet. If he keeps it up, perhaps a shampoo commercial is in his future.
-- The Vikings had lost five straight games after their bye week. The streak ended, but certainly this was not the crispest of contests. The good news, I guess, is no bye week again until 2016.
-- Something we didn't learn: What exactly is a safety when an offensive lineman is holding in the end zone. It appeared as though Minnesota should have gotten one, but the hold was ruled to have occurred in the field of play.
DULY NOTED
-- With Emerson Griffen (illness) out, Danielle Hunter got the start and picked up his first career sack and was credited with a key forced fumble.
-- Diggs' 52-yard reception in the first quarter was Minnesota's longest play of the season.
-- Mike Zimmer challenged the spot of the ball after a Matt Asiata catch-and-run with 9:08 left in the second quarter. He lost the challenge, meaning he has lost 2 of 3 challenges this year and 4 of 6 in his two years.
-- Kansas City's offensive line had struggled this year and QB Alex Smith had been sacked 21 times entering Sunday's game. Minnesota recorded two sacks.
-- Peterson's rough day included a fumble (recovered by Joe Berger), being stuffed at the goal line on second-and-goal and an ill-advised move trying to cut back to the left side after being caught behind the line of scrimmage (losing 6 yards).
-- The Minnesota defense held Kansas City to 51 yards of offense in the first half.
-- The longest run of the day for the Chiefs was 9 yards by West.
-- The Chiefs converted just 3 of 12 third downs and were 0 of 2 on fourth downs. Kansas City also didn't score on either of their red-zone appearances.
WHAT IT MEANT
If a team wants to make the playoffs, it has to win at home and beat inferior teams. It wasn't pretty, and some questions remain -- such as Teddy Bridgewater's pass judgment at times and if Adrian Peterson will ever really get untracked -- but there's a lot to like, too (the defense, Walsh's consistency, emergence of Diggs) to make postseason talk more than just talk.
PLAYER OF THE GAME
So, perhaps Stefon Diggs' debut game against Denver wasn't a fluke. The rookie fifth-round pick had game-highs with seven catches and 129 yards (he was also targeted nine times, which was matched only by Mike Wallace). Six of his grabs went for first downs, including three on third-down plays (and of those, two more than 10 yards were needed for a first).
DON'T FORGET ABOUT ME
After an inconsistent 2013 and '14, Vikings fans had reason to be wary of how Blair Walsh would be in 2015. So far, so good. Against the Chiefs, Walsh hit two 45-yard field goals -- his long for the season -- and a 24-yarder as he accounted for 10 of Minnesota's 16 points. Walsh has now made 9 of 11 field-goal attempts this season.
THAT MOMENT
In a close game, a number of moments could be chosen -- in fact, if you really wanted you could go back to last week with Jamaal Charles' injury -- but since this one came down to the fourth quarter, Charcandrick West's fumble really hurt -- if not ended -- Kansas City's chances. With Minnesota up 16-10 after a Walsh field goal, the Chiefs quickly got the ball across midfield on a Alex Smith to Travis Kelce 37-yard pass. But on the next play, West fumbled with the Vikings recovering at their own 38. While the Vikings didn't score, they chewed some time and K.C. had just 2:46 and 80 yards to try and take the lead. The Chiefs' best chance to take the lead was lost on that fumble.
THIS NUMBER
40.1 -- the percent of Minnesota's offensive yards accounted for by Stefon Diggs. In case you were questioning his importance in the game.
THEY SAID IT
"I had to get my pacemaker readjusted after that one." -- Vikings head coach Mike Zimmer
"There's a lot young guys making plays." -- Vikings wide receiver Stefon Diggs
"It was exciting, they were driving down the field and having the feeling of making that play was amazing." -- Vikings defensive end Danielle Hunter on his forced fumble
WHAT'S NEXT
In a bit of a scheduling quirk, the Vikings (3-2) will play the Lions (1-5) for the second time this season before playing any of their other NFC North foes. In the first meeting in Minnesota on Sept. 20, Adrian Peterson ran for 134 yards in a 26-16 win, while Detroit's Matthew Stafford attempted 53 passes. The Lions are coming off their first victory of the season, in overtime over Chicago. The game at Detroit's Ford Field is at noon CT.