Upon Further Review: Vikings at Redskins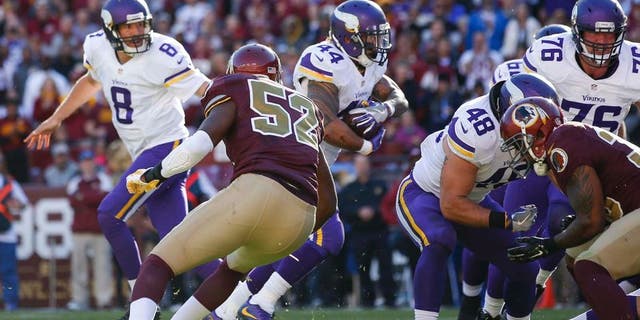 If any Minnesota Vikings fans had avoided pressing the panic button after a 5-0 start was followed by three straight losses, Sunday's 26-20 loss to Washington surely made them cave.
Injuries, of course, are a factor that can't be overlooked. Sam Bradford has filled in at the starting quarterback spot, but it's hard to imagine Adrian Peterson averaging fewer than three yards per carry through nine games.
Add in replacements at left tackle, right tackle, cornerback and linebacker after Eric Kendricks was lost following the first drive, and it's easier to see how things are slipping away.
The Vikings, though, for the second week in a row, were not able to come up with a game-winning score in the final minutes, dropping them to 5-4. Bradford moved the ball down the field both possessions in the final five minutes, but a pick followed by two sacks doomed the comeback attempt.
SUNDAY SCHOOL
--The Vikings found themselves in an early 14-0 hole to Washington after their first three drives ended in punts. They responded with three first half touchdowns.
-- Wide receiver Laquan Treadwell didn't play Sunday due to a hamstring injury. It was disappointing timing, just one week after he registered his first NFL catch, to have to sit out. It seemed like the rookie first-round pick was making progress and head coach Mike Zimmer said earlier he was "glad to see him get on the field."
-- Cornerback Captain Munnerlyn's absence due to injury was sorely felt on the defensive side. It forced Trae Waynes to play most of the game and Washington took advantage of it.
-- The Vikings' ground game is an undeniable weakness. It's one thing to be missing a future Hall of Famer in the backfield and struggle to compensate; it's another to get repeatedly stuffed on 3rd-and-1 to thwart the offense. Minnesota entered the game dead-last in the NFL in yards per carry (2.7). Sunday they rushed for just 47 yards on 21 carries.
-- Kicker Blair Walsh's troubles continue to mount. Team brass tried out half a dozen kickers this week looking for an alternative after Walsh's recent inopportune misses. They ended up committing to Walsh, and though his missed extra point against Washington did not decide the game, it nonetheless piled on a growing list of issues for the team to sort through.
-- Washington's defense made its way to Bradford with eight quarterback hits, two sacks on the final drive with under three minutes left and seven tackles for loss as a team. Bradford, though, led two solid drives in the final five minutes before the first was ended by an interception and the second stopped by a sack to end the game.
DULY NOTED
-- Wide receiver Jarius Wright recorded his first catch since week five versus Houston when he had four catches. Wright caught a 9-yard pass from Bradford.
-- The Vikings' defense, once touted as one of the best in the NFL, has struggled during the team's four-game losing streak. The sack numbers, in particular, have fallen off with one sack in each of the last three games. The unit had 19 in the first six games.
-- Washington quarterback Kirk Cousins' 110.9 quarterback rating was the highest recorded by a Vikings opposing quarterback this season.
-- The late fourth quarter interception by Bradford was just his second of the year.
-- Bradford threw for 307 yards, reaching the 300-yard plateau for the first time this season.
WHAT IT MEANT
After this loss, the Vikings and Detroit Lions sit atop the NFC North at 5-4. The Lions hold the tiebreaker with a head-to-head win under their belts. Despite the free-fall, the Vikings are fortunate to be in a division that doesn't feature a runaway opponent. All three teams are beatable: the Bears are essentially out of the picture at 2-7. Aaron Rodgers always makes the Packers a threat but they haven't gotten off the ground past the midway point, and with an upcoming Thanksgiving matchup with the Lions, the Vikings could find themselves solely on top of the division at the end of the month.
PLAYER OF THE GAME
Vikings wide receiver Stefon Diggs continues to be a reliable target for Bradford and did his job on a day the Vikings' offense failed to score in the second half. He finished Sunday's game with 13 catches for 164 yards. He also hauled in 13 passes last week against Detroit. On the final drive in which the Vikings had a chance to win the game deep in the fourth quarter, Diggs had six catches to help Minnesota move down the field.
DON'T FORGET ABOUT ME
One of tight end Kyle Rudolph's five catches today was a touchdown. He has been a favorite target for Bradford in the red zone this year with four touchdown catches out of 48 overall. The Vikings tend to go to the ground game in the red zone, but he's provided a change-of-pace.
THAT MOMENT
Down 23-20 with 9:33 on the clock at their own 12-yard line, Bradford and the Vikings meticulously moved their way down the field looking to take the lead in the fourth quarter. The short passing game featured under offensive coordinator Pat Shurmur's west coast offense worked in gaining first downs. Four minutes were worked off the clock, and with the Vikings at the Washington 39-yard line, Bradford's pass intended for Adam Thielen was picked off. Washington would score a field goal -- their fourth of the second half -- off that gifted possession. A touchdown on the final drive with 2:31 left would have won the game after Washington took a 26-20 lead, but that interception put Minnesota in a bad situation.
THIS NUMBER
2.2 yards per carry -- The Vikings entered Sunday's game last in the NFL in that category, and their numbers didn't improve against Washington. None of the Vikings' backs managed more than 16 yards on the ground.
THEY SAID IT
"I'm concerned, obviously, but I still believe. I believe that (if) we do a couple things here or a couple things there, we're going to win some games. ... I just feel like if we can get over the hump, if we can keep fighting until we do that, positive things will happen. It doesn't look like that right now." -Dead coach Mike Zimmer
"We've got to create more turnovers. We've got to be better on third down. There's a lot of things that aren't happening for us right now. At the end of the day, we've got to figure out what it is that we've got to get back to doing." -- Defensive end Brian Robison
"After a while, you get tired of hearing that, and you've got to win a ... game. You can only say you played so tough for so long until it doesn't count anymore. These are games you've got to win." -- Guard Alex Boone
WHAT'S NEXT
Minnesota hosts the 4-4-1 Arizona Cardinals Nov. 20 at 12 p.m. Arizona is coming off a 23-20 division win over the 49ers. The Cardinals came into this season with Super Bowl aspirations but have tripped up along the way. They sit in second place in the NFC West behind the Seahawks.