Upon further review: Minnesota vs. Nebraska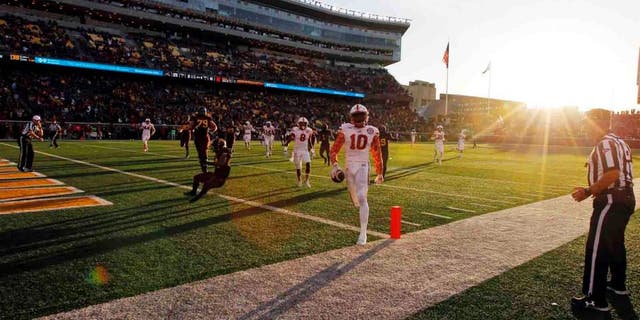 NEWYou can now listen to Fox News articles!
When the 2015 season started, Minnesota was considered one of the favorites to win the Big Ten West.
After going 3-1 in the nonconference slate and splitting its first two league games, Minnesota's matchup at home on Saturday against struggling Nebraska was a huge one.
But despite an unexpectedly impressive passing performance from quarterback Mitch Leidner, the Gophers couldn't run the ball or stop the Cornhuskers on defense, ultimately losing in a rout, 48-25. It was Nebraska's first conference win of the season.
Now, Minnesota embarks on the most difficult three-game stretch of its season and has almost surely taken itself out of the Big Ten West race.
Let's take a look back at Saturday's game at TCF Bank Stadium and see what went wrong.
CLASS LESSONS
-- Before moving on to the bad and ugly, let's start with the good. Leidner had one of his best games with the Gophers, and certainly his best first half. On the opening possession, he was 4 for 5 passing on a nine-play, 75-yard drive that ended with a touchdown pass to wide receiver Eric Carter for an early lead. In the first half, Leidner completed 16 of 17 passes for 156 yards. He eventually finished 26 of 40 for a career-high 301 yards with the touchdown and two interceptions, though the pair of picks both came late in the fourth quarter and were situational -- desperation passes forced downfield late. It was an encouraging game for the junior, but it's troubling for the Gophers that even in one of Leidner's best performances, they still lost.
-- Piggybacking a bit on the end of the previous point, the Gophers clearly lost the turnover battle, 3-0, but it wasn't as sloppy as that statistic makes it look. Besides a first-quarter lost fumble on a run by Shannon Brooks, Minnesota took care of the ball until the end of the game, when Leidner was trying to make something happen. Unfortunately, Nebraska didn't give the ball away at all, and the Cornhuskers are 12-0 since 2012 when they win the turnover battle.
-- Minnesota's defense may not be good, after all. In three Big Ten games, the Gophers have given up 27 points to a Northwestern team that hasn't really scored on anyone else, held Purdue to only 13, and then allowed a season-high 48 to Nebraska. They were beaten through the air (261 yards) and on the ground (203), as the Cornhuskers' superb offensive balance kept the Gophers on their toes and guessing. For most of the game, Nebraska looked and played more physical than Minnesota.
DULY NOTED
-- Eric Carter is a playmaker. The 5-foot-11 sophomore had the best game of his collegiate career, catching four passes for 91 yards and a score. He had the touchdown reception on the opening drive and then later showed great speed, vision and elusiveness on a 31-yard catch-and-run. With nine minutes left in the fourth quarter, with the Gophers down 16 points and needing a big play, he delivered, leaping up to make a catch along the left sideline for a 29-yard gain. His 22.8-yard average on four receptions showed he needs to be getting the ball more often.
-- All-Big Ten cornerback Briean Boddy-Calhoun returned from his knee injury Saturday and played for the first time in three weeks. The results were mixed; he didn't appear limited and was targeted too often, but he was the victim of one of the top plays of the season. Early in the fourth quarter, Boddy-Calhoun was defending Nebraska receiver De'Mornay Pierson-El in the end zone. As the ball came down, Pierson-El tipped it to himself between two Gophers defenders and caught it for a touchdown that put the Cornhuskers up 38-14.
-- Minnesota's touchdown on its opening drive was its first such score all season. Before Saturday, the Gophers had yet to get into the end zone on their first offensive series.
WHAT IT MEANT
With the loss, Minnesota enters the most difficult stretch of its schedule at 1-2 in the Big Ten and 4-3 overall. Starting next week against No. 12 Michigan, the Gophers play three straight games against ranked opponents. After hosting the Wolverines, Minnesota plays at No. 1 Ohio State and at No. 17 Iowa. Saturday's game was their best chance at a win for a month.
PLAYER OF THE GAME
Nebraska quarterback Tommy Armstrong. The junior completed 18 of 26 passes for 261 yards with three touchdowns and no interceptions. After Nebraska recovered Minnesota's fumble in the first quarter, Armstrong made one of the best plays of the game. On third-and-13, he had good protection but the Gophers' coverage was also good. The quarterback decided to improvise, rolling to the right outside the pocket and throwing a perfectly spiraled 33-yard strike to Alonzo Moore for a touchdown, as Minnesota defensive back Adekunle Ayinde fell down in the end zone.
DON'T FORGET ABOUT ME
Wide receiver KJ Maye. The shifty senior, like Carter, also had his best game of the year, showing playmaking ability in both the passing and running games. He caught a career-high 11 passes (his previous mark was six) for 94 yards, also a career high, and rushed twice for 21 yards and a touchdown.
THAT MOMENT
Leidner's pick-six. His first of two interceptions in the fourth quarter was the backbreaker. It was still a two-possession game with about two minutes remaining, but, rolling to his left, Leidner telegraphed his throw. Nebraska cornerback Joshua Kalu jumped in front of the pass for an easy interception and he returned it untouched for the clinching score.
THIS NUMBER
65. The Gophers rushed for just 65 yards on 26 carries (2.5-yard average) Saturday, which includes Maye's 21. Their running backs were even worse, rushing 16 times for 45 yards (2.8) with no touchdowns and a fumble. That was a major disappointment, especially since they'd run for 281 and 271 yards in their past two games against Nebraska.
THEY SAID IT
"It was one of those things. We weren't moving them." -- Minnesota coach Jerry Kill on the Gophers losing the battle at the line of scrimmage
"It's frustrating, looking at our goals that we set early on in the season and looking where we're at now, but it's just part of the game. Things like this just happen, and you've just got to be able to keep fighting back." -- Minnesota quarterback Mitch Leidner on the loss
WHAT'S NEXT
After a much-needed bye week, Minnesota hosts No. 12 Michigan in a nationally televised primetime game Oct. 31 at 7 p.m. CT.