Upon further review: Minnesota at Purdue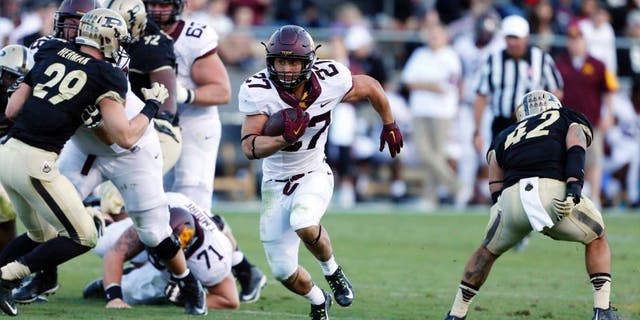 NEWYou can now listen to Fox News articles!
The Minnesota Gophers haven't always played an aesthetically pleasing brand of football this season. The Gophers do, however, play extremely physical.
Just ask Purdue safety Leroy Clark.
Clark got steamrolled on a couple occasions by Gophers tailback Shannon Brooks on Saturday, as the freshman helped Minnesota surge past Purdue, 41-13. Clark is listed at 5-foot-10, 190, but he was no match for Brooks' stiff-arms.
It was that kind of a second half on Saturday, as the visiting Gophers mauled their hosts, scoring 31 points after halftime, in what turned into a memorable afternoon at Ross-Ade Stadium in West Lafayette, Ind. Rebuilding Purdue (1-5 overall, 0-2 Big Ten) is a struggling squad, but the banged-up Gophers nevertheless looked impressive as the day wore on. That represents progress for a Gophers club that had entered the day averaging just 15.4 points per game this season.
CLASS LESSONS
-- Minnesota (4-2 overall, 1-1) can still run the ball capably. Minnesota churned out 326 rushing yards on Saturday, with Brooks (17 carries, 176 yards) leading the way. Fellow youngster Rodney Smith (13 attempts for 52 yards) also looked solid, as Minnesota consistently pushed Purdue around on the ground. The Gophers, who averaged just 141.2 rushing yards over their first five contests this year, ran the ball on 13 straight plays at one point early in the second half.
-- Minnesota used three quarterbacks, but it wasn't out of desperation. Not only did true freshman Demry Croft enter Saturday's game at the 13:49 mark of the fourth quarter, but so did freshman Jacques Perra of Roseville, Minn. Croft ended with one noteworthy play -- a 34-yard run -- while Perra strictly played in the game's final 70 seconds, but that was reasonably valuable experience for both young signal-callers. It's rare that such experience can be gained in a blowout win on the road, during conference play no less.
-- The Gophers' defense is downright rabid when it wants to be. Minnesota recorded eight tackles for loss on Saturday. Jalen Myrick recorded a pair of interceptions. Additionally, the visitors held the Boilermakers to just 68 total rushing yards.
-- Minnesota may have found an intriguing tight end in Brandon Lingen. Lingen ended with three catches for 22 yards and two scoring grabs in a game where Minnesota did just enough in the passing game to keep the opposing defense honest. At 6-5, 247 pounds, the sophomore offers a decent combination of size and speed.
DULY NOTED
-- Minnesota's Jerry Kill said earlier in the week that the Gophers need to get back to a run-dominant offense, saying "We were throwing it 35 times a game. That isn't who we are . . . that's not how we're going to be able to win in the Big Ten." On Saturday, the Gophers passed just 18 times while running on 48 plays. Expect that trend to continue moving forward this season.
-- Gophers starting QB Mitch Leidner did just enough to win. Leidner finished the day 8 for 12 passing for 59 yards, with two TD passes and one interception. Leidner also added a one-yard scoring plunge -- his 19th career rushing TD. He wasn't flashy, but when the Gophers have that dominant of a running game going, it sets up play-action passes decently.
-- Linebacker De'Vondre Campbell has some hands. The Gophers' senior linebacking standout had a solid all-around afternoon, recording seven total tackles, but his one-handed interception at the 13:51 mark of the fourth quarter was a thing of beauty. Campbell is 6-5, 239 . . . could he play a little wideout, perhaps?
-- Following Saturday's outcome, Minnesota now leads its all-time series with Purdue, 36-32-3. Minnesota won its third consecutive game in the series.
WHAT IT MEANT
The Gophers were supposed to beat the Boilermakers, so the win, in itself, isn't anything to brag about. But make no mistake, this was a much-needed win for Minnesota. Starting next week, against a desperate Nebraska squad, there aren't many easy matchups left on Minnesota's schedule. A loss to Purdue could've put Minnesota's eventual bowl eligibility in serious jeopardy.
PLAYER OF THE GAME
Shannon Brooks. The 6-foot, 206-pound freshman sent a stern message to Purdue all day -- namely, that Minnesota was in no mood to be messed with on this day. Brooks ended with 176 yards on 10.4 yards per carry.
DON'T FORGET ABOUT ME
Steven Richardson's tackle total (four tackles) wasn't off the charts, but he was a frequent menace in Purdue's backfield. Such was the case at 13:10 of the third quarter, when the sophomore defensive tackle produced a third-down sack when the Boilermakers still had some life. Linebacker Cody Poock also deserves a hat tip, for his team-high nine total tackles.
THAT MOMENT
Shannon Brooks' 71-yard scoring romp. The Gophers freshman from Jasper, Ga., ran with impressive physicality all day. That was never more apparent than early in the third quarter, when Brooks took a handoff and weaved through the middle of Purdue's defense, flattening Clark with a quasi forearm shiver en route to a career-best scoring run. That TD romp clearly energized the Gophers, giving them a 17-6 lead.
THIS NUMBER
193. The amount of yards Minnesota racked up in the third quarter alone on Saturday, as its lead swelled from 10-6 to 38-6 in the span of 15 minutes.
THEY SAID IT
"When you get into situations like last week (in a blowout loss) at Northwestern, it is something that tests you. It is a matter of staying positive, because we all knew this time would come. For us to do this right now is good for everybody's confidence." -- Minnesota quarterback Mitch Leidner, via the Associated Press
"It was my breakout game. It was only 10-6 coming out of halftime, and then that long run, just for momentum, was a big play." -- Minnesota tailback Shannon Brooks
WHAT'S NEXT
Minnesota takes on a talented-yet-snakebit Nebraska squad (2-4 overall, 0-2 Big Ten) next Saturday at 2:30 p.m. at TCF Bank Stadium.
Follow Kelly Beaton on Twitter