UMD, Notre Dame hope to join NCAA elite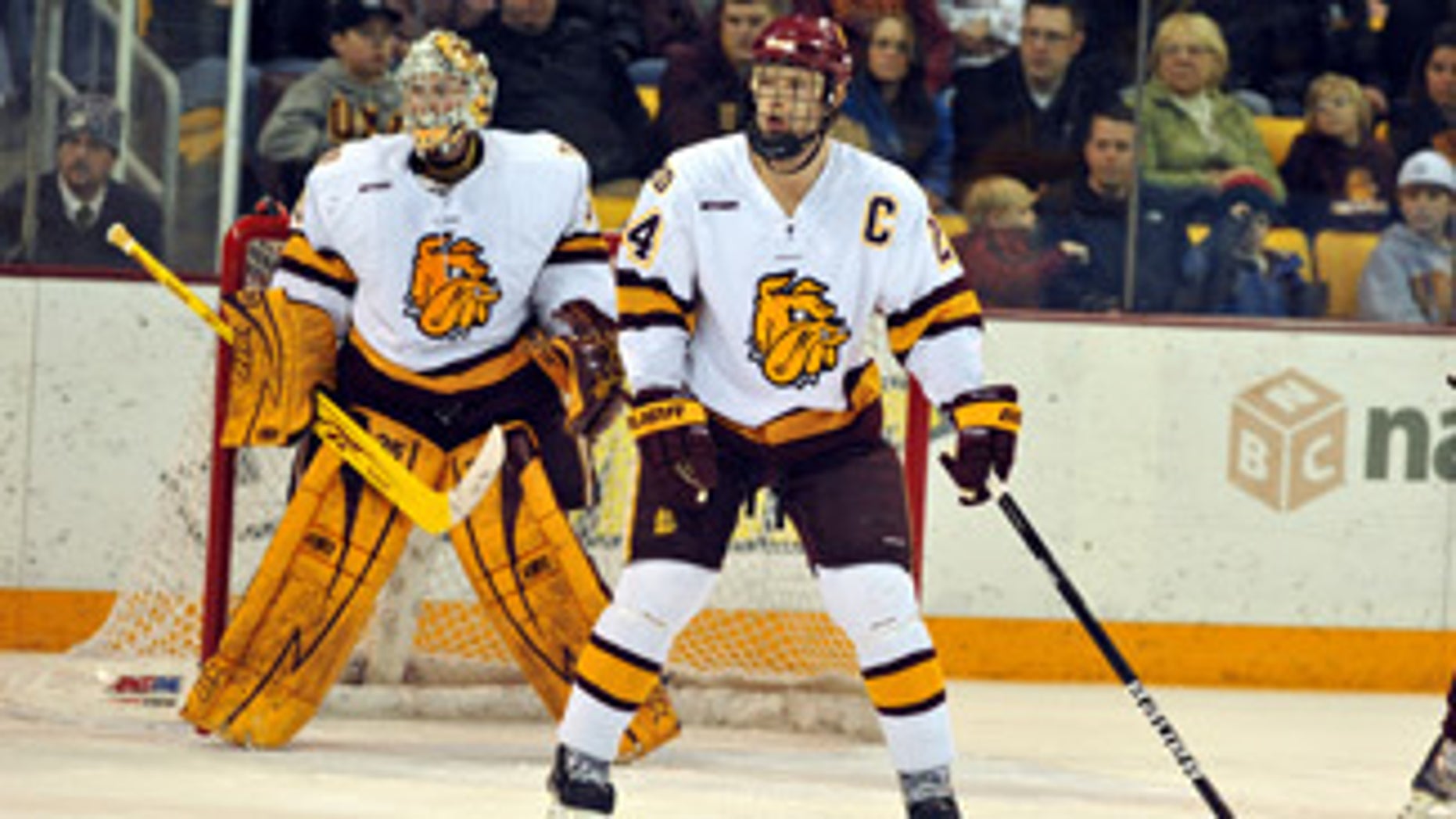 Two of the four teams that will skate in the 2011 NCAA Men's Frozen Four are titans in the sport's history, while the other two have an eye on making program history.
Michigan and North Dakota enter with 43 total Frozen Four appearances; Minnesota-Duluth and Notre Dame with a combined six.
Michigan and North Dakota have 16 national titles between them; UMD and Notre Dame each are seeking their first.
UMD and Notre Dame meet in the first semifinal, 5 p.m. ET on April 7 at Xcel Energy Center in St. Paul, Minn. Michigan and North Dakota will play in the second game, scheduled for 8:30 p.m. ET. The winners will play for the NCAA title at 7 p.m. ET on April 9.
"There is a certain confidence that comes with being a (program like) Michigan," said Montreal's Michael Cammalleri about his alma mater. "Impose that will upon a team early and put some doubt in them."
That will-and-doubt factor will be matched by the Fighting Sioux shift for shift.
"You need a lot of things to go your way to make it to the Frozen Four. Anyone can win it all at that level," said Detroit Red Wings goalie Jimmy Howard, whose Maine Black Bears lost the 2004 title game 1-0 to Denver. "We went to the dirty areas and that brought success."
Detroit teammate Justin Abdelkader will never forget the run his Michigan State Spartans made in 2007 -- and his last college goal.
" 'Did this really happen?' " Abdelkader asked himself immediately after scoring the winning goal with a minute to play, giving the underdog Spartans the NCAA title against Boston College. "You never know when that chance will come."
It comes April 9 for one team -- with special opportunities for each player. 
Another Michigan alum, Blackhawks goaltender Marty Turco, is one of the few current NHL players from any of this year's four schools to have such an opportunity.
"When you talk about storied programs," said Turco who backstopped Michigan to the 1998 title against Boston College, "the type of respect they get is deserved. Come playoff time, the coaches and captains and players learn from generations to have that confidence to win. Teams in the Frozen Four do things the right way and will be exciting times in St. Paul. I'm looking forward to that semi game against North Dakota."
Added Montreal captain Brian Gionta, who lost in that 1998 final with BC but won a championship in 2001 against North Dakota in his final college game: "You always look back on the championship year. You're with your best friends and winning a championship; it's a life highlight."
Here's NHL.com's look at this year's life highlight could play out.
MINNESOTA-DULUTH (24-10-6) VS. NOTRE DAME (25-13-5)
How they got there -- UMD beat Union 2-0 in the East Regional semifinal and knocked out the No. 1 overall seed, Yale, 5-3 in the final.
Notre Dame won a pair of one-goal games in the Northeast Regional, beating Merrimack 4-3 in overtime of the semifinal and winning 2-1 against New Hampshire in the final.
Coaches' comments -- Minnesota-Duluth coach Scott Sandelin: "The (two regional games) were certainly difficult games from a flow standpoint with power plays and penalty kills all weekend. There wasn't a ton of 5-on-5 play and flow. Hopefully it's not that way on Thursday. Defensively we did a good job, starting with our goaltender. We got outshot in both games, but managed to score more goals. We'll need a more consistent offensive push for 60 minutes. A lot of that will be dictated by penalties."
Notre Dame coach Jeff Jackson: "The Frozen Four is an unexpected treat for a team with signs of brilliance and signs of inconsistency. We picked the right time to show consistency (in the regional games). We're dressing 10 or 11 freshmen every night. Last weekend we paid attention to the little things away from the puck and Mike Johnson did a great job in goal. I saw for the first time getting things done over the entire 60 minutes. We never lost sight of what we needed, even being down two goals against Merrimack. Then against New Hampshire, I saw the same level of commitment. It's another new experience (next week); we'll see how they handle it."
NHL.com prediction -- UMD is led by senior captain Mike Montgomery and leading scorer Jack Connolly, a duo that also leads a large contingent of Bulldogs from across Minnesota, giving home-ice advantage to UMD. Notre Dame is led by senior captain Joe Lavin and Calle Ridderwall. The supporting cast includes all those -- until last weekend -- untested freshmen. Notre Dame's two regional wins were impressive. The pick is Jackson and his kids staying consistent -- and impressive -- for one more game to send Notre Dame to the second title game in program history.  
MICHIGAN (28-10-4) VS. NORTH DAKOTA (32-8-3)
How they got there -- Michigan won a pair of one-goal games in the West Regional, beating Nebraska-Omaha 3-2 in overtime in the semifinal and Colorado College 2-1 in the final.
North Dakota outscored its Midwest Regional opponents by a combined 12-1 margin -- they beat Rensselaer 6-0 in the semis and Denver 6-1 in the final.
Coaches' comments -- Michigan coach Red Berenson: "I don't know if we can match North Dakota's speed and/or skill. And I don't know if anyone has found a way to take that out of the game. We just have to be ready to play in a game that might be a foot race or a special-teams game. They've got the edge on special teams and offensive skill. You've seen three other No. 1 seeds go down and (North Dakota) is the last team standing. They are as good as it gets. Getting out of the penalty-killing last weekend (was a key to getting to the Frozen Four). We had to kill seven against Colorado College and they had as good a power play as we've seen all year. We were fortunate to get out of the game alive."
North Dakota coach Dave Hakstol: "Our team will continue the same mentality -- we've shown up and worked hard on work days while staying loose and having fun. (Last week) we kept ourselves focused on the job at hand and played a good team game. If you get distracted, you allow a bad bounce or tough play to affect you. Our team did a very good job of having a real good perspective and controlling what we could control. There won't be any drastic changes -- go and play the way we play and do the things we do as well as we've done them. That's our goal going into next Thursday."
NHL.com prediction -- North Dakota rolls four lines, is six deep on defense and has the best goaltender in the tournament in Aaron Dell, who has a 1.80 goals-against average (he also broke Ed Belfour's single-season wins record of 29 with 30 this season). Senior Matt Frattin, a Toronto Maple Leafs draft pick, has an NCAA-high 36 goals; senior defenseman Chay Genoway has 37 points. Only Michigan has a shot at matching North Dakota's skill, led by senior captain and New York Rangers draft pick Carl Hagelin and Ottawa Senators pick Louie Caporusso. Unless Michigan goalie Shawn Hunwick has the game of his life, there's just too much North Dakota in this semifinal.
NHL.com title game prediction -- North Dakota rolls to the school's eighth title with a 4-1 win against Notre Dame.
On Campus Clips -- Tom Anastos, CCHA Commissioner since March 1998, resigned to become coach at his alma mater, Michigan State University. Fred Pletsch, associate commissioner under Anastos, will assume the role of interim commissioner during the upcoming search process. Anastos, No. 46 on The Hockey News' list of 100 People of Power and Influence in the sport, enjoyed a four-year playing career at Michigan State during which the Spartans swept the regular-season and playoff titles each season.
"I am excited about returning to my alma mater to lead the Spartan hockey program to national prominence," said Anastos.
He replaces Rick Comley, whose final tally after 38 years behind two benches -- 29 at Northern Michigan and nine at MSU -- is 783-615-110. He won two national championships, in 1991 at Northern Michigan and 2007 at Michigan State. … 2010-11 Spencer Penrose Award (Division I Coach of the Year) finalists are Michigan's Red Berenson, Nebraska-Omaha's Dean Blais, North Dakota's Dave Hakstol, Notre Dame's Jeff Jackson, Union's Nate Leaman, Holy Cross' Paul Pearl, Minnesota-Duluth's Scott Sandelin, and Jerry York of Boston College.