Ulis 3-pointer lifts Suns into Summer League semifinals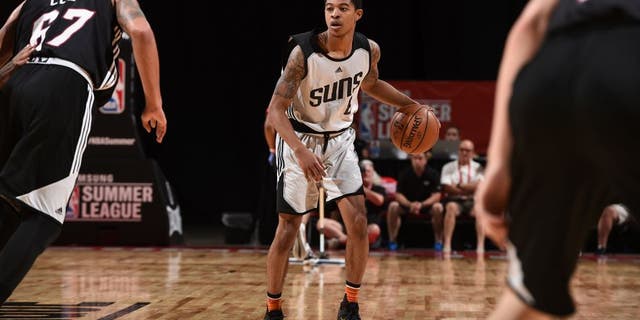 NEWYou can now listen to Fox News articles!
Tyler Ulis hit a long 3-pointer at the buzzer in overtime to give the Phoenix Suns an 82-81 victory over the Denver Nuggets on Saturday in the quarterfinals of the Las Vegas Summer League.
The Suns advance to Sunday's semifinals against the Minnesota Timberwolves.
The Suns had a chance to win the game in regulation, but Dragan Bender missed two free-throw attempts with 0.4 seconds to play.
Neither team scored in overtime until Jamal Murray sank a layup with 1.8a seconds left for an 81-79 lead. The Suns had one final opportunity, and Ulis sank his shot from nearly halfcourt for the game winner.
Troy Williams led the Suns with 22 points. Ulis finished with 19 points and four assists, and center Alan Williams had 11 points and 16 rebounds. Bender struggled with his shot (3 for 12 from the field, 2 for 9 from 3-point range) while scoring nine points but did block four shots.
Murray, a college teammate of Ulis' at Kentucky, had 29 points and seven rebounds, and Jimmer Fredette added 16 points.