UFC sets Ronda Rousey, Holly Holm rematch for July 9, 2016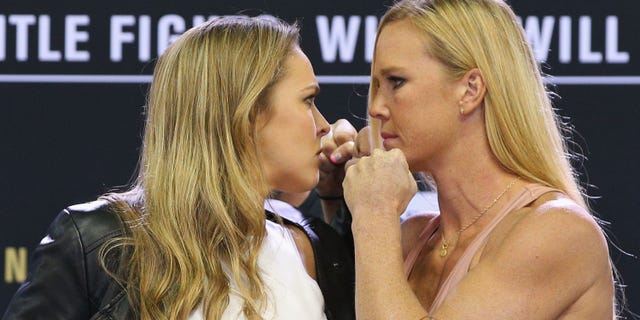 Ronda Rousey will look to regain her UFC title from Holly Holm next year.
The rematch between the two powerhouse fighters has been penciled in for July 9, 2016 at the new arena in Las Vegas, UFC President Dana White told the Los Angeles Times on Wednesday.
White, who said that he has remained in close contact with Rousey since her defeat to Holm in November, said he has no concern with Rousey's ability to return to the octagon next year.
"Ronda is the fiercest competitor I have ever met in my life and she's also very proud," White said. "What made the world love Ronda is that Ronda absolutely 100% knew she was not going to lose. … People rallied around this powerful female figure.
"Ronda's never lost a fight. She will overcome it and be back," he added.
It was Holm's manager, Lenny Fresquez, that voiced his concerns that Rousey would not be ready for a second fight.
"I'm not sure Ronda will be ready for a July fight," Fresquez told the LA Times on Tuesday. "She took a severe beating and I don't think it's in her best interest to take the next fight so fast. They told me she's been ready and cleared, but …"
He said he would like to see his fighter defend her belt earlier next year against top-ranked contender Miesha Tate.
"Holly's used to staying active," Fresquez said. "We're from the old school and we believe the No. 1 contender is there for a reason. … [Tate] deserves a shot, but it's not for me to decide."
Holm has expressed interest in defending her belt against an opponent other than Rousey. However, she will have to wait, White said.
In an interview with ESPN the magazine, Rousey said she is "really f—king sad" about the loss, but promised that she would get back out there and beat Holm.
"I need to come back. I need to beat this chick. Who knows if I'm going to pop my teeth out or break my jaw or rip my lip open. I have to f---king do it."
Like us on Facebook
Follow us on Twitter & Instagram