UFC Fight Kits will be more customizable by UFC 200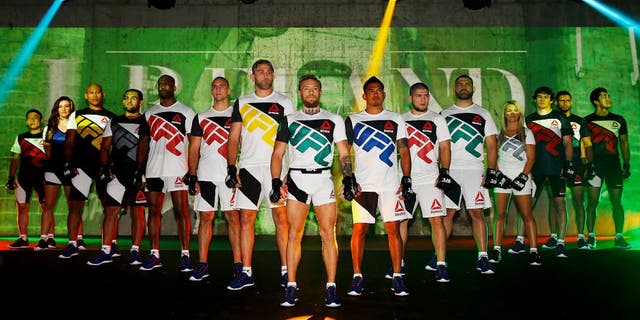 NEWYou can now listen to Fox News articles!
UFC's Reebok-sponsored fight kits are scheduled to undergo some major changes over the next few years, starting with UFC 200, according to a report from Bill King of the Sports Business Daily.
The current jerseys, which were initially launched during International Fight Week in July 2015, are mainly black and white and feature very few options for customization.
Starting at UFC 200, however, fighters will reportedly have a "jersey that takes some emphasis from the UFC logo across each fighter's chest, adds color to the shorts, and broadens the color palate to allow fighters more choices."
It appears they'll have much more flexibility with lettering options as well. Currently, other than the black and gold kits worn by champions, fighters have the choice of blue, green, yellow or black lettering on their kits with either white shorts with a black stripe or black shorts with a white stripe.
Going forward, however, fighters will be offered choices like chalk, excellent red, blaze yellow, collegiate royal and basil green. Conor McGregor's fight shorts during his title fight against Jose Aldo is a great example of where the brand is going in terms of customization.
And the future holds even more options.
Reebok expects to completely overhaul the product in 2017 to better meet the preferences of fans and fighters. And after that, the UFC expects changes every two years.
"We have to understand the culture of the fighter and the fan and deliver products that are consistent with that culture," said Matt O'Toole, brand president at Reebok. "I think that's what you'll see evolving season over season, [as we're] understanding and connecting with that culture. It might be similar to how a surf and skate brand delivers an experience consistent with that culture."
Many UFC fans and fighters were up in arms and insulted when the Reebok deal was first announced. While some complained that the kits were ugly, ill-fitting or stripped the fighters of their originality, others wondered why the UFC just didn't go with a larger company, like Nike, who may have been able to produce a better product. But UFC CEO Lorenzo Fertitta says he's happy with the deal, especially since Reebok's sole focus is UFC.
"When you partner with someone, you want to be a big deal to them," Fertitta said. "You want them to be committed to you. If you partner up with a Nike, who's got 42,000 other things going on, from the NBA to now the NFL and Premier League soccer and all the other things ... the reality is you only have so much bandwidth from a company's perspective."
The injection of color into the shorts and fight kit jerseys may seem minor, but it will go a long way in allowing fighters to maintain some of their originality.