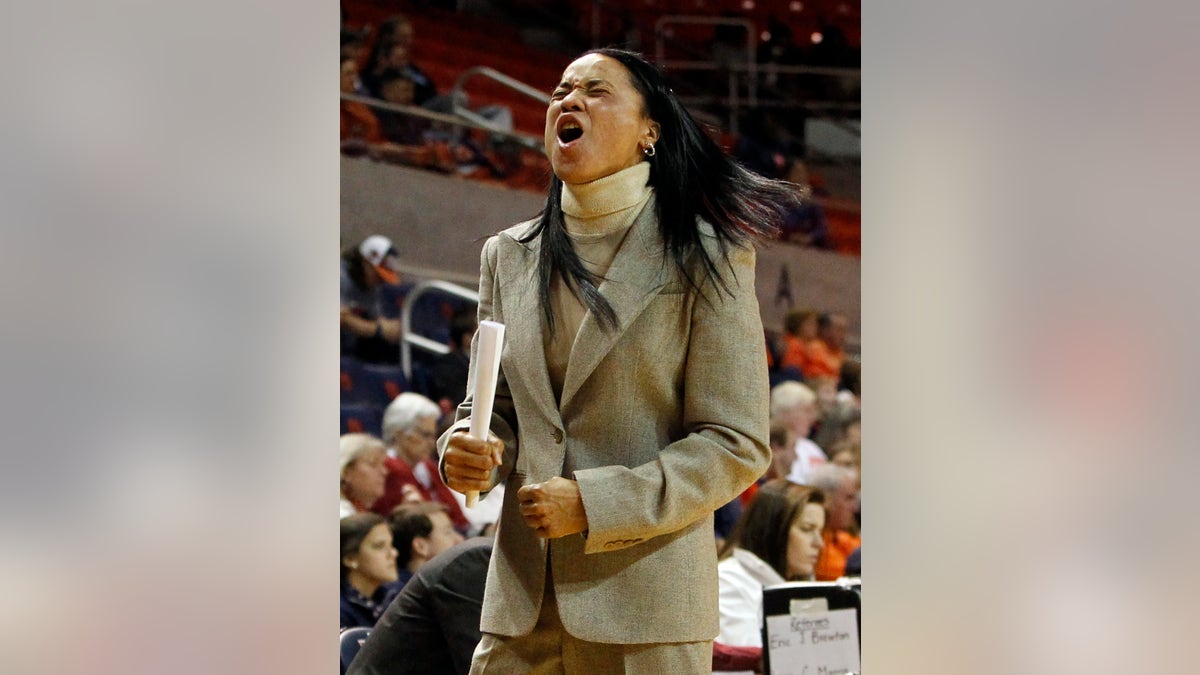 Connecticut stayed No. 1 in The Associated Press' women's basketball poll after two easy home victories this week, ahead of a showdown with No. 7 Baylor.
UConn faces its final non-conference challenge Monday night at Baylor, where the Lady Bears are riding a 69-game home winning streak and longest active in the nation.
Here are five things to know about this week's poll:
SOMETHING'S GOT TO GIVE: UConn and Baylor are the top two teams in average margin of victory with both winning by more than 30 points a game. UConn has done it against some stiff competition, beating five ranked teams by an average of 22 points. Baylor lost to Kentucky by three in a four-overtime thriller in its only game against a Top 25 team.
"Games like this always kind of test you and test how much your team has grown," said Breanna Stewart, UConn's top scorer at 18.1 points per game. "Everyone is going to have to show up and prove how much they've gotten better."
This will be the fifth meeting between the powerhouse women's programs with the two active coaches who have won the largest percentage of their games. UConn coach Geno Auriemma has an 856-133 record (.866 winning percentage) in his 29th season, and Baylor's Kim Mulkey is 386-82 (.825) in her 14th season at Baylor. They are 2-2 against each other.
POLL SHAKEUP: With the turn of the calendar comes conference play. It was a rough week for the Top 25 with more than half the teams suffering a loss. While the top seven teams in last week's poll went unbeaten, the rest were just 19-16. That's the worst week the Top 25 has had this season.
MOVING ON UP: South Carolina moved into eighth for its best ranking since the 2002 season when the Gamecocks were seventh on Jan. 21. Dawn Staley's squad is sitting atop the SEC and will face second-place Texas A&M on Thursday.
RUDE WELCOMING FOR NEWCOMERS: Indiana, San Diego and N.C. State made their first appearances of the season in the Top 25 last week and promptly went 1-4. The Hoosiers lost by 19 to Ohio State, while the Toreros got swept by Portland and Gonzaga. The Wolfpack were the only team to earn a victory, topping Wake Forest. N.C. State also lost to North Carolina earlier in the week.
BACK AGAIN: Rutgers returned to the Top 25 for the first time since the final poll of the 2011-12 season. The Scarlet Knights visit Memphis before hosting top-ranked UConn on Sunday. Vanderbilt and Texas A&M also entered the rankings. The Commodores had a rare win over Tennessee on Sunday, beating their in-state rival 74-63 for only the ninth time in 70 games. The Aggies, who were ranked earlier in the season, remained unbeaten in the SEC after wins over LSU and Georgia.
___
Follow Doug on Twitter at http://www.twitter.com/dougfeinberg