UCF's Tacko Fall works out with Magic, remains unsure of draft decision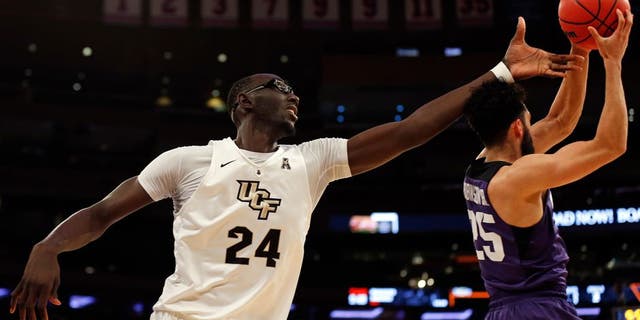 ORLANDO, Fla. (AP) -- The deadline for Tacko Fall to make his NBA decision is fast approaching and the UCF center still isn't sure what he is going to do.
The 7-foot-6 post player has not hired an agent and has until next Wednesday to decide whether to remain in the NBA draft or return to the Knights for his junior season. Fall is going through pre-draft workouts and interviews for several teams, and the nearby Orlando Magic was his latest stop Thursday.
"It has been really stressful just really thinking about it," Fall said following his workout at the Magic's practice facility. "It's a great decision, the most important decision I've ever since I chose a college really."
There have been indications during this process that the Senegal native should return to school and continue to grow under UCF coach Johnny Dawkins and his staff. Fall arrived at UCF two years ago as a raw player who had only played three years of organized basketball in the United States.
He made impressive strides as a sophomore, averaging 10.9 points, 9.5 rebounds and 2.6 blocked shots while earning American Athletic Conference Defensive Player of the Year honors. But in the NBA where the trend now favors smaller line up with quick centers who can also play on the perimeter, Fall isn't the commodity he once might have been.
Fall said he was "kind of" invited to last week's NBA Combine in Chicago, but he did not attend, instead opting for the team workouts and interviews like Thursday's Orlando session.
Fall has previously worked out for the Los Angeles Lakers, Boston. He has a workout scheduled with Utah and is hoping to meet with Houston prior to making his decision.
Magic interim general manager Matt Lloyd said there are teams and situations where a primarily shot-blocking rim protector like Fall can still be successful.
"The league is so geared toward speed but basket protection is one thing he can do," said Lloyd, who worked out five others players in addition to Fall on Thursday. "He can stand in front of the basket and hit the turn."
Fall said he hopes to make a decision by Tuesday, after completing his scheduled pre-draft workouts and interviews and talking things over with his family and Dawkins.
"Afterward I will definitely get more feedbacks and talk to Coach and talk to my family," he said. "Coach Dawkins is very experienced and he has been around these guys so he knows."
Fall said he has learned a lot through the experience and believes he will benefit from it whether he stays in the draft or returns to school.
"Regardless I will be in good position," he said. "Definitely if I stay in college I will make even bigger jumps like I did last year."