U.S.-Mexico Rivalry to Play-Out in CONCACAF Gold Cup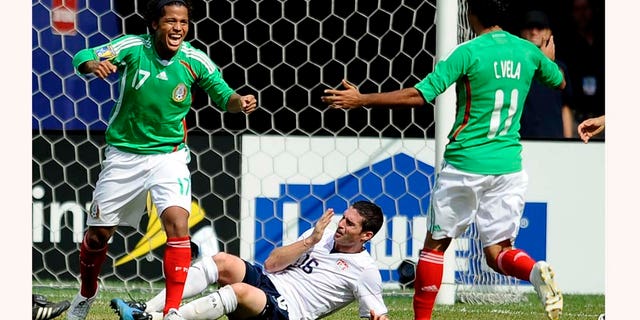 If all goes according to plan, Mexico and the U.S. will clash for the CONCACAF Gold Cup title at the Rose Bowl in Pasadena, Calif. on June 25.
Not surprisingly, as the two strongest teams in the confederation, those two archrivals have been kept apart for as long as possible in the competition, as CONCACAF announced the schedule Tuesday.
Now, here's something else that we learned Tuesday – the U.S.-Mexico World Cup qualifying derby might not be dead and buried as we feared.
And ironically, we can thank FIFA for that.
Mexico-U.S. is among the best rivalries in the world, if not the best. Add the aura of World Cup qualifying and the passion of the supporters, it ascends to yet another orbit.
Last fall, it was revealed CONCACAF had devised a new qualifying format for the 2014 World Cup for Brazil. This new process would allow the minnows of the region, particularly the ones in the Caribbean, to play more early-round matches.
After a couple of play-in matches, there would be eight groups of four teams each with the top two in each group going through to the next round. That would be followed with four groups of four teams each with the top two countries in each group advancing.
The final eight teams would be placed in two groups of four teams, keeping the two CONCACAF superpowers apart. The top two teams in each group would qualify for Brazil.
That would be good for the smaller countries, not so good for the Mexican-American rivalry.
But last week the FIFA Executive Committee rejected CONCACAF's request to increase its World Cup allotment from 3.5 to 4 berths.
For the 2010 competition, the top three finishers in the final round hexagonal qualified for South Africa, while the fourth-place side, Costa Rica, lost to Uruguay in an aggregate playoff.
So, it's back to the drawing board, although CONCACAF general secretary Chuck Blazer did not say whether Mexico and the U.S. would play again in qualifying.
"When we did the planning for the 2014 World Cup and the qualifications, we did it with the eye we were going to have four places," Blazer said on a conference call. "It means we've got to decide the third and fourth [place teams] if we've got the pairings we were looking at before. We felt four was in everyone's interest, including quite frankly other parts of the world, including Europe. It means there would be less players full for less games from their various clubs."
The format unveiled last year had 22 playing dates. To change it, CONCACAF must use 24 playing dates over 2012 and 2013, which means the confederation must find a few more international playing dates in those years. According to the FIFA international calendar, there are 19 playing dates (seven in 2012, 12 in 2013).
"We need to take a look at it and revisit it," Blazer said. "We've discussed it. Certainly we're going to be doing that over the next 10 days. Hopefully, we'll have something new to present [to FIFA], which will fit better into the calendar of the number of dates we have to work on it. It's not easy, I'll tell you that.
"It would have been far better for us all had we had gotten the four," he added. "We felt we deserved the four. I continue to to feel that. It was a bad decision on their part. But nonetheless, that's one we have to live with."
Any system that CONCACAF devises must be approved by FIFA.
When the Executive Committee made its decision, Blazer wasn't happy, tweeting his opinions and criticizing the colleagues in the media.
"They knew I was angry when I sat in the room with them," he said. "It was a situation where they were each maintaining their own interests."
As for more current events, El Tri discovered they will help kick off the Gold Cup in the second game of a doubleheader against El Salvador at Dallas Cowboys Stadium in Arlington, Texas, on June 5. They will take on Cuba in Charlotte, N.C. on June 9 and meet Costa Rica in Chicago on June 12.
Assuming the Mexicans finish first or second in Group A, they will play in the quarterfinals at the New Meadowlands Stadium in East Rutherford, N.J. on June 18. If they're still alive, El Tri will play in the semifinals at Reliant Stadium in Houston, Texas on June 22.
Mexico might not be the host country, but they certainly are the big moneymakers for CONCACAF, which uses the biennial Gold Cup to fuel its financial side.
So, the stadia Mexico will play in are huge, and for good reason. The Rose Bowl is the largest at 90,000, followed by the New Meadowlands Stadium (82,500), Cowboys Stadium (80,000), Bank of America Stadium in Charlotte (73,778), Reliant Stadium (71,500) and Soldier Field in Chicago (61,500). It would not be surprising if every Mexican match is a sellout.
Playing in the largest stadiums certainly makes a lot of sense for Mexican supporters in the U.S., and it makes a lot of dollars and cents for CONCACAF. Now, if CONCACAF can somehow find a way to get the U.S. and Mexico to clash in the qualifying, it would make even a lot more sense for fans of the beautiful game.
Michael Lewis, who has covered international soccer for three decades, is a frequent contributor to Fox News Latino. He can be reached at SoccerWriter516@aol.com.
Follow us on twitter.com/foxnewslatino
Like us at facebook.com/foxnewslatino