U.S. men's soccer team loses 3-2 to Chile; winless streak most futile stretch since 2007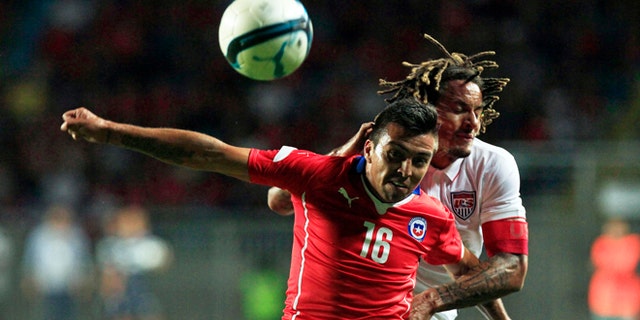 ASSOCIATED PRESS – The U.S. soccer team started 2015 the same way the Americans ended last year: with a loss.
Mark Gonzalez scored in the 66th and 75th minutes, rallying Chile to a 3-2 exhibition win over the U.S. on Wednesday night that sent the Americans to their first five-game winless streak since 2007.
The 27th-ranked Americans led 2-1 at halftime on goals by Brek Shea in the sixth minute and Jozy Altidore in the 31st around Roberto Gutierrez's 10th-minute equalizer at Rancagua, Chile.
"After the World Cup, a lot of players dropped their levels 30, 40 percent when they came back from vacation," U.S. coach Jurgen Klinsmann said. "It doesn't matter if they're in Europe or in the U.S., you can't do that. At the international level, you get exposed after minute 65, 70 if you can't go the speed anymore both ways. So there's a lot of work ahead of us, ahead of the players."
Most Americans had not played in a game since at least November. They started training on Jan. 12 in Carson, California, where they play Denmark on Feb. 8.
"Still getting the legs back, still getting the sharpness back," Altidore said. "I don't think we should hold our heads down too long."
Klinsmann unveiled a 3-5-2 formation, and the Americans switched to a 4-4-2 in the second. They've been outscored 9-0 in the second half of their last six matches.
"I think we learned a lot and we can use it in the future," Shea said.
With the defeat to No. 14 Chile, the Americans have lost three straight games for the first time since late 2009 and early 2010, and they have one victory in nine matches (1-5-3) since beating Ghana in their World Cup opener last June.
"The physical side of it made kind of a turn towards the negative for us, and that's a bummer, but it's understandable," Klinsmann said.
Both teams were missing nearly all Europe-based players because the match was not on a FIFA fixture date.
D.C. United defender Steve Birnbaum made his U.S. national team debut, starting at right back. Two other players entered in the second half for their first international appearances: Columbus defender Wil Trapp in the 60th and Los Angeles Galaxy forward Gyasi Zardes in the 68th.
"Any time you get to play for your country, it's awesome," Birnbaum said.
Jermaine Jones played center back in front of goalkeeper Nick Rimando and Matt Besler on the left. Mix Diskerud and Michael Bradley were in defensive midfield, and Clint Dempsey in the center of attacking midfield, with wingbacks DeAndre Yedlin on the right and Shea on the left. Altidore and Bobby Wood started at forward.
Shea and Altidore returned to Major League Soccer this month following struggles in England. Shea signed with expansion Orlando after appearing in just three league and two League Cup games for Stoke over the previous two years. Altidore joined Toronto following an awful 1 1/2 years at Sunderland, where he scored one goal in 40 league appearances with the Black Cats.
Shea scored his third international goal and first since the 2013 CONCACAF Gold Cup. Besler played in a longball and Shea ran on to it, letting it bounce three times before beating goalkeeper Johnny Herrera with a left-footed angled shot from about 11 yards.
Gutierrez tied the score when he split Jones and Besler to beat Rimando with a glancing header from 7 yards off Gonzalez's cross.
Altidore put the U.S. back ahead with his 26th international goal. Yedlin, who joined the team in South America following his first few weeks of training with Tottenham, made a short throw in to Mix Diskerud. He exchanged passes with Yedlin, and Diskerud crossed for Altidore, who scored with his right foot from 10 yards.
Bradley nearly extended the lead to two goals in the 61st with a 23-yard shot that hit the intersection of the crossbar and a post.
Gonzalez then scored with an angled 7-yard shot and got the go-ahead with a shot that may have deflected off a foot of Birnbaum and past Rimando, who had dived to parry a 25-yard initial shot by Marco Medel.
"You want to win," Altidore said, "but I think the base is there for a good year."
Like us on Facebook