Two tickets to Cavs-Warriors Game 5 reportedly fetch NBA record resale price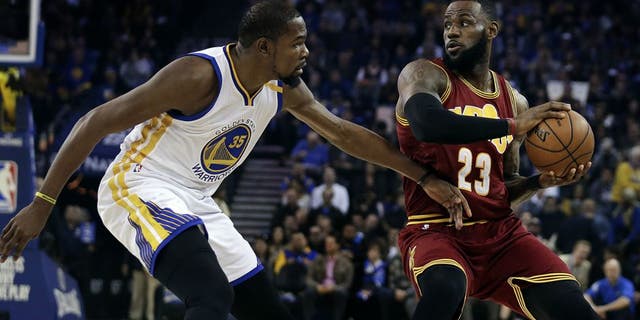 NEWYou can now listen to Fox News articles!
The Golden State Warriors have a chance to celebrate a title on their home floor for the first time since the franchise moved to the Bay Area if they can put away the Cleveland Cavaliers in Game 5 on Monday. And it appears fans are shelling out big bucks for the chance to witness history.
According to ESPN, someone paid an NBA record $133,000 on the teams resale website for two floor tickets for Monday nights game. The person reportedly spent more than $17,000 just on buyer fees.
Fans who are not season-ticket holders had a chance to purchase Game 5 tickets Saturday on a first-come, first-serve basis with prices ranging from $575 to $975, according to the report.
The Warriors have won four titles in franchise history, claiming two in Philadelphia before the franchise moved to the Bay Area before the 1962-63 season.
The Warriors swept the then-Washington Bullets in 1975, ending the series on the road. Golden State needed six games to finish the Cavs in 2015 and celebrated winning the title in Cleveland.
The Warriors had two chances to hoist the Larry OBrien Trophy in Oakland last year but lost twice at home on their way to blowing a 3-1 lead. Golden State is facing a similar situation this year, having a chance to close out the series Monday at home or win the title in Oakland if the Warriors are pushed to a Game 7.