Twins rookie joins elite club, hitting homer on first major-league at bat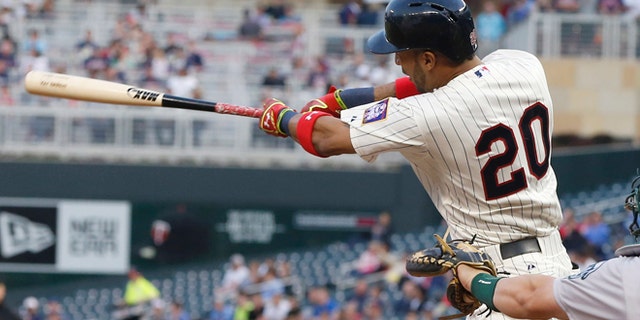 It didn't take Eddie Rosario long.
Called up from the Minnesota Twins' Triple-A franchise earlier this week, the 23-year-old outfielder saw the first pitch of his first major-league at bat from the Oakland Athletics pitcher Scott Kazmir, and Rosario liked it. He liked it very much, indeed.
Rosario sent the ball about 400 feet into the seats in left-centerfield to give Minnesota a 1-0 lead Wednesday night, becoming only the 29th major leaguer to hit a home run on his first pitch – a group that includes no Hall of Famers and only a few players with distinguished careers, among them Dagoberto Campaneris and Junior Felix.
The last to do achieve the feat was the Pittsburgh Pirates' Starling Marte on July 26, 2012.
The Puerto Rican rookie grinned as he rounded the bases. After touching home plate, he raced into the dugout where his teammates gave him the silent treatment.
The players eventually cracked and engulfed Rosario with high-fives and back slaps.
Oakland entered Wednesday desperately looking to win a second straight game for the just the second time this season. The Twins had other ideas.
Kazmir allowed six runs over six innings and lost his first game of the season as the A's fell, 13-0. The A's had earned a 2-1 victory Tuesday night but were unable to stifle Minnesota's bats again Wednesday.
"It's very frustrating — there was a great feeling in here yesterday when we won a hard-fought game, one run," Oakland manager Bob Melvin said. "And then we have Kaz going to the mound, and we're feeling good about it. We just couldn't pull together a good game."
Oakland's only consecutive wins in 2015 were over the Houston Astros on April 13-14.
The Twins got to Kazmir (2-1) early and often thanks to some unlikely heroes. Apart from Rosario, Eduardo Escobar — batting .194 — hit a three-run homer and drove in five runs on the night.
"Facing a tough pitcher, no doubt about that," Twins manager Paul Molitor said. "But we were able to find a way to win the game."
Escobar homered off Kazmir in the sixth and hit a two-run double in the seventh. Kennys Vargas added a three-run homer off R. J. Alvarez in the eighth.
"I felt like I didn't have a good feel for my cutter for the most part," Kazmir said. "That pitch was really inconsistent for me, and they made me pay for it."
The Twins' Kyle Gibson (3-2) pitched six innings and hasn't allowed a run in his past 17.
Brett Lawrie had two hits for the A's to extend his hitting streak to 10 games, which is the longest active streak in the American League.
Based on reporting by the Associated Press.
Follow us on twitter.com/foxnewslatino
Like us at facebook.com/foxnewslatino