Twins pitcher Ervin Santana hit with 80 game suspension for positive drug test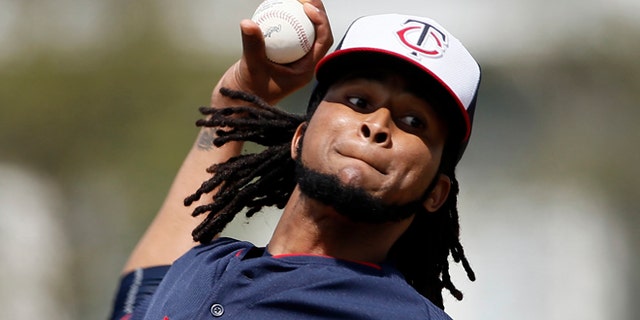 FORT MYERS, Fla. (AP) – The Minnesota Twins spent $55 million on Ervin Santana to bring some much-needed talent and experience to their beleaguered starting rotation.
Now, thanks to an 80-game suspension for testing positive for a banned substance, the Twins will be without their biggest offseason acquisition for half the season. And their pitching staff has become a major question mark once again.
Santana was suspended by Major League Baseball on Friday after testing positive for the performance-enhancing substance Stanozolol.
"It's disappointing. It's difficult," Twins GM Terry Ryan said. "We had a fairly decent spring. Now we've got to regroup here and hopefully it won't affect us as we move forward."
In a statement released through the players' union, Santana said he was surprised by the news but does not plan to appeal. New to the Twins this year, he'll miss the first half of the season.
This was the third penalty for a positive Stanozolol test reported by MLB in the last eight days, following Seattle pitcher David Rollins and Atlanta pitcher Arodys Vizcaino.
A person familiar with the penalties told The Associated Press that MLB will look into whether there's a common source to the three cases. The person spoke on condition of anonymity because the investigation is not finished.
Santana signed a four-year contract with the Twins after pitching last season with Atlanta and was slotted in the No. 2 spot behind Phil Hughes in a rotation that has been among the worst in the majors the last four years. The 32-year-old righty will lose $5,901,639 of his $13.5 million salary this season.
In his statement, Santana issued his "deepest apologies" to his family, fans, colleagues, teammates and the Twins.
"I am very disappointed that I tested positive for a performance-enhancing drug. I am frustrated that I can't pinpoint how the substance in question entered my body. I would never knowingly take anything illegal to enhance my performance. What I can guarantee is I never knowingly took anything illegal to enhance my performance. That's just not me, never has been and never will," Santana said.
"Ever since I was a child I always had to work harder than everyone. Not too many people believed I could become a major leaguer. I worked hard to achieve everything I accomplished and I take pride in proving that through hard work dreams can come true," he said.
Santana, acknowledging his status as a role model for youth in his native Dominican Republic, said he would never jeopardize the integrity of the sport, his family or his home country.
"I preach hard work, and don't believe in short cuts," Santana said. "Moving forward, I need to be more careful on what I consume in my home country. I will be more vigilant of medications I take so that I don't commit another mistake."
New Twins manager Paul Molitor said he had a conversation with Santana following the news, but declined to discuss the specifics. He also addressed the team as they try to regroup before opening the season on Monday in Detroit.
"One thing that players know is adversity is a huge part of our game, and this is obviously something that no one really saw coming," Molitor said. "So, I just tried to assure them that I believe in the group that we have and we will deal with it in the best possible way that we possibly can. It doesn't change how I expect us to compete."
The Twins announced before their exhibition game against Boston that they will recall left-hander Aaron Thompson from Triple-A Rochester to take Santana's place on the staff. Thompson will go to the bullpen, and right-hander Mike Pelfrey will return to the rotation.
"All I can do now is continue to work hard, and when the suspension is up, come back to doing what I love," Santana said.