Twins load the bases late, can't capitalize in loss to Indians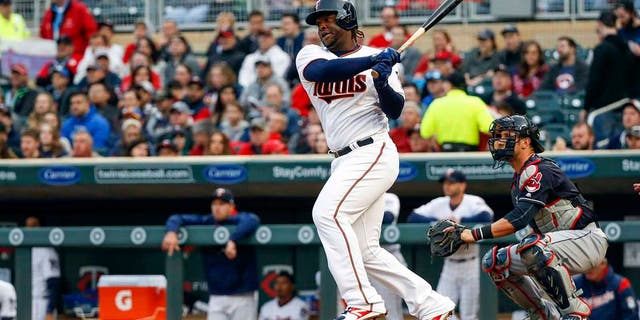 MINNEAPOLIS -- Danny Salazar finished six innings strong after a shaky start, Michael Brantley homered and drove in two runs and the Cleveland Indians beat the Minnesota Twins 3-1 on Monday night.
Salazar (1-1) struck out seven and retired 15 of his last 18 batters after allowing five hits and one walk over a seven-batter stretch spanning the first two innings. Brantley's groundout tied it in the third, and Edwin Encarnacion's single gave the reigning AL champions the lead on their way to only their third win in 10 games.
Then Brantley took Kyle Gibson (0-2) deep in the fifth inning, raising his career average in 13 at-bats against the Twins right-hander to .385 with four RBIs.
Cody Allen loaded the bases in the ninth, but he completed his third save by getting Joe Mauer to fly out to center field.
Twelve games into the season, the Twins entered with the lowest team ERA (2.46) in the majors, and the Indians brought the highest (5.35).
Salazar had the bases loaded in the first inning and escaped with a groundout. Then Eddie Rosario's RBI single with none out in the second gave the Twins an early lead and put runners at second and third, but Salazar slithered out of the situation with two strikeouts and an infield popup.
Predictably for the Twins and their missed opportunities, the right-hander went on a roll from there. Salazar struck out the side in the sixth, despite a one-out walk. He sent Rosario back empty after missing an 87 mph breaking ball that zipped out of the strike zone to finish the frame.
TRAINER'S ROOM
Cleveland: In the best-case scenario according to manager Terry Francona, 2B Jason Kipnis (sore right shoulder) would rejoin the team for his season debut on Friday in Chicago to face the White Sox. The two-time All-Star's rehab assignment was interrupted last week when he was hit on the left hand with a pitch.
Minnesota: CF Byron Buxton, off to an abysmal 4-for-43 start with a majors-most 23 strikeouts, was on the bench for just the second game. Max Kepler played CF, with Robbie Grossman in RF. Manager Paul Molitor said he thought Buxton made mild progress at the plate over the weekend.
UP NEXT
Cleveland: RHP Josh Tomlin (0-2, 18.47 ERA) will make his third start after two ugly turns. He allowed 18 of 36 batters to reach base.
Minnesota: RHP Phil Hughes (2-0, 3.86 ERA) will take the mound for the third time this year, seeking his first 3-0 start since going 5-0 in six turns in 2010.