Twins fall to Schoop, Orioles 5-1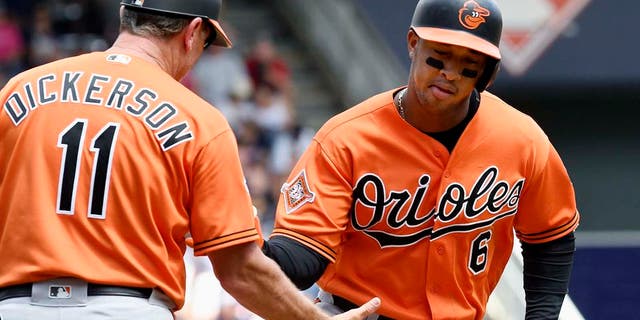 MINNEAPOLIS -- Jonathan Schoop and Mark Trumbo each homered for Baltimore, Wade Miley produced his best start in more than five weeks and the Orioles beat the Minnesota Twins 5-1 on Saturday to stop a five-game losing streak.
Manny Machado added an RBI double to help the Orioles beat the Twins for the first time in six meetings this season. This was just their third win in 11 games.
After Miley (4-7) allowed Miguel Sano's 21st home run, the most by a Twins player before the break since Justin Morneau with 21 in 2009, Schoop trumped his American League All-Star teammate with a towering two-run shot in the fourth inning off Adalberto Mejia (4-4). The ball reached the third deck above left field, estimated by Major League Baseball's Statcast system at 462 feet.
Miley had failed to finish three innings in three of his last six starts, an awful stretch that saw his ERA balloon from 2.82 to 5.20. He gave up eight hits and three walks in this one, leaving with two outs in the sixth, but only one run. The Twins stranded 10 runners on base over the first six innings.
Mejia was removed with two outs in the seventh, after allowing five hits, three walks and four runs. He had won each of his previous three starts.
COLON COMING?
After signing 44-year-old right-hander Bartolo Colon to a minor-league contract for at least one turn with Triple-A Rochester, the Twins could bring him up to start as soon as July 18 against the New York Yankees. Jose Berrios, Ervin Santana, Kyle Gibson and Mejia have been ordered for after the All-Star break, but there's a fifth spot in the rotation that'll need to be filled.
GOOD START
Twins outfielder Zack Granite, who was recalled from Triple-A Rochester, arrived in Minnesota after midnight but still beat the boss to work on his first day of major league duty. When Granite, who was hitting .360 with 40 runs and 15 steals in 59 games and named to the International League All-Star team, went to see manager Paul Molitor he found an empty office. Nobody else was there that early, either, except teammate Trevor Hildenberger.
"I was just kind of standing here, admiring the clubhouse," said Granite, who debuted in the eighth inning with an 11-pitch at-bat that ended with a pop out.
SCHOOP AT SHORT
The Orioles designated SS Paul Janish for assignment to make room for RHP Chris Tillman, who returned from paternity leave to join the bullpen for now. With manager Buck Showalter wanting to give Johnny Giavotella some work at 2B, Schoop got his first career start at SS.
TRAINER'S ROOM
Orioles: Miley was tripped by a spinning barrel off the broken bat of Kennys Vargas during an inning-ending groundout in the fifth, tripping him to the ground, but he returned for the sixth after walking off gingerly.
Twins: Molitor said he's "fairly confident" that 1B Joe Mauer (strained lower back) will be ready to play as soon as he's eligible to come off the DL on Friday for the first game after the break.
UP NEXT
Orioles: RHP Ubaldo Jimenez (3-4, 6.64 ERA) pitches on Sunday. His ERA has never been lower than 5.44 over his last 40 appearances since May 12, 2016.
Twins: RHP Kyle Gibson (5-6, 5.82 ERA) takes the mound to wrap up the series. Since being recalled May 22 from Triple-A, he's 5-2 with a 4.59 ERA in nine starts.