Turnovers doom Washington State in 52-31 loss to No. 13 Arizona State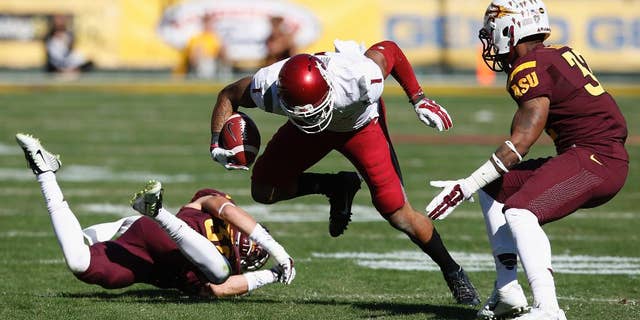 TEMPE, Ariz. – In the first half, Washington State was on the move.
First the Cougars were up by seven, then by 14. Just before halftime, they kicked a field goal that put them up by three.
Then came an avalanche of turnovers, and a promising Saturday in the desert became a 52-31 loss to No. 13 Arizona State.
Taylor Kelly threw for four touchdowns in his final home game and D.J. Foster ran for three for the Sun Devils.
Arizona State converted all five Washington State turnovers into touchdowns.
"As soon as we turn it over, it doesn't matter where it is on the field, defensively we feel like we are entitled to let them score," Washington State coach Mike Leach said. "That is the part that needs to end."
Arizona State's Cameron Smith caught six passes for a career-best 131 yards and two touchdowns for the Sun Devils (9-2, 6-2 Pac-12), who can still win the Pac-12 South title, with some help.
Redshirt freshman Luke Falk, in his second start after Connor Halliday went down with a season-ending injury, passed for 601 yards for Washington State (3-8, 2-6) but was intercepted four times and fumbled the ball away once. He was sacked six times.
"I was just mad at myself," Falk said of how the game ended. "Thinking back on some plays, I think we had a real shot to win it. There were times where we just didn't make the plays, so we'll have to look back on film. But we have to make those plays on critical times and that's on me. We'll get it fixed."
Washington State's Vince Mayle caught 15 for 265 yards.
"I just feel that we didn't come out and play with the same intensity that we did in the first half," he said. "I don't really know what was going on.
Sun Devils defensive end Marcus Hardison had an interception, forced fumble and sack. Arizona State was without standout wide receiver Jaelen Strong, who sustained a concussion last week.
Arizona State bounced back from an upset loss at Oregon State. Washington State hadn't played since beating the Beavers in Corvallis two weeks ago.
Taylor, one of 11 seniors left from the Dennis Erickson era, was a three-year starter under coach Todd Graham, who stood steadfastly by his quarterback when some called for a change because of his late-season struggles.
"He's the one that really truly has led these kids. Without his leadership I can tell you right now we would not be where we're at," Graham said.
Washington State led 21-7 in the second quarter and 24-21 at the half.
The Sun Devils, also 13th in the College Football Playoff rankings, scored 31 straight points in the second half before the Cougars managed a touchdown with 24 seconds to play.
For Arizona State to earn a second straight trip to the Pac-12 championship game, they must beat rival Arizona in Tucson next week, then have UCLA lose at least one of two remaining games — later Saturday against USC or next week against Stanford.
All the Cougars have left is the Apple Cup against Washington.
Arizona State started slowly with six three-and-outs in its first seven possessions but scored two touchdowns in a 41-second span to tie it at 21-21 with 2:31 left in the half. Washington State marched quickly downfield, though, and Quentin Breshears' 27-yard field goal as time expired gave the Cougars a 24-21 halftime lead.
Taylor launched a perfect 67-yard yard third-period pass to Smith, Taylor's longest completion of the season. It set up Foster's 1-yard touchdown run and the Sun Devils took the lead for good, 28-24.
Hardison hit Falk hard and the young quarterback fumbled. Latu Viliami picked the ball up and rambled 51 yards to the Washington State 18. Foster ran 18 yards for the score on the next play.
The Cougars turned it over again. Salamo Fiso intercepting at the Washington State 38. Seven plays later, Kelly threw five yards to Smith for the touchdown.
Taylor's final touchdown pass came after the Cougars turned it over on downs.