Turnover Prone Sánchez Nearly Benched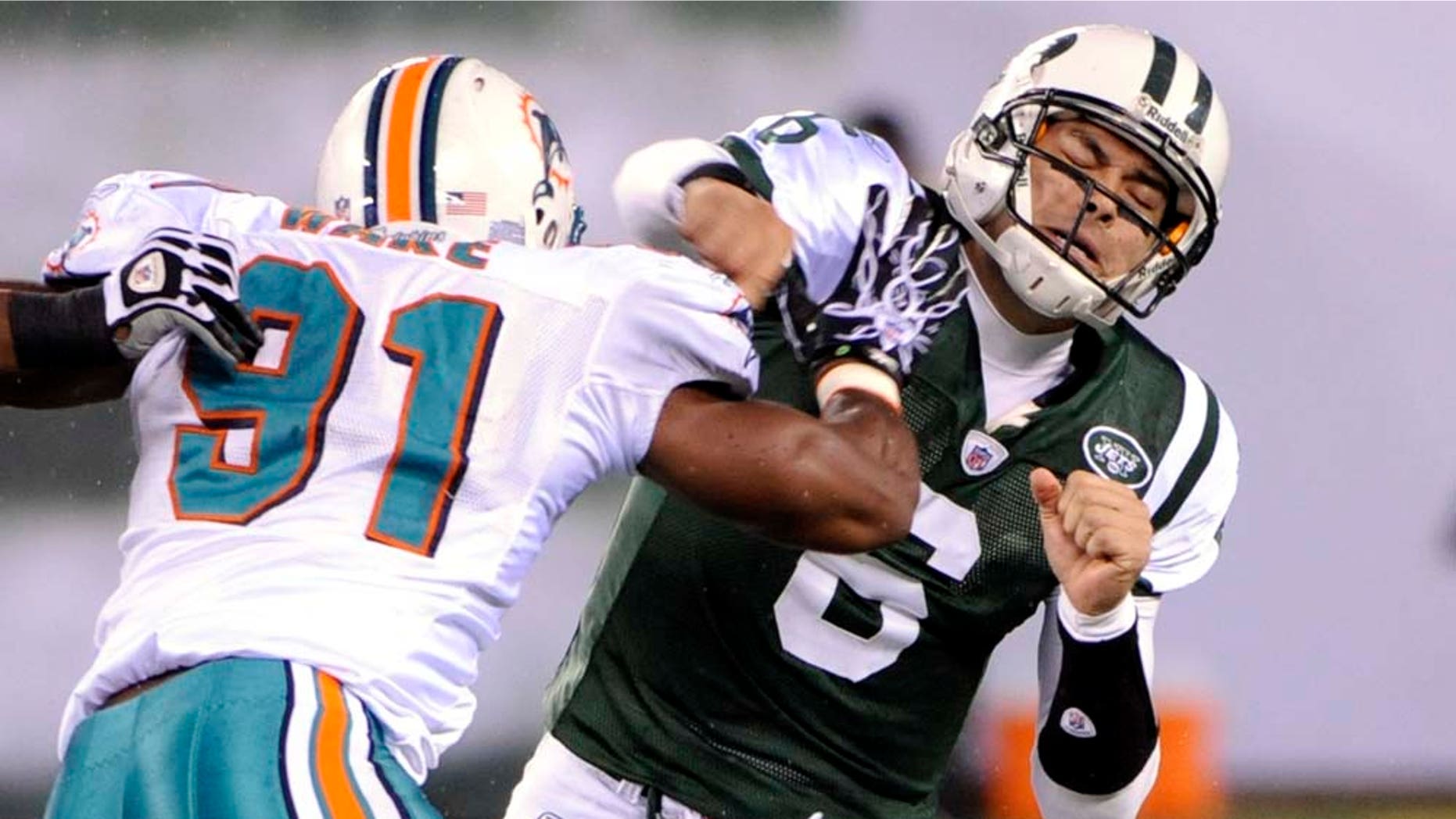 What a difference a month makes.
Mark Sánchez, whose team went undefeated in November behind his comeback drives and seemingly perfect passes, was nearly benched Sunday amid his second straight awful performance. The New York Jets have lost both games, and Sánchez has had five turnovers in the defeats.
Head coach Rex Ryan said he considered benching the second-year quarterback in the third quarter of the team's 10-6 loss to the Dolphins. He decided against it because he said Sánchez "still gave us the best chance to win."
"Late in the third quarter, I thought about it," Ryan said. "But he's not the only one to blame. If I thought if that was the case, we'd have done it.
"The kid's an excellent quarterback, he's just got to find a way to execute."
Two turnovers by Sánchez led to all of Miami's points in the first half. The Jets also had a half-dozen dropped passes, including one in the end zone by Santonio Holmes in the second period.
Sánchez finished 17 of 44 for 216 yards, was sacked six times and fumbled four times, losing one.
"How many times have I dropped the ball in the pocket?" said Sánchez, who emphasized that he and Ryan have a good relationship. "Today, I dropped it three times. It's just a matter of keeping two hands on the ball in the pocket. I didn't hang onto it and it shouldn't happen."
Even in a Thanksgiving Day win against the Cincinnati Bengals, Sánchez played poorly.
"It starts with the quarterback on offense," he said. "The last few weeks, I haven't played like I did earlier in the season. I need to turn it around."
Sánchez didn't throw a pick in the first five games and has thrown 12 in the next eight — at least one in every contest. Nolan Carroll's interception at the New York 42 helped set up Dan Carpenter's 47-yard field goal in the first quarter to make it 3-0.
He lost a fumble on the next series when sacked by Kendall Langford and Quentin Moses recovered at the New York 26. Miami scored its only TD soon after on Brandon Marshall's 6-yard catch.
Ryan said he never thought about benching Sánchez this year, and only considered it once in Sanchez's rookie season — during a loss to Buffalo in which the quarterback threw five interceptions.
Against Miami, Ryan insisted the problems were spread throughout the offense. His players agreed.
"This one definitely is not just Mark," said receiver Jerricho Cotchery, who had five receptions for 69 yards but also had a key drop. "We had some opportunities to make plays for him and we just didn't do it. For whatever reason, we just started pressing a little bit, and when you press, you lose focus. Hey, we just have to make sure we get this thing fixed fast."
Sánchez is sure that things will turn around, but with trips to Pittsburgh and Chicago ahead, the challenges are mounting.
"I don't know how many negative words you can use to describe it," he said. "We're 9-4 and we're still right there. We're in better shape than last year and we made the playoffs and went all the way to the AFC championship game.
"This team is positive and I now how they'll respond. It will be a good test for me early in my career."
Based on reporting by the Associated Press.
Follow us on twitter.com/foxnewslatino
Like us at facebook.com/foxnewslatino