TUF Talk with Artem Lobov: I felt like American fighters would be 'B' level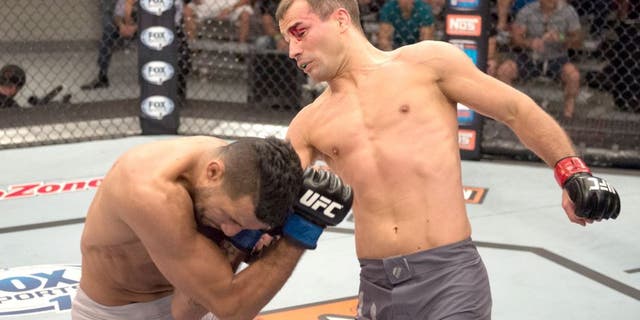 NEWYou can now listen to Fox News articles!
Following another win by Team McGregor on "The Ultimate Fighter" this week, Artem Lobov joins the TUF Talk podcast to discuss the show, his re-entry into the house and how the European team was clearly superior to the Americans.
Lobov actually got a second shot to make it into the house after he lost his preliminary-round matchup against Mehdi Baghdad in a controversial decision.
UFC president Dana White ultimately gave Lobov a shot at redemption when he brought him back to the show despite the loss and the long-time training partner of Conor McGregor was thankful because he knew facing a European in the first round was going to be the toughest fight he'd have during the entire tournament.
Lobov says the Americans on "The Ultimate Fighter" were talented, but just didn't stack up to the Europeans and that's why he predicted the show would end up lopsided in terms of wins and losses by the end of the season.
"I could see the guys did have some experience. All of them had a good few fights, some good records on the show, but I knew that in the U.S. if you were a very good fighter, if you are truly a UFC-caliber fighter, you will be in the UFC. You do not need 'The Ultimate Fighter,'" Lobov told TUF Talk this week.
"Because that's where most of the UFC shows take place, in the U.S., and they are constantly looking for good new talent. So I knew the fact that these guys aren't in the UFC that shows something. I felt that they would probably be a 'B' level fighter, whereas for the Europeans, it's a lot harder to make it into the UFC, so I knew the guys on our team were all UFC-caliber fighters, so I knew we'd have an advantage over them."
Lobov also discusses his friendship with McGregor and his approach to coaching on the show this season and much more.
Listen to Artem Lobov on the latest edition of TUF Talk -- the official podcast of "The Ultimate Fighter" -- via Soundcloud.