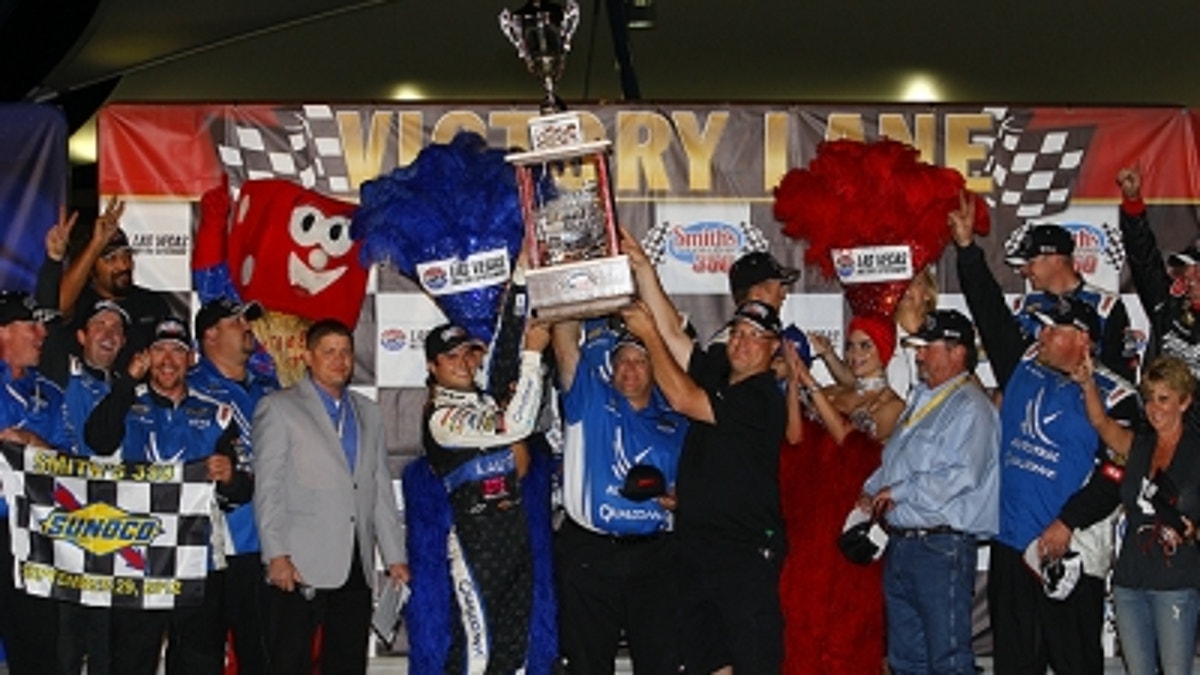 Nelson Piquet Jr. dove below Matt Crafton on the last lap to score a stunning victory in Saturday night's wreck-plagued Smith's 350 NASCAR Camping World Truck Series race at Las Vegas Motor Speedway.
Piquet made a bold pass on the final circuit, diving deep under Crafton in Turn 1 to win his second Truck Series race of the year and second in 47 career starts.
It was the seventh race victory of the season for Turner Motorsports, and an emotional victory for Piquet, the Brazilian former Formula 1 racer.
"I have no idea what happened," said Piquet. "I said I'm going to give it one last try. I sticked it there, and God gave me a little more grip, and we made it. It was great. We really needed this win — probably the best one of my career."
Piquet seemed shocked that the move worked. "Somebody up there gave me the grip when I went down," he said. "… It was for a win or wrecking."
Crafton, understandably, was crestfallen.
"My God, that's a tough one to lose on the last lap," said Crafton.
Joey Coulter finished third, followed by Brendan Gaughan and Todd Bodine.
Coulter started from the pole tonight, but on the first lap, Todd Bodine spun in Turn 4 to bring out a yellow flag. On the Lap 6 restart, second-qualifier Timothy Peters went into the lead, only to have Travis Pastrana spin in the same place Bodine did.
Then on Lap 14, Chris Lafferty became the third driver to go around in the same spot, necessitating yet another caution period.
When the green flew on Lap 19, Coulter went back out front, pulling his Richard Childress Racing teammate Ty Dillon into second place with him.
Bodine and Lafferty both had troubles again in Turn 4, with first Bodine scraping the wall and Lafferty going down on the apron and then headfirst into the wall, hard on Lap 29. Fortunately, he walked away.
Under caution, Parker Kligerman and James Buescher took fuel only, taking over the top two spots while everyone else took tires and trailed.
On Lap 71, Kligerman pitted under green but got a pit-road speeding penalty and fell two laps down.
That put Nelson Piquet Jr. into the lead over Coulter. Four laps later, there was a caution for debris, sending the field back down pit road. This time, Dillon and Coulter came out first, ahead of Piquet.
Coulter took the lead on Lap 81 ahead of Matt Crafton and Piquet, as Dillon fell to sixth on the restart.
Brennan Newberry was 14th when he spun on Lap 103 to bring out another yellow.
That sent the leaders down pit road. Dillon and David Mayhew made contact on pit road, with Dillon get a flat left-front tire, necessitating another pit stop.
On the restart, Piquet went past Mayhew and into the lead.
Then on Lap 115, there was a big crash on the frontstretch when Paludo turned Justin Lofton, who was hit hard by Johnny Sauter, Lofton's truck coming completely off the ground. Kligerman got the Lucky Dog and got back on the lead lap.
With 25 laps to go, the track went green, Piquet narrowly leading over Crafton.
Kligerman then hit the wall twice, again causing a caution. By this point, Coulter, who had restarted seventh but was the first driver with four new tires, was third.
But it was Crafton who took the lead with 15 laps to go, ahead of Piquet and Coulter.
Piquet closed on Crafton for the lead with 6 laps to go and after several tries, finally made the winning pass on the last lap.
Tom Jensen is the Editor in Chief of SPEED.com, Senior NASCAR Editor at RACER and a contributing Editor for TruckSeries.com. You can follow him online at twitter.com/tomjensen100.