TRUCKS: Kahne Wins At Rockingham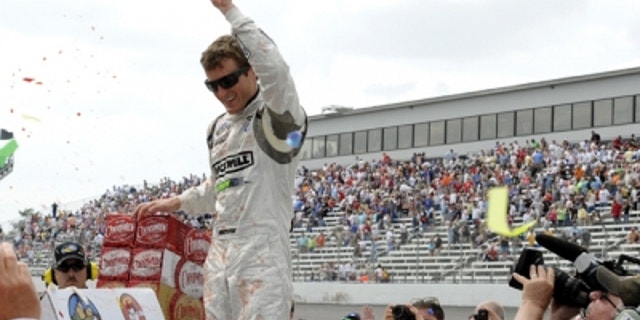 Can Kasey Kahne race on limited sleep?
You bet he can.
After driving in Saturday night's Sprint Cup race at Texas Motor Speedway, Kahne flew to Rockingham to participate in Sunday's revival of NASCAR racing at The Rock – the Good Sam Roadside Assistance 200 Camping World Truck Series race.
Kahne figured to be among the favorites if he could overcome the handicap of starting at the back of the field because of the driver change (Brad Sweet qualified the No. 4 truck while Kahne was in Texas).
Kahne handled that advance without too much trouble. By lap 155, he had rolled into first place, and he hung on to the spot with tenacity from there forward, winning the first NASCAR event at the one-mile track since 2004.
Kahne held the lead through a late-race restart.
"I knew I'd have a good truck after Brad Sweet qualified fifth," Kahne said. "It sounded like the truck was fast."
Nelson Piquet Jr., one of Kahne's potential challengers for the victory, lost his shot during the last pit-stop round when he was nailed for speeding as he left his pit. He started the ensuing green-flag period from the back of the field.
Turner Motorsports finished 1-2 as James Buescher followed Kahne to the finish. Completing the top five were Matt Crafton, Johnny Sauter and Timothy Peters.
Mike Hembree is NASCAR Editor for SPEED.com and has been covering motorsports for 30 years. He is a six-time winner of the National Motorsports Press Association Writer of the Year Award.