Trevor Bayne, Greg Biffle, Kyle Larson win segments in Sprint Showdown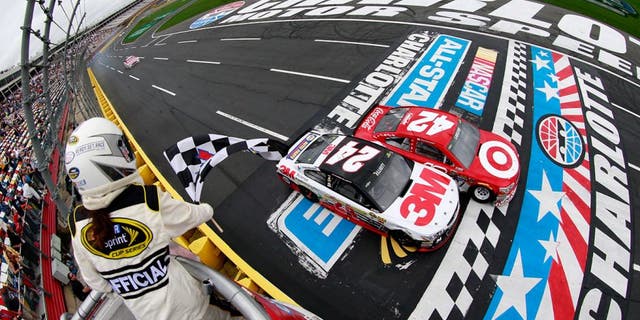 Trevor Bayne, Greg Biffle and Kyle Larson were all segment winners in Saturday's Sprint Showdown and have advanced to the NASCAR Sprint All-Star Race at Charlotte Motor Speedway (FS1, 7 p.m. ET).
Michael McDowell spun on the frontstretch with five laps remaining, which set up a one-lap shootout in Segment No. 1 -- leaving the battle for the segment win up to Chase Elliott, Ryan Blaney and Bayne.
With Elliott and Blaney starting first and second on the restart, Bayne made a bold move to make it three-wide coming out of Turn 2 to take the lead.
Elliott wasn't finished though, as he regrouped to make one last run on Bayne off the exit of Turn 4.
After a fierce battle to the line, Bayne barely edged Elliott to move on to the All-Star Race.
"It's a great feeling," said Bayne after the race. "But, I'm a little nervous about qualifying to be honest. I was talking to (Greg) Biffle about it. We didn't any practice coming to pit road wide open, so I don't know how that's going to work out, but I'm glad I get to stick around for the race."
On that same restart, rookie Blaney was black-flagged for jumping the restart, moving him to the tail end of the field for Segment No. 2.
In the second 20-lap segment, Biffle made quick work of Elliott and Dillon to take the lead early and never looked back -- finishing with over a two-second lead on Kyle Larson.
In the third and final 10-lap segment, Kyle Larson started first and stayed there for the win, but not without a fight from Elliott.
In the closing laps, Elliott worked Larson for the lead, but Larson fought hard to keep it. Elliott made one final charge coming to the checkered flag, but was narrowly edged by Larson in an exciting close finish.
"He (Elliott) definitely had the run," Larson said of the close finish with Elliott. "He was going to beat me if I hadn't gotten into him, for sure."
Larson knew winning in the Sprint Showdown was his only shot at getting into the big show on Saturday night.
"I knew if he won, I still won't have been in by the fan vote, so I had to use him up pretty bad there and beat him to the line," Larson added. "Thankfully, I was able to nose out ahead of him and here we are racing for a million dollars later."
For Sprint Showdown full results, see below.