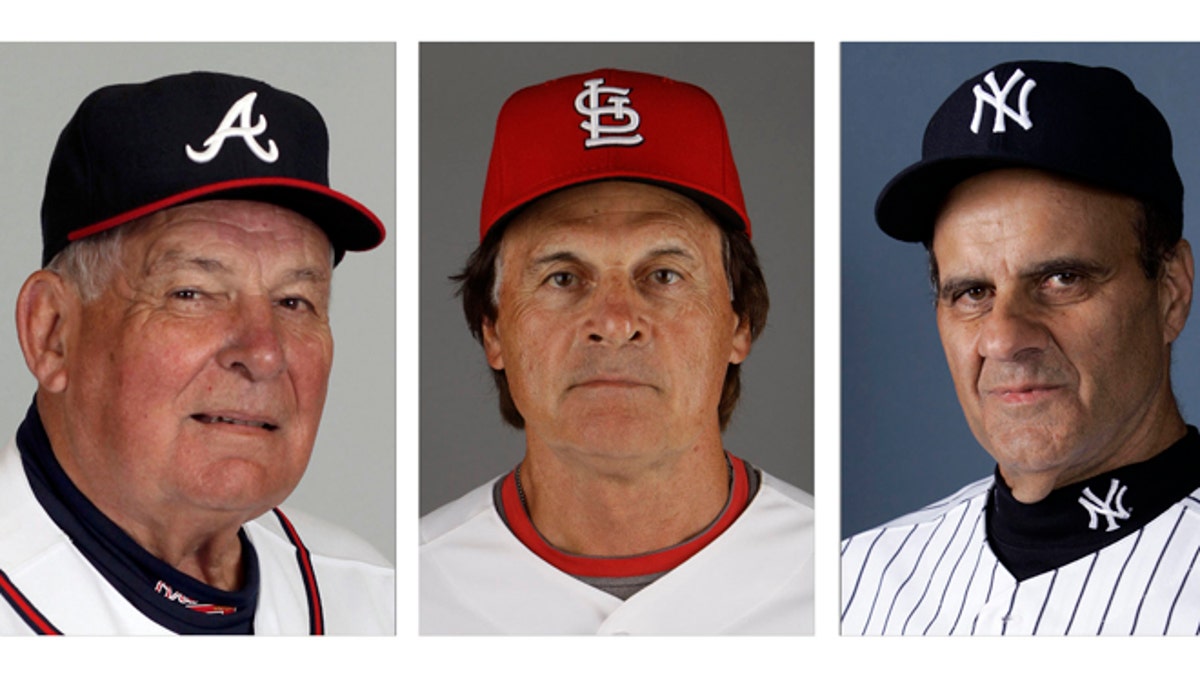 LAKE BUENA VISTA, Fla. – Joe Torre, Tony La Russa and Bobby Cox, baseball's winningest managers over the past four decades, were unanimously elected to the Hall of Fame on Monday by the expansion era committee.
All three won more than 2,000 games and were selected on all 16 ballots when the committee met Sunday ahead of baseball's winter meetings.
"Managing against them, you certainly learned things," said Torre, now an executive vice president for Major League Baseball. "I am honored to go into the Hall with these two guys."
Induction ceremonies will be held July 27 in Cooperstown, N.Y.
Torre became the fifth manager to win four World Series championships, leading the Yankees to titles in 1996 and from 1998-00 -- beating Cox's Braves twice. After making only one trip to the playoffs in 14 seasons with the New York Mets, St. Louis and Atlanta, Torre guided the Yankees to the postseason in all 12 of his years in New York with a cool, patient demeanor. His popularity rankled owner George Steinbrenner, who didn't receive the necessary 75 percent of the vote for election in his second appearance on the ballot.
Torre finished his career by leading the Los Angeles Dodgers to two NL West titles in three seasons, retiring after 2010 with a record of 2,326-1,997. He's the only manager to have more than 2,000 hits as a player -- he was the 1971 NL MVP -- and 2,000 wins in the dugout.
"Joe taught a lot of us about how to win the right way and lose the right way," La Russa said.
The strategy saavy La Russa won World Series titles with Oakland in 1989 and with St. Louis in 2006 and `11, retiring days after beating the Texas Rangers in a seven-game thriller. Of the nine managers with three or more World Series titles, the other seven all have been inducted.
La Russa finished with the third-most wins by a manager in a career that began with the Chicago White Sox in 1979 and ended with a record of 2,728-2,365.
Cox's managerial career began in 1978 with Atlanta, but he was fired after four seasons -- only one above .500. A four-year run in Toronto ended in 1985 with an AL East title, and Ted Turner lure him back to the Braves as their GM. Cox returned to the dugout in 1990, and following one losing season he went on one of the most successful regular-season runs by any skipper, leading the Braves to 14 straight division titles and a World Series championship in 1995.
He retired in 2010 fourth behind La Russa in career wins with a record of 2,504-2,001. Cigar-chomping and fiercely loyal to his players, Cox was ejected a major league record 159 times.
Two of his pitchers during the remarkable stretch during the `90s, 300-game winners Greg Maddux and Tom Glavine, head the newcomers on this year's players' ballot. Results of voting by the Baseball Writers' Association of American is scheduled for Jan. 8.
"It would be quite an honor to go in with those two guys," Cox said. "I just hope Glav and Mad Dog can be on the stage with me. That would be the final finishing touch, going in with those two."
Marvin Miller, the pioneering head of the players' association from 1966-81, was rejected for admission to the Hall for the sixth time he appeared on a committee ballot. He fell one vote short of induction in 2010 and received no more than six votes this year.
"Words cannot adequately describe the level of disappointment and disbelief I felt when learning that once again the Hall of Fame has chosen to ignore Marvin Miller and his unparalleled contributions to the growth and prosperity of Major League Baseball," players' association head Tony Clark said in a statement. "Over the past fifty years, no individual has come close to matching Marvin's impact on the sport. ... Despite the election results, Marvin's legacy remains intact, and will only grow stronger, while the credibility of the Hall of Fame continues to suffer."
This year's committee included Hall of Famers Rod Carew, Carlton Fisk, Whitey Herzog, Tom Lasorda, Paul Molitor, Joe Morgan, Phil Niekro and Frank Robinson; Toronto President Paul Beeston; retired club executive Andy MacPhail; Philadelphia President Dave Montgomery; White Sox chairman Jerry Reinsdorf; Steve Hirdt of the Elias Sports Bureau; Bruce Jenkins of the San Francisco Chronicle; BBWAA Secretary-Treasurer Jack O'Connell; and retired Fort Worth Star-Telegram reporter Jim Reeves.
This year's ballot, chosen by a BBWAA-appointed historical overview committee, covers baseball's expansion era. Players, managers, umpires, executives whose most significant impact was from 1973 on were considered as part of a three-year cycle. The golden era (1947-72) will be voted on in 2014 and the pre-integration era (1871-1946) will be judged in 2015.