Top Week 9 fantasy football matchups: Avoid Luck versus Broncos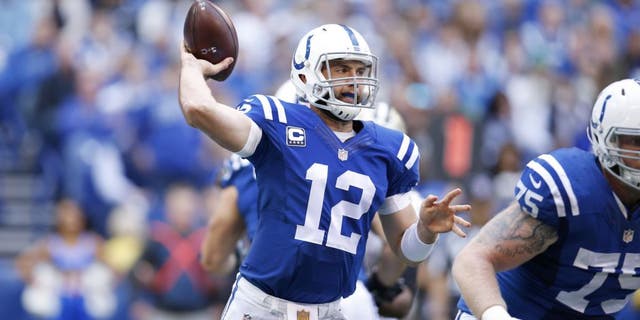 Through eight weeks, our Position vs. Fantasy Defensive Points Allowed tool is solidifying as a tool to help you find good matchups. It'll keep getting stronger as the weeks go by, and we'll have less reason to say things like, "But they played against Todd Gurley last week - of course their numbers versus running backs are horrible!"
As always, please remember that the players listed are mostly meant to be borderline guys, who need reasons for you to play or bench them. You won't see recommendations to start Odell Beckham Jr. and Rob Gronkowski, because you should always start OBJ and Gronk. If a player is close to the start/sit fence, we'll push him one way or the other.
Note: The fantasy points per game (FPPG) referenced below are from FOXSports.com standard leagues.
Week 9 byes: Cardinals, Ravens, Lions, Texans, Chiefs, Seahawks
Thursday game: Browns at Bengals
Quarterbacks
Stay away: Andrew Luck, Colts (vs. Broncos)
The Broncos have allowed a puny 8.2 FPPG to opposing quarterbacks, with the highest-ranked fantasy performance being the QB18 posted by Teddy Bridgewater in Week 4. Heck, they held Aaron Rodgers to 77 passing yards last week. Luck has struggled, and while it's possible that he'll turn things around on Sunday, using "but he's ANDREW LUCK" as a reason isn't enough. Avoid him if you can.
Also:
Blake Bortles has been atop-10 fantasy quarterback this season, but he's got a road matchup against a Jets' D that ranks 10th with 15.3 FPPG allowed to opposing quarterbacks, and third with 6.1 allowed per attempt. Bortles YPA is 6.7, so he'll need big volume to have a shot at value versus the J-E-T-S, unless you think Allen Robinson is going to get into the end zone once or twice on Darrelle Revis. Possible, but not likely.
Play, play, play: Jameis Winston, Bucs (vs. Giants)
The Giants might get CB Prince Amukamara back this week, and while he's pretty good, that's like bailing out a sinking ship with a shot glass. The G-Men defense is bad, bad, bad, allowing 19.2 FPPG (28th) and a league-worst 315.4 passing yards per game.
Winston won't throw seven TD passes like Drew Brees did last week, but he's averaged 242.5 yards with 1.5 TDs over his last four outings, and hasn't been picked off in his last three. If he's worth a streaming start for a fantasy team, it's now.
Also:
Is Ben Roethlisberger a must-start? Probably, but his owners might be hesitant after seeing his shaky return to action in Week 8. Big Ben faces a Raider defense that ranks 28th with 18.9 FPPG allowed to opposing quarterbacks. And without Le'Veon Bell, the Steelers will lean on their star passer as much as they can.
Running backs
Stay away: T.J. Yeldon, Jaguars (at Jets)
The Jets don't just disrupt fantasy passing games – they're first in the league with 11.6 FPPG allowed to opposing running backs, along with 3.6 yards per carry and 78.1 yards per game permitted to opponents. Yeldon isn't a must-bench – no lead back should be – but he's just outside my top 24 at the position.
Play, play, play: LeGarrette Blount, Patriots (vs. Redskins)
By FPPG, the Redskins don't look bad, ranking 10th with 16.7 FPPG allowed to opposing backs. However, that's partly because teams have run just 26 times per game against them, preferring to beat them with the pass. On a per-play basis, the 'Skins are giving up a porous 4.9 yards per carry, and they've been a bit lucky at keeping runners out of the end zone.
"But wait," you're saying. "Won't the Patriots beat them with the pass, too?" Sure, but the Pats exploit whatever weaknesses they can, and Blount is the perfect weapon to pound this defense into dust, especially if his team gets a big lead. While Blount's usage can be inconsistent, this looks like a great spot for him.
Also:
Rookie Jeremy Langford is Matt Forte's replacement, and was a popular free-agent pickup this week (he's owned in 54.8 percent of FOXSports.com leagues). It's risky to predict 15-20 touches for a rookie in his first meaningful outing, but Langford has a soft opponent in the Chargers, who rank 31st with 24.2 FPPG allowed. Play him in most cases.
C.J. Anderson ran 14 times for 101 yards and a score against the Packers in Week 8. However, nine of his carries came in the second half with a big lead, including five on the Broncos' clock-killing final drive. He's also playing second fiddle to Ronnie Hillman. Not great news, right?
Maybe CJA isn't the lead back you thought he'd be, but he's running much better these days, and there might be enough production to go around against a Colts' defense that ranks 27th with 22.1 FPPG allowed to opposing backs. He's in flexville, which isn't terrible.
Wide receivers
Stay away: James Jones, Packers (at Panthers)
Jones has caught five passes for 109 yards over his last three games, and faces a Panthers' defense that ranks fifth with 17.3 FPPG allowed to opposing wide receivers. Star CB Josh Norman probably won't shadow Randall Cobb in the slot, so Jones should see him at least some of the time. Stay away, even with Jones' ever-present possibility of a lucky TD.
Also:
The Broncos are fantasy's second-best defense versus opposing wideouts, allowing 12.1 FPPG. Donte Moncrief is just 6-52 over his last two games, and has a very unfriendly spot here.
Play, play, play: Stevie Johnson, Chargers (vs. Bears)
The Chargers throw a lot, in case you haven't heard. Johnson is going to start seeing plenty of Keenan Allen's targets, starting Monday night against a very shaky Bears' pass defense (26.4 FPPG allowed to opposing WRs). He'sWR24 on my board.
Also:
Why do the Patriots rank 27th with 26.5 FPPG allowed to opposing wideouts? In simple terms, because they crush opponents, who spend their second halves throwing on every down. DeSean Jackson is due back this week for the Redskins, but Pierre Garcon seems more likely to be the focus of Kirk Cousins' garbage-time affection. Garcon is averaging just 9.5 yards per catch, and is more of a PPR option than a standard play.
Tight ends
Play, play, play: Heath Miller, Steelers (vs. Raiders)
Hey, have you heard the one about the Raiders not being able to cover opposing tight ends? Fantasy analysts are contractually required to mention that in three articles per week (or so it seems), so I'll start reaching my quota here. The Raiders are allowing a league-worst 13.8 FPPG to the position, and Miller is coming off a 10-catch, 105-yard performance in Week 8. There's approximately a 97.364 percent chance that he'll score a touchdown this Sunday.
Also:
Austin Seferian-Jenkins has been out since Week 2 due to a shoulder injury, but he had already shown some chemistry with Jameis Winston in a five-catch, 110-yard, two-touchdown performance in Week 1. Seferian-Jenkins is due back against the Giants, who got torched last week by the mediocre Ben Watson, and have permitted more receptions (7.3) and yards (85.5) per game to tight ends than any other team. I've got Seferian-Jenkins at TE13 this week, and will be streaming him where I can.
Note for DFS players: A Winston/Seferian-Jenkins stack will cost you $8K on DraftKings. Sounds like a bargain if you're being budget-minded at those positions.