Top Week 7 fantasy football matchups: Saints' Snead in a great spot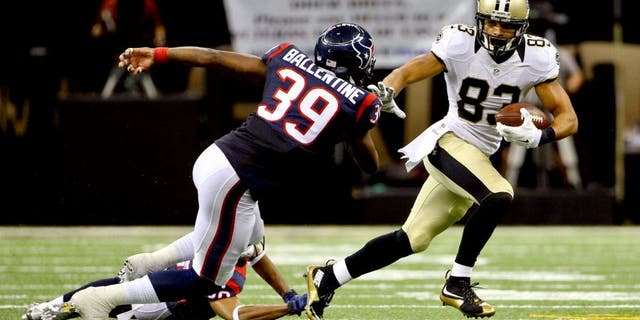 NEWYou can now listen to Fox News articles!
Through six weeks, our Position vs. Fantasy Defensive Points Allowed tool is solidifying as a tool to help you find good matchups. It'll keep getting stronger as the weeks go by, and we'll have less reason to say things like, "But they played against Devonta Freeman last week - of course their numbers versus running backs are horrible!" That happens to every team that plays against Freeman. He's Barry Sanders all of a sudden.
As always, please remember that the players listed are mostly meant to be borderline guys, who need reasons for you to play or bench them. You won't see recommendations to start DeAndre Hopkins and Adrian Peterson, because you should always start Hopkins and Peterson. If a player is close to the start/sit fence, we'll push him one way or the other.
Note: The fantasy points per game (FPPG) referenced below are from FOXSports.com standard leagues.
Week 7 byes: Bears, Bengals, Broncos, Packers
Thursday game: Seahawks at 49ers
Quarterbacks
Stay away: Sam Bradford, Eagles (at Panthers)
The Panthers rank fourth with 14.1 FPPG allowed to opposing quarterbacks, second with 6.1 yards per attempt allowed, and have given up just five touchdowns - including the three-and-a-half games when they were missing MLB Luke Kuechly. Bradford has struggled, getting picked off nine times in six games. This is a bad spot for the Eagles' QB.
Also:
Josh McCown faces Aaron Donald and a nasty Rams' defense that has permitted just 13.2 FPPG to opposing quarterbacks. McCown has been pretty good so far, but look for the Rams to keep him in check.
One more QB note: The Jets are giving up a ridiculous 5.4 yards per pass attempt, and represent a horrific matchup for any quarterback. I actually think they can slow - but not stop - Tom Brady this Sunday. I've got Brady at a lower-than-usual QB4, which means you can't bench him unless your other option is Carson Palmer or Philip Rivers. Based on where Brady, Palmer and Rivers were drafted, that's a plausible scenario for some of you.
Play, play, play: Ryan Tannehill, Dolphins (vs. Texans)
How can a defense with J.J. Watt be so mediocre? You got me, but the Texans rank 27th with 19.3 FPPG allowed to opposing quarterbacks, and they've allowed 12 touchdowns through the air. Tannehill's one-game rebound at Tennessee doesn't mean he'll be a must-start moving forward, but he's QB11 on my board for this matchup.
Also:
Do you need to be told to start Rivers after seeing him throw for 503 yards last week, and 1,226 in his last three? OK, well, just in case you have another strong option on your roster, know that Rivers faces a Raiders' defense that has allowed a subpar 16.8 FPPG to opposing quarterbacks, and 299.2 passing yards per game. Easy money here.
Russell Wilson has a Thursday matchup against a 49ers' defense that is terrible by any measure. Jim Tomsula's unit has permitted 20 FPPG to opposing quarterbacks. They're bad, bad, bad.
Running backs
Stay away: LeGarrette Blount, Patriots (vs. Jets)
Blount has looked pretty good for three straight games, but he's also getting outsnapped by teammate Dion Lewis. The Pats also have a history of impacting the fantasy prospects of their running backs with big changes in their play calling. This looks like a Lewis game, as the Jets are giving up a league-low 10.4 FPPG to opposing runners, and just 82.6 yards per game on the ground. Blount is just outside the top 24 in my weekly RB rankings.
Play, play, play: Shane Vereen, Giants (vs. Cowboys)
Vereen has been difficult to figure, with his five touches in Week 6 coming on the heels of 13 in Week 5. His upcoming matchup looks to be a friendly one, as the Cowboys have allowed eight receptions per game to opposing running backs, along with 24.8 FPPG.
(Yes, that's the best I've got for a RB recommendation. Bye weeks are no fun sometimes.)
Wide receivers
Stay away: Anquan Boldin, 49ers (vs. Seahawks)
For all the Seahawks' struggles, they've been strong against opposing wide receivers, allowing just 14.4 FPPG. Richard Sherman isn't typically a shadowing corner, but he'll spend some time on Boldin, and his Legion of Boom teammates will assist when Boldin is elsewhere. Also, note Boldin's inconsistency – his week-by-week yardage totals this season are 36, 60, 16, 12, 107, 102. He can't throw the ball to himself, right?
Also:
Boldin's former teammate, Sherman favorite Michael Crabtree, faces a Chargers' defense that ranks third with 16,8 FPPG allowed to opposing wideouts, and has given up just 8.2 receptions per game to the position. It's unlikely that both Crabtree and Amari Cooper will have strong games, and I'm going to lean on Cooper this week (that's more hunch than deep analysis). Crabtree is WR31 on my board.
Play, play, play: Willie Snead, Saints (at Colts)
The Colts have been bad on defense since the 1990s, right? They rank 29th with 28.9 FPPG allowed to opposing wide receivers, and have given up a putrid 289.2 passing yards per game. That's unimpressive when five of your six opponents have used Tyrod Taylor, Ryan Fitzpatrick, Marcus Mariota, Blake Bortles and the immortal Mallett/Hoyer tandem under center.
Drew Brees and the Saints come to Indy this week, and Snead is tied for the team lead over his last three games with 22 targets. He's been running many (41 percent, per Pro Football Focus) of his routes from the slot, where the Colts have struggled. Snead owners are getting a good matchup. He's just $4,300 on DraftKings.
Also:
The Lions have allowed a league-worst 9.1 yards per pass attempt, along with 26.2 FPPG to opposing wide receivers. Stefon Diggs was everyone's favorite fantasy free-agent target this week, and while there's a lot to like about Diggs, let's not forget about Mike Wallace, who has tied Diggs with 19 targets over the last two games. As matchups go, this one is solid for both Vikings.
Tight ends
Stay away: Heath Miller. Steelers (at Chiefs)
Honestly, there aren't any really bad tight end matchup calls for Week 7. Miller faces a Chiefs' defense that has given up just 5.6 FPPG and 3.5 receptions per game to opposing tight ends. Maybe Landry Jones will throw more to Miller, but Miller has gotten nine targets over his last four games. At least Big Ben threw to him sometimes.
Play, play, play: Jason Witten, Cowboys (at Giants)
The Giants have struggled against tight ends, allowing four touchdowns and 11,6 FPPG. Witten is a mediocre TE9 on the season in PPR leagues, but could be in line for some checkdown looks from new QB Matt Cassel.