Tony Finau injures ankle, pops it back into place at Masters Par-3 contest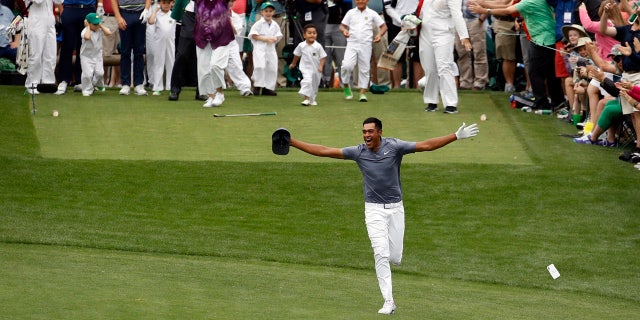 Golfer Tony Finau may have gone a little overboard Wednesday when he celebrated a hole-in-one during the Par-3 Tournament at the Masters.
Finau's ball landed on the back of the seventh green on the Par-3 course at Augusta National and spun back into the hole for an ace. Finau, 28, started to run up the course and as he was in the middle of his celebration, he landed awkwardly on his left ankle.
He then dropped to a knee and popped the joint back into place.
Finau's injury forced him to withdraw from the rest of the event, but he managed to watch the final two holes before gingerly walking to a golf cart and getting driven off the course.
He is expected to have an MRI on his ankle Thursday and plans to be ready for his 12:43 p.m. tee time, according to ESPN.
Tom Watson won the contest, shooting 6-under PAR – one shot better than Tommy Fleetwood and Thomas Pieters.
Jack Nicklaus' grandson also made fireworks, while caddying for the six-time Masters winner.
He made a hole-in-one at the ninth hole.
The Associated Press contributed to this report.