Tomlin concedes run-heavy start in Baltimore kept Ben from getting in rhythm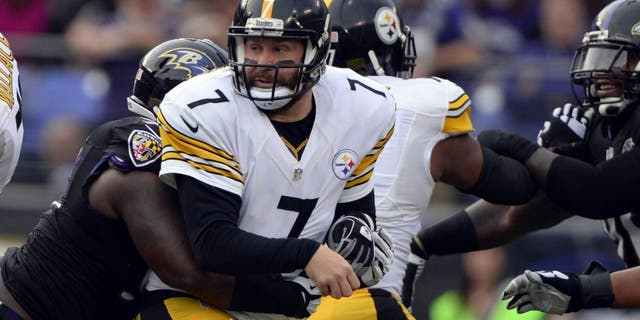 NEWYou can now listen to Fox News articles!
Steelers offensive coordinator Todd Haley will probably call plays differently at the outset of this Sunday's game in Cleveland after Pittsburgh ran the ball six times on its first seven plays last week in Baltimore.
While the Steelers still managed to drive down the field on the opening series until DeAngelo Williams was stuffed on 4th-and-1 at the Ravens 25, head coach Mike Tomlin intimated at his Tuesday press conference that the lack of throws for Ben Roethlisberger may have prevented him from getting into a rhythm.
Roethlisberger still completed 24 of 34 passes, but the offense was out of sync all day, mustering just 303 yards of total offense, 100 coming on the ground from Williams. Appearing on 93.7 The Fan in Pittsburgh, Roethlisberger chalked up the down performance to an off day.
Roethlisberger was sent home sick before Wednesday's practice, meaning he'll have at least one less day to get the offense back on the same page.