Todd Bowles doesn't plan to 'hide' QB Ryan Fitzpatrick this season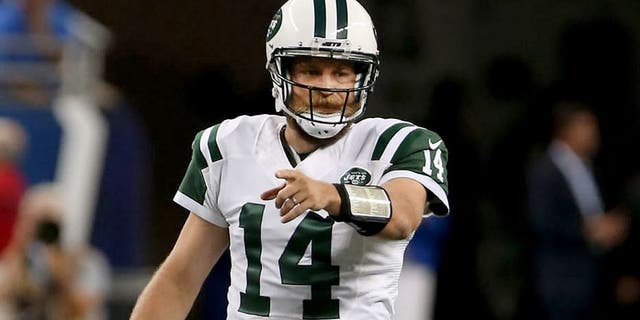 The New York Jets haven't had an elite, sling-it-around quarterback in quite some time. They've had mostly "game managers" of late, dating back to the days of Mark Sanchez.
Geno Smith wasn't asked to throw it 40 times per game last season, and Ryan Fitzpatrick probably won't be asked to do so, either. But that doesn't mean head coach Todd Bowles will hide Fitzpatrick on the field -- even with a dominant defense.
"You can't completely hide a quarterback," Bowles said, via Manish Mehta of the New York Daily News. "I don't care how strong your defense is. [Quarterbacks are] going to have to make some plays. That's the bottom line. ... You don't just get the job by handing off and just staying out of the way. You're going to be in the forefront."
Fitzpatrick has only attempted 36 passes in the preseason, completing 24 of which for 261 yards, two touchdowns and no interceptions. Overall, he's been been solid thus far, but his yards per attempt (7.25) can stand to improve. Another area where Fitzpatrick has to thrive: third down.
"When you're backed up and you have the long third downs, you try not to be a hero," Fitzpatrick said. [But] we've got to be very good on third down. We've got to be very good with getting touchdowns in the red zone. [We're] not necessarily running it three times and praying for a first down."
Fitzpatrick has the necessary weapons to have success and take shots downfield in Brandon Marshall, Eric Decker, and Devin Smith. He's been a fairly consistent quarterback when thrust into the starting role, he just needs to take the next step in Geno Smith's absence.
"I think I've gotten better with it in terms of decision making, knowing myself and knowing my limits," Fitzpatrick said. "Part of what has gotten me where I am is making some of those throws and giving our guys opportunities to make plays."
(h/t New York Daily News)