Titans WR Britt working hard to get out of funk that has cost him starting job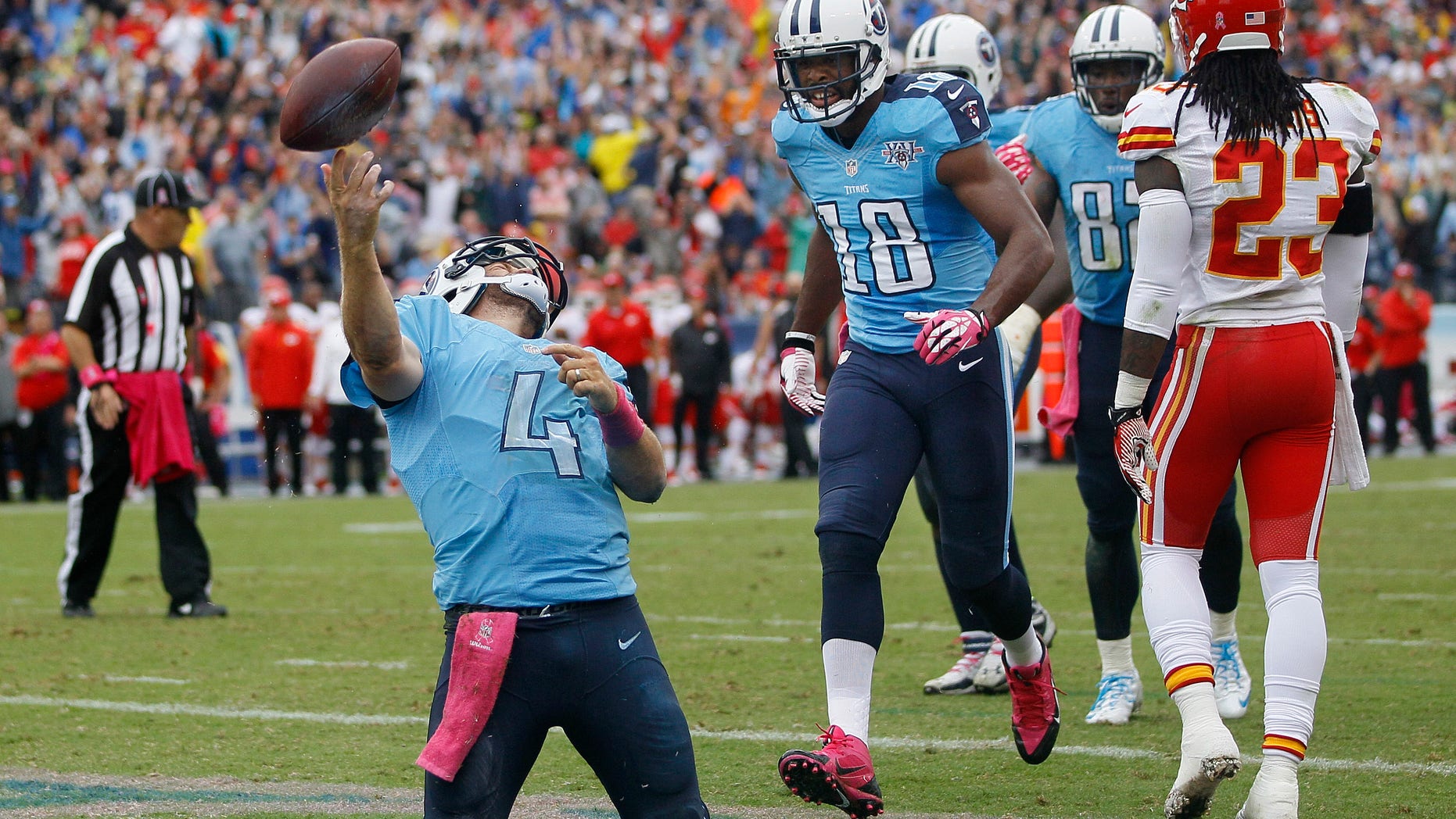 NASHVILLE, Tenn. – Struggling Titans receiver Kenny Britt says his teammates have noticed he's not going after the ball during games like he does during practice.
Britt has been in such a funk that he's lost his starting job to Kendall Wright and fans are calling for him to be traded or simply kept off the field during games to keep him from dropping more passes.
Britt and the Titans have other plans.
"This definitely is a bump in my career right now ... and I believe I can get out of it," the wideout said. "I'm focused on getting out of it and doing whatever I can."
This was supposed to be a breakout season with Britt finally healthy and over the knee injuries that forced him to have three surgeries within a year, starting with a torn ACL in September 2011. The first-round draft pick out of Rutgers looked good in the preseason, catching passes and looking ready to have his best year in the final year of his contract.
Then the season started.
Britt has struggled with penalties and dropped balls so much that he has only six catches for 52 yards with a long of 15. That puts him sixth on the Titans for receptions, just five ahead of quarterback Ryan Fitzpatrick. He had three catchable balls in a 26-17 loss to the Chiefs last week, including one he couldn't hold onto on third-and-1 with the Titans trying to protect a fourth-quarter lead.
Seattle coach Pete Carroll said everyone goes through slumps with receivers wanting every pass thrown their way.
"He's always been an effective player and a guy that can make plays and all that," Carroll said. "That's all we're seeing."
Tennessee coach Mike Munchak was pressed Monday on whether he might deactivate Britt for the game against the Seahawks on Sunday. Munchak doesn't plan to because he believes a player needs to work his way through a slump.
Fitzpatrick, starting his second straight game because of Jake Locker's sprained right hip, said he has to have confidence in everyone on the field. So he throws to the receiver with a good matchup or where the progression takes him regardless of whether a ball or two has been dropped.
"Last week he had such a great week of practice and unfortunately went out there and had a few we just didn't connect on. He's a guy who's working through it and working to find his confidence. Confidence is such a big thing in football. Certainly, I see the willingness in him wanting to be the guy and wanting to get better."
Britt worked after practice Wednesday with assistant coach Shawn Jefferson using pads to banging on him as the 6-foot-3, 223-pound receiver caught pass after pass. Seahawks cornerback Brandon Browner is 6-4 and 221 pounds, while All-Pro Richard Sherman is 6-3 and 195. The Titans hope Britt's size can help against those cornerbacks, which is why he's still in the rotation.
"That's why he's playing, why he's been out there to hope he'll get the opportunity to do some of that along with (Justin) Hunter, Kendall (Wright), and Nate (Washington)," Munchak said. "There will be five of them, maybe six of them up. We're going to need someone to get hot and get open and make plays."
NOTES: RB Shonn Greene (right knee) did not practice Wednesday in his return from arthroscopic surgery Sept. 16. CB Coty Sensabaugh (concussion) ran on a side field and was being checked by a doctor. Munchak expects Sensabaugh to be available Sunday. DE Derrick Morgan (shoulder), DT Sammie Hill (right ankle) and LB Patrick Bailey (hamstring) also did not practice. S Michael Griffin (foot) and RB Jackie Battle (neck) practiced fully.
___
AP NFL website: www.pro32.ap.org
___
Follow Teresa M. Walker at www.twitter.com/teresamwalker