Titans' Whisenhunt wishes he could have final play call vs. Bills back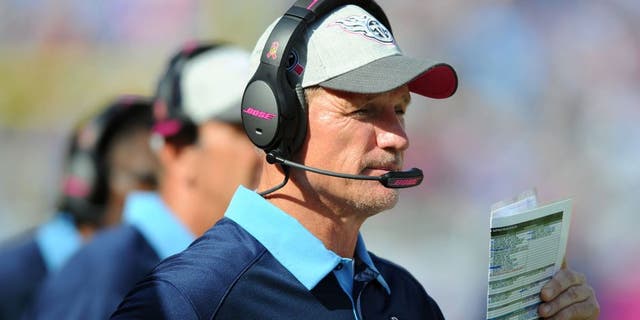 NEWYou can now listen to Fox News articles!
As he looked back on what went wrong in Sunday's 14-13 loss to the Buffalo Bills, Tennessee Titans head coach Ken Whisenhunt said he should have made a safer call on the team's final offensive play.
Down one with 1:41 left in the game, the Titans took possession on their own 31 yard-line. Quarterback Marcus Mariota's deep ball intended for wide receiver Kendall Wright on first down was intercepted by Bills cornerback Stephon Gilmore and Buffalo was subsequently able to run out the clock.
"I took a shot there and we still had a lot of time left in the game," Whisenhunt said Monday, per the Tennesseean. "In thinking about it, because it was a turnover, I wish I would have done something a little more conservative and given us a chance to get moving. (But) I think sometimes as a play-caller you've got to go with your gut and there is merit to being aggressive at times."
Despite the turnover, Whisenhunt said he was satisfied with the overall job he's done calling plays this season.
"If you look at the productivity of the offense, it's been good," Whisenhunt said. "Marcus is statistically up there pretty high for a rookie player, so there's a lot of positive things. Could I have called better plays at times? Sure, but there have been some good ones, too. We've had some success. We've moved the ball."
MORE NEWS: Want stories delivered to you? Sign up for our NFL newsletters.