Titans look to settle on starting offensive line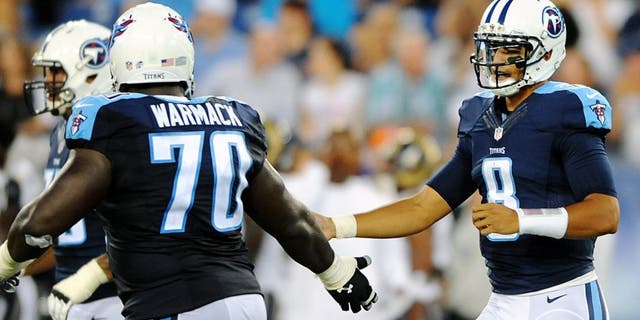 After a solid debut in last Sunday's preseason win over the St. Louis Rams, the new-look Tennessee Titans offensive line will get another chance Friday against the Kansas City.
With Byron Bell taking over at left guard for Andy Levitre and rookie Jeremiah Poutasi manning the right tackle spot against the Rams, rookie quarterback Marcus Mariota wasn't sacked and starting running back Bishop Sankey ran for 45 yards on six carries.
Titans head coach Ken Whisenhunt was non-committal when asked if another strong performance for the current group of starters would prompt him to move ahead with the current group into the regular season. The line also features Taylor Lewan at left tackle, Chance Warmack at right guard and Brian Schwenke at center.
"We are still looking for the best combination,'' Whisenhunt said, per the team's official website. "Could this be it? I don't know. It could be it. But we're going to continue to look at these guys and hopefully it will continue."
Bell, who signed with the Titans as free agent in the offseason made his first start at guard since the 2012 season.
"I thought I did some good things,'' Bell said. "A couple of plays I could have been better, but I felt good in there playing guard for the first time. Practicing all week, it got me prepared. And I felt comfortable."
Poutasi, a third-round pick out of Utah, said he felt he improved during the game.
"I always get nervous, but my nerves kind of went to a whole new level (on Sunday night),'' Poutasi said. "But I felt I was pretty patient with my hands. I felt like I played a decent game. A lot to improve on, but for my first start, I think I did decent.
"My goal is to take one step forward and keep my physical style consistent and just play fast."
(h/t Tennessee Titans)