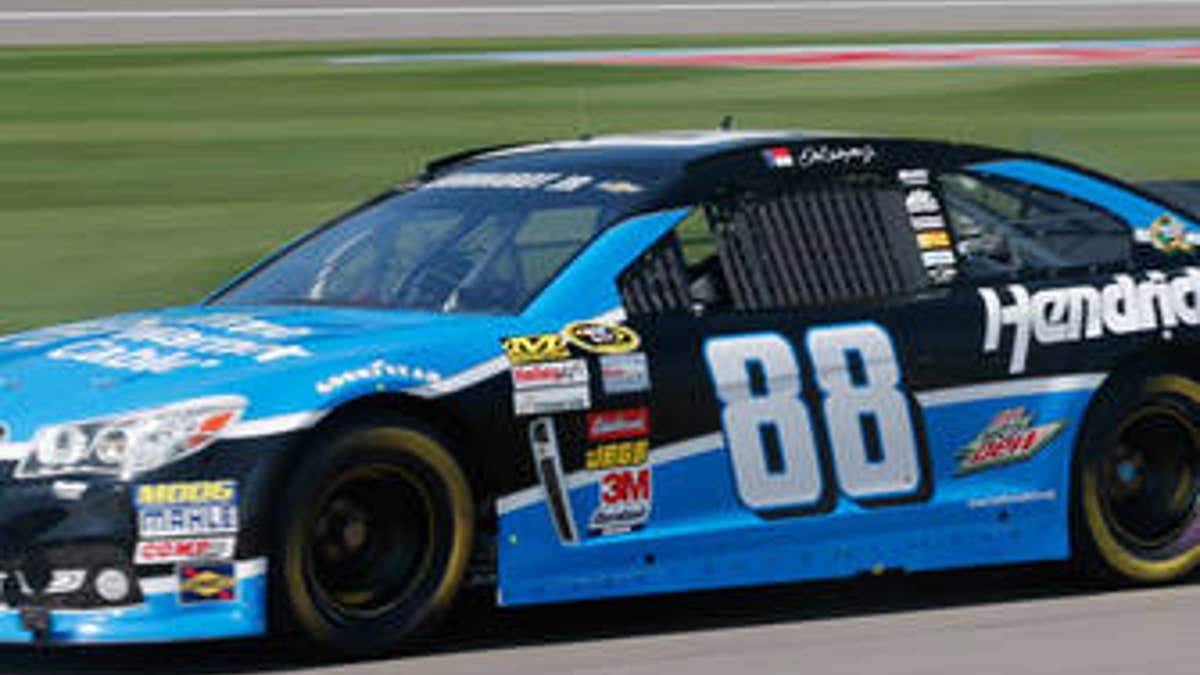 KANSAS CITY, Mo. – With seven races to decide the Chase for the Sprint Cup, NASCAR opened Kansas Speedway early for a half-day of tire testing on Thursday.
Although the test was delayed by rain, an assist by Air Titan -- NASCAR's new drying system that was first introduced during Speedweeks at Daytona International Speedway in February -- enabled 38 teams to take to the 1.5-mile track by early afternoon.
Jimmie Johnson, who won Sunday's race at Dover International Speedway and vaulted over Kyle Busch to second place in the points standings, posted the top speed of 182.648 mph late in the session. Matt Kenseth set the track qualifying record on April 19 with a lap of 191.864 mph.
Teams were limited to four sets of the new combination of tires, with Goodyear multi-zone tread tire -- which features two distinct tread compounds -- on the right sides. Those tires were introduced last month at Atlanta.
According to Goodyear, the new right-side tires still retain the original tread or "traction zone" on the outside 9 inches of the tire with a more heat resistant compound for the inside three inches, or what is referred to the "endurance zone."
Jeff Gordon, who won the first two Cup races at Kansas Speedway after the track debuted in 2001, offered Goodyear props for attempting to try a new combination "to lean on on these smooth racetracks."
"To put some softer compound in there to give the car a little more forgiveness and grip, I love it," said Gordon, who posted the 11th-fastest lap Thursday, 180.782 mph. "It worked really well in Atlanta. I really liked it there."
Considering the multi-zone tread fared well at an aged track such as Atlanta last month compared to Kansas, which was repaved before this race last year, NASCAR Sprint Cup director John Darby didn't anticipate issues with the new tire combination.
"We didn't see anything, which is good news," Darby said. "One of the exciting parts of having it here at Kansas is because this is a recently repaved track that's very smooth.
"We ran the zone tread at Atlanta without any technical issues or failures and had a good race. But that's on a very aggressive, coarse track surface. We had that example. This is the other end of the spectrum for the tire. It's fresh pavement that's smooth."
Here are five other topics to keep an eye on this weekend:
1. Will Kenseth still be the King of Kansas?
Since the track was repaved last year, Kenseth, the points leader, has won the past two races at Kansas Speedway. On Thursday, Kenseth was 13th on the speed chart, with a lap of180.711 mph.
He acknowledged the track "was fine," but he felt the team struggled and was "just kind of off most of the day." Of course, when it came to the new tire combination, given Kenseth's track record, he would have preferred everything remained the same. But he couldn't really tell the difference in the new tire versus the old.
Considering Kenseth's lack of comfort in the car, he was uncertain following the session whether he would continue with this chassis when the track opens on Friday or try something else. So stay tuned.
2. Home track advantage for Cousin Carl
With Carl Edwards residing less than two hours east of the track, in Columbia, Mo., Kansas Speedway ranks at the top of his racing bucket list. His current and former Roush Fenway Racing teammates Mark Martin, Greg Biffle and Kenseth have all won here.
After last Sunday's wheel issues at Dover that knocked Edwards from fourth to 11th in the points standings -- he trails Kenseth by 65 points -- he can afford to go for broke on the intermediate track this weekend. On Thursday, Edwards led most of testing with a lap of 182.531 mph but never made a qualifying run and ended up second.
Although he approved of the new tire combination, Edwards believes the changing track conditions ahead -- there's more rain predicted for the weekend, along with cooler temperatures -- will make the car setup even more challenging.
"The track changed a lot throughout the session, so I think we're gonna see changing track conditions throughout the whole race," Edwards said. "It took a lot of rubber, and, really, I thought got a lot slicker, so I think it's gonna be a two- or three-groove racetrack, which is great for all of us. . . .
"I think the temperature is gonna be a big factor, and it's also supposed to possibly rain on Friday night, so we might see the same problem Saturday trying to get the cars tuned in with the changing track."
3. Change in fortune for Rowdy?
For most of the season, it has been clear that Kyle Busch and Denny Hamlin's input has benefited Kenseth this season. Four of his seven victories in 2013 were earned at tracks where he had never won before. Given that Hamlin and Kenseth have won the past three races at Kansas, it might be time to offer their junior teammate an assist at the track where he has crashed three times in 12 starts, including the past two races with the new surface.
Statistically, Kansas is Busch's third-worst track for average finishes (22.4). Talladega (22.9) and Homestead (23.1) rank at the bottom.
In order to maintain solid footing in the Chase standings, Busch, who is third and trails Kenseth by 12 points, needs a strong run on Sunday. With the extra day of testing and Busch's participation in the original Goodyear tire test from July 16-17, he's hoping the tough times at Kansas are behind him.
"I thought that we learned some things and went real well for us, and I think for Goodyear, too," Busch said. "They changed the left-side tire compound, so we're not on that treacherous left that everybody spins out and crashes on, including myself three times. And we're also going to be on the new dual-zone tread on the right. I wasn't a huge fan of the dual-zone right at Kansas, but it did get great reviews at Atlanta, so I would expect that it will run pretty well at Kansas, too."
4. Keep an eye on . . .
Richard Childress Racing and Furniture Row Racing are ones to watch this weekend. Kurt Busch was also at the July tire test, and the data he shared with RCR paid off with the third-fastest lap Thursday, 181.971 mph.
RCR teammates Jeff Burton and Paul Menard rounded out the top five on the speed chart, with Kevin Harvick running seventh. Like his brother, Busch has never scored a top-five finish at Kansas. However, he led 152 of 267 laps while driving for Penske Racing in the 2011 spring race.
After Sunday's continued pit struggles, Busch dropped to ninth in the standings following a 21st-place finish. The good news, at least for fans in Missouri and Kansas, is if Busch visits victory lane on Sunday, his sponsor's Denver Mattress stores will give away free mattresses with their "We Win You Win" promotion for any purchases between last Monday and this Sunday at 12:45 p.m. before the green flag.
5. Who knew?
After an abbreviated visit to Chicagoland Speedway, Air Titan is back in full force this weekend. And according to NASCAR vice president Robin Pemberton, the track drying device doubles as a track conditioner. Pemberton said the sanctioning body discovered at Charlotte, Phoenix and Richmond "that it has value of cleaning the pores of the racetrack," therefore creating a better surface to take rubber for opening day of practice.