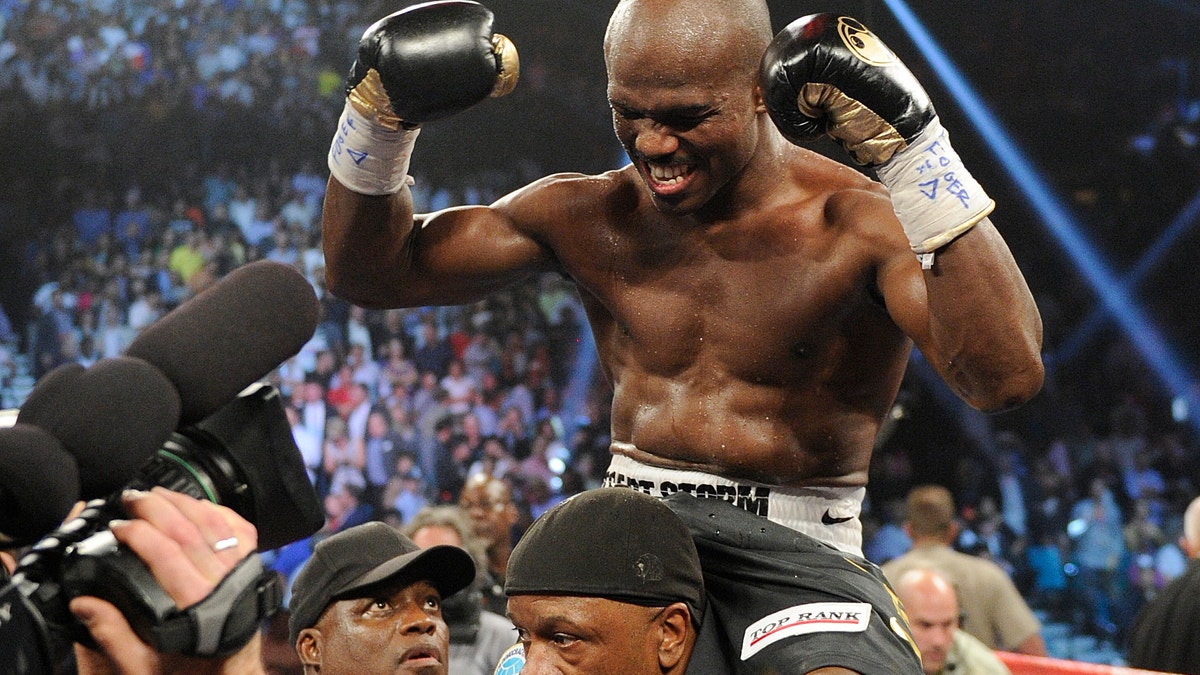 LAS VEGAS – Timothy Bradley promised to shock, though the biggest shock in his fight with Manny Pacquiao came from the judges' scorecards.
In a fight Pacquiao seemed to have in hand, two judges decided otherwise, giving Bradley a split decision Saturday night and ending the Filipino fighter's remarkable seven-year unbeaten run.
Promoter Bob Arum fumed, the crowd at the MGM Grand arena booed, and Pacquiao seemed stunned when the decision was announced. Arum said there would be a November rematch, though he blasted the way the decision went down.
"I'm going to make a lot of money on the rematch, but this was outrageous," Arum said.
Bradley came on strong in the later rounds, winning five of the last six rounds on two scorecards and four on the third. He won 115-113 on two scorecards, while losing on the third by the same margin. The Associated Press had Pacquiao winning 117-111.
"I did my best," Pacquiao said. "I guess my best wasn't good enough."
Pacquiao tried to turn the fight into a brawl, using his power to hurt Bradley in the early rounds. But Bradley changed tactics in the middle rounds and used his boxing skills to win enough rounds to take the narrow decision for the welterweight title.
"I thought I won the fight," Bradley said. "I didn't think he was as good as everyone says he was. I didn't feel his power."
Ringside punching statistics showed Pacquiao landing 253 punches to 159 for Bradley, who vowed before the fight to take the 147-pound title from Pacquiao. The Compubox statistics showed Pacquiao landing more punches in 10 of the 12 rounds.
Bradley was so confident that he had oversized tickets printed up for a Nov. 10 rematch that will now likely happen.
Bradley seemed hurt in the fourth and fifth rounds, but Pacquiao had trouble landing big punches after that. Still, he seemed in control of the fight everywhere but on the judge's scorecards.
"Can you believe that? Unbelievable," Arum said. "I went over to Bradley before the decision and he said, `I tried hard but I couldn't beat the guy."'
Bradley said he hurt his ankle in the second round, and that trainer Joel Diaz said he could either quit or try to take the fight to Pacquiao.
"I got my second wind in the sixth round," Bradley said. "I worked the angles, sticking and moving."
Pacquiao said he studied Bradley on tape before the fight and wasn't surprised by anything he did. He said he thought he was in control of the fight and was shocked when the decision went against him.
"He never hurt me with his punches, most of them landed on my arms," Pacquiao said.
Pacquiao, who had won 15 straight fights on his way to becoming a boxing superstar, tried to brawl with Bradley and seemed to hurt him in both the fourth and fifth rounds. But Bradley started moving and counter punching, though he never seemed to land any shots that hurt Pacquiao.
Pacquiao had vowed to look impressive against Bradley after struggling in his last outing with Juan Manuel Marquez. And he did early, landing good long left hands while beating Bradley to the punch on most exchanges.
"He hurt me a couple of times with his left," Bradley said. "He's a beast."
Trainer Freddie Roach told Pacquiao after the 10th round that he had control of the fight, and urged him to fight hard the final two rounds.
"You have six minutes to go, son," Roach said. "It's your fight."
But it wasn't Pacquiao's fight, with Bradley getting credit for winning some of the close middle and later rounds. After the 11th round Bradley went back to his corner and trainer Joel Diaz told him he needed to win the final round.
"I listened to my corner," Bradley said. "I got to give him a rematch now."
It was the biggest fight of Bradley's career and it came with a minimum $5 million payday. The rematch will be even richer, though Pacquiao's loss could damage any plans for a fight with currently jailed Floyd Mayweather Jr.