Timberwolves-Pacers Twi-lights: Watch Minnesota's play of the year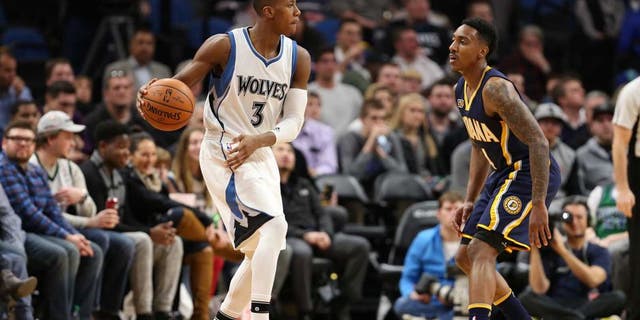 Didn't catch tonight's Timberwolves game?
No problem. We have all the best highlights and interviews. Even though the Timberwolves lost 109-103 to the Indiana Pacers, there were still many highlights -- including what announcer Dave Benz called one of the best plays of the 2016-17 season.
But first, we'll get you started with Andrew Wiggins' bucket from downtown:
-- FOX Sports North (@fsnorth) January 27, 2017
Watch on @fsnorth, #FOXSportsGo https://t.co/2H2GnQm6aB pic.twitter.com/ly4aQv7xxr
-- FOX Sports North (@fsnorth) January 27, 2017
Watch @Timberwolves basketball on @fsnorth, #FOXSportsGo https://t.co/2H2GnQm6aB pic.twitter.com/kQWn4k9WGo
-- FOX Sports North (@fsnorth) January 27, 2017
Watch @KarlTowns and his #TWolves on @fsnorth, #FOXSportsGo https://t.co/2H2GnQm6aB pic.twitter.com/TKKSnhwGfj
-- FOX Sports North (@fsnorth) January 27, 2017
-- FOX Sports North (@fsnorth) January 27, 2017
-- FOX Sports North (@fsnorth) January 27, 2017
Watch @timberwolves basketball on @fsnorth, #FOXSportsGo https://t.co/2H2GnQm6aB pic.twitter.com/JnGr6h3E0V
-- FOX Sports North (@fsnorth) January 27, 2017
-- FOX Sports North (@fsnorth) January 27, 2017
-- FOX Sports North (@fsnorth) January 27, 2017
-- FOX Sports North (@fsnorth) January 27, 2017
-- FOX Sports North (@fsnorth) January 27, 2017
-- FOX Sports North (@fsnorth) January 27, 2017
-- FOX Sports North (@fsnorth) January 27, 2017
-- FOX Sports North (@fsnorth) January 27, 2017