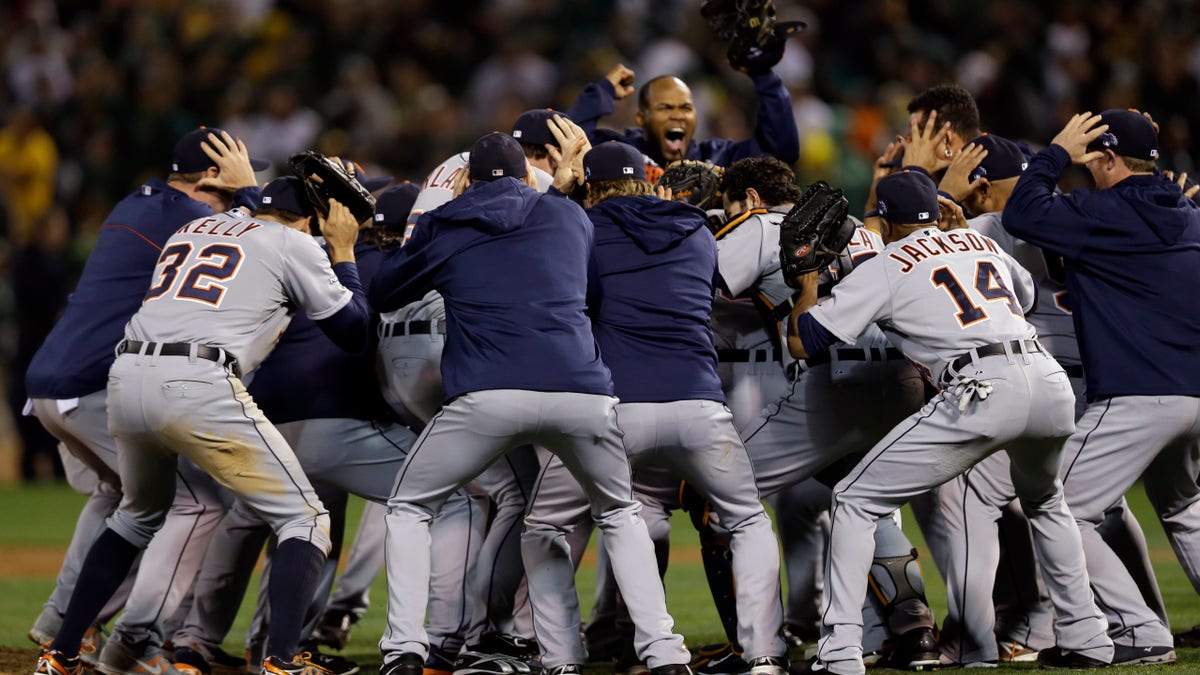 OAKLAND, Calif. – That loud postgame chant performed by the Detroit Tigers might've looked familiar — to international rugby fans, that is.
After beating Oakland in the deciding Game 5 of the AL division series Thursday night, the Tigers came together and formed a circle in the middle of the diamond. They squatted down, put their hands to the heads and then jumped up, arms raised high to the sky.
It's a chant reminiscent of the Haka dance of New Zealand's rugby team.
"I guess it's called 'Turn Up.' You gotta turn it up," catcher Alex Avila said. "It's just something that we've been doing. We started doing that about a month ago."
The Haka is a traditional ancestral war cry of the Maori, and it is performed before matches by New Zealand's national rugby team, known as the All-Blacks for their uniforms.
Avila said the Tigers' chant has become a fun and routine way for players to fire each other up, in unison. Whenever the team feels it necessary.
On the field or in the clubhouse.
First-year Tigers outfielder Torii Hunter was right in the middle of it all getting things started — just one way he has influenced his new club in 2013.
"We were trying to start getting ourselves going down the stretch, trying to clinch the division and it just kind of started," Avila said. "You gotta celebrate."
___
DOMBROWSKI'S GREEN TIE: It was no coincidence Dave Dombrowski wore the wrong colors for Detroit's Game 5 clincher at Oakland.
The Tigers' general manager sported a green tie — that's an A's color — with his silver sport jacket. It was the very same tie he wore when the Tigers defeated the Athletics at Comerica Park in late August, Detroit's lone victory during that four-game series.
"When we played them earlier in the year at our place I wore the outfit," Dombrowski said. "I'm not that superstitious, anyway."
Well, maybe just a little bit.
He did change up his regular running route along the San Francisco waterfront this time from when the Tigers lost to the Giants in a four-game World Series sweep last fall.
___
SLIGHT UPTICK: TBS has averaged a 2.5 rating and 3.89 million viewers for 18 telecasts during the wild-card round and division series.
The rating was up 4 percent from a 2.4 last year and the households up 6 percent from 3,633,000 last year.
St. Louis' Game 5 win over Pittsburgh drew 6.1 million viewers and Detroit's fifth-game victory over Oakland drew 5.5 million. In the wild-card round, 4.7 million saw Tampa Bay beat Cleveland and 4.6 million watched Pittsburgh defeat Cincinnati.