Tiger Woods was found alive with serious injuries with no evidence of impairment after crash, officials say
Woods was involved in the wreck early Tuesday
Tiger Woods was alive and conscious when first responders rushed to the scene of a single-vehicle rollover crash Tuesday morning, Los Angeles County Sheriff Alex Villanueva said.
Villanueva said that Woods was driving at a "relatively greater speed than normal" when he crashed in a hilly area and that Woods was driving northbound when he hit a center divider and flew several hundred feet. He added that there was no evidence of impairment when emergency personnel arrived.
"[The vehicle] crossed the center divider, to the point that it rested several hundred feet away so obviously that indicates they were going at a relatively -- a greater speed than normal. However, because it is downhill, it slopes and it also curves," he said. "That area has a high frequency of accidents. It's not uncommon."
TIGER WOODS WAS SET TO MEET WITH THESE TWO NFL STARS PRIOR TO CAR CRASH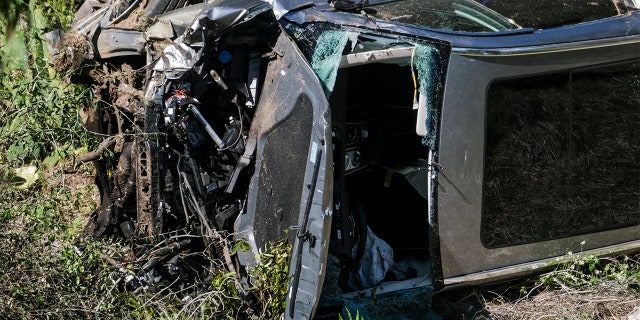 Villanueva added that the front end of the 2021 Hyundai Genesis SUV that Woods was driving was "totally destroyed" but the interior was "more or less intact."
Woods was transported to Harbor UCLA Hospital, Los Angeles County Fire Chief Daryl Osby said.
Osby clarified from an earlier statement that extricated using a prying tool and an ax to take Woods out of his vehicle. He said Woods was in stable condition but suffering from serious leg injuries.
Officials said that a second crash occurred after Woods' wreck but there were no injuries from that incident. The Lomita Sheriff's Station was continuing the investigation.
TIGER WOODS CRASH REVERBERATES ACROSS THE SPORTS WORLD: 'SICK TO MY STOMACH'
Officials also made clear that Woods was wearing his seatbelt.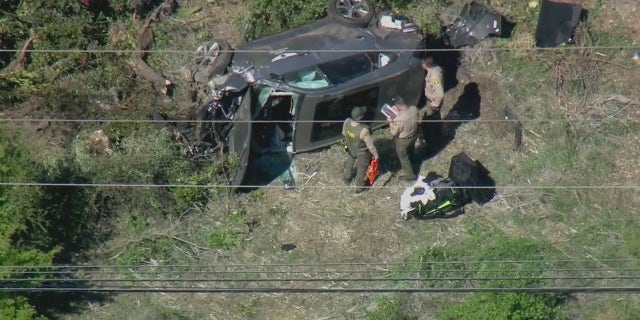 Deputy Carlos Gonzalez was among the first emergency personnel members to arrive on the scene. Gonzalez said he asked Woods' name. He said Woods knew where he was and what time of day it was. Gonzalez described Woods as "calm and lucid."
"I've seen fatal traffic collisions so I will say that it is very fortunate that Mr. Woods was able to come out of this alive," Gonzalez said.
Officials didn't divulge on Woods' current status. The Los Angeles Times reported that Woods suffered a shattered ankle, two leg fractures including one compound.
While the circumstances around the crash weren't officially released, two sources told Fox News that Woods was set to work with Discovery Networks to do behind the scenes "teaching lessons" with several stars. He was seen with NBA legend Dwyane Wade and actor David Spade. Actress Jada Pinkett Smith also posted a photo with the golfer Monday.
Woods was set to tape two more "lessons" at the Rolling Hills County Club at 8 a.m. local time – one with Drew Brees and the other with Los Angeles Chargers rookie Justin Herbert. Sources told Fox News Woods was running late when he took off from the hotel in an SUV. The sources said that Woods' crews and a handler were getting ready and were waiting for about two hours before hearing about the crash.
CNN SPORTS ANCHOR 'NOT ENTIRELY SURPRISED' BY TIGER WOODS ACCIDENT, CITES PAST USE OF PAINKILLERS
A Discovery rep told Fox News that Woods was set to continue filming Tuesday before the crash as the golfer and the network have a long-term partnership.
"Everyone at Discovery and GOLFTV wishes Tiger a speedy recovery and our thoughts are with him, his family and his team at this time," Discovery Networks said in a statement.
Former President Trump was among those who wished Woods well. Trump awarded Woods with the Presidential Medal of Freedom in 2019.
LINDSEY VONN 'PRAYING' FOR TIGER WOODS AFTER CAR CRASH
Woods recently had a fifth back surgery on Dec. 23, and the first since a procedure to fuse his lower spine back in April 2017. On Sunday, he couldn't say whether or not he would be at The Masters.
"God, I hope so," Woods on the CBS broadcast of the Genesis Invitational.
CLICK HERE TO GET THE FOX NEWS APP
"I'm feeling fine," Woods said. "I'm a little bit stiff. I have one more MRI scheduled so that we'll see if the annulus [fibrosis] is scarred over finally and see if I can start doing more activities. But still in the gym, still doing the mundane stuff that you have to do for rehab, the little things before I can start gravitating towards something a little more."
Fox News' Bret Baier, Paulina Dedaj and Maria Haas contributed to this report.