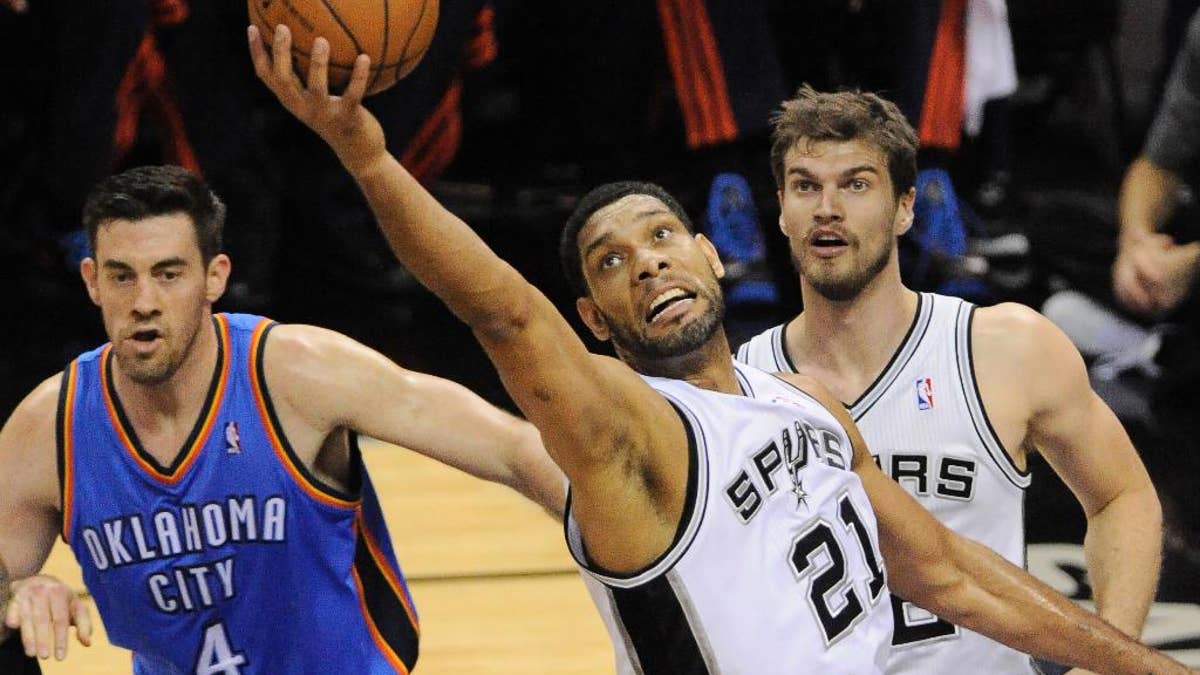 SAN ANTONIO – Oklahoma City tried to adjust to all the problems the San Antonio Spurs created in the opener of Western Conference finals, but that only led to greater troubles.
Tony Parker scored 22 points, Danny Green made seven 3-pointers and added 21, and the Spurs used a dominant third quarter for a 112-77 victory on Wednesday night and a 2-0 lead over the short-handed and frustrated Thunder.
"If they had won this game by one point, we'd still be down 0-2," Thunder All-Star Kevin Durant said.
"(We) lost by a lot two games in a row. It's hard for you to stay together, but we have a group of guys that are not front-runners and we'll figure it out. That's all we've got to do."
Durant and Russell Westbrook shot poorly and walked off the court at halftime arguing with each other.
"Those are the type of frustrations I like in a basketball team," coach Scott Brooks said. "It's on the defensive end we gave up some 3s and we wanted to make sure that it did not happen going forward. That happens with every team."
The defensive lapses happened too much in the first two games without the injured Serge Ibaka, the Thunder's top defensive player.
Tim Duncan added 14 points and 12 rebounds, and Manu Ginobili and Boris Diaw had 11 points apiece off the bench in San Antonio's second straight rout.
"We just did our job. We won our first two games at home and I'm sure they're going to go back and say we have to do our job and win two games at home," Parker said, recalling that the Spurs blew a 2-0 lead against the Thunder in the 2012 West finals.
Durant and Westbrook each had 15 points, but the third-quarter barrage made spectators of both — not that they accomplished much when they did play. The star duo combined to shoot 13 for 40, including 4 for 14 in the third quarter.
Game 3 is Sunday at Oklahoma City, and the Spurs are trying to remind themselves it probably won't remain this easy.
"Manu said it's a dangerous win but I believe in our group," Green said. "I believe that we have the maturity, the character and the experience to stay focused and not take this win to head."
Playing without the injured Ibaka and given two days to adjust to dropping Game 1 by 17 points, the Thunder performed worse.
San Antonio closed the first half on a 25-8 run, then Parker and Green each had eight points in the third quarter as San Antonio outscored Oklahoma City 33-18.
It was a shocking turn for the Thunder, who started well.
"It definitely doesn't feel good and it shouldn't," Brooks said. "I hope our locker doesn't feel good. You shouldn't feel good. We got our butts kicked. But we have a good opportunity to come back and win Game 3."
Oklahoma City opened more aggressive on both ends, especially defensively. The physicality disrupted the Spurs early and frustrated them emotionally.
Duncan was issued a technical with about 5 minutes left in the first quarter after complaining when Ed Malloy ruled he threw a hip into Durant.
It turned out the Spurs veteran had little to worry about, as the Thunder finished just 4 for 9 on free throws.
The Thunder scored five straight to open the game, with Westbrook's 3 capping the early run and producing what would become their largest lead of the series at 5-0.
But Durant and Westbrook opened the game 9 for 26 in the first half. Durant had one field goal in the final 16 minutes of the first half.
Durant made his first two field goals of the second half, but did not have another.
Oklahoma City went scoreless for two minutes midway through the third quarter as San Antonio built its lead to 76-50 on a pair of free throws by Duncan with 6:20 remaining.
NOTES: Parker is one assist shy of becoming the 10th player with 1,000 career postseason assists. The list includes Parker's three favorite childhood idols: Magic Johnson, Larry Bird and Michael Jordan. . Oklahoma City's Perry Jones, who only played the final 2 minutes of Game 1, started the second quarter. He finished with two points in 24 minutes. . Minnesota Timberwolves C Ronny Turiaf, who plays on the French national team with Parker and Diaw, was in attendance, as was musician Steve Miller.